Newsletter
Sign up now for your FREE "Start-the-Year-Off-Right" Bundle below!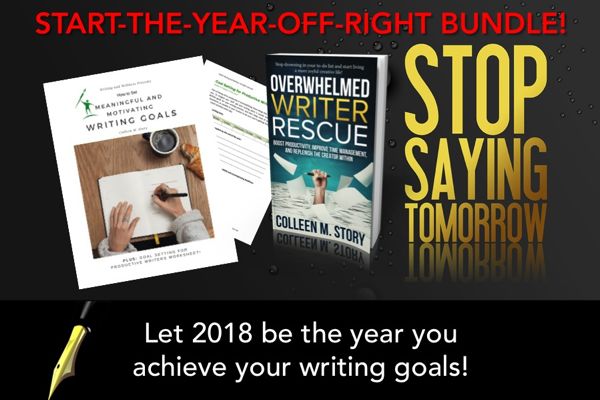 Make 2018 Your Writing Year!
Now is the time to re-evaluate your writing life, find out what's working and what's not, and set new inspiring goals for 2018. In this FREE Writing and Wellness bundle, you'll receive:
FREE Guide—How to Set Meaningful and Motivating Writing Goals: Learn what makes a good, actionable goal, and then answer 7 key questions about your writing life over the past 12 months. Let your answers guide you toward setting goals that will motivate you to achieve your writing dreams in 2018!
FREE Worksheet—Goals for Productive Writers Worksheet: Use this worksheet to map out your projects, continued education, writing schedule, social media schedule, and more for next year.
TWO FREE Chapters—Overwhelmed Writer Rescue: Get two free chapters of this "must-read guide for writers!" Full of practical, personalized solutions to help beginning and experienced writers and other creative artists escape the tyranny of the to-do list to nurture the genius within. You'll find ways to boost productivity, improve time management, and restore your sanity while gaining insight into your unique creative nature and what it needs to thrive. Read more here.
When you enter your email address below, you'll get all three free items, plus you'll receive the Writing & Wellness weekly newsletter. (More about that below.)
Don't Wait! Get your free "Start-the-Year-Off-Right Bundle Today!"
Writing & Wellness Newsletter
We all have a lot going on in our lives, and at the same time, we long to write. Whether you're just starting out, or have been at it for years, you probably understand the challenges.
How do you fit writing into your busy life?
How do you keep at it without suffering weight gain, carpal tunnel, back pain, and all the other ailments writers often face?
How do you manage your own emotions, including self-doubt, depression, discouragement, motivation (or lack of it), and keep going after your dreams?
How do you keep your brain sharp and your creative spirit at play?
How do you maintain the energy you need to accomplish it all?
Most of all, how do you put the power of YOU behind your best creative life?
We answer these questions and more at Writing and Wellness. Every week, you'll get a motivational email in your inbox with tips to help you boost your creativity, manage the ups and downs of the writing life, and stay healthy and happy doing it.
We'll also regularly include stories and tips from other writers who are struggling just like you. We can all learn so much from each other!
Don't you deserve to be your most powerful creative self?
Subscribe to Writing and Wellness today!
(You'll get a FREE "Start-the-Year-Off-Right" Bundle once your address is confirmed!)