by Laurie Buchanan
I ran away from home—sunny southern California to the overcast Pacific Northwest—when I was fifteen.
Lying about my age, I applied at one of those everything-under-one-roof superstores and got a job. Over the next five years, I worked my way from entry-level cashier to management.
During that five-year timeframe, I had occasion to attend corporate meetings at the company headquarters in Portland. On a few of those visits, I had the opportunity to meet the founder—the man responsible for implementing the company's governing beliefs. Here are but a few:
Customers are essential, for without them we'd have no business.
Customers shop most where they believe their needs and wants will be satisfied best.
It's important to make a living, not a killing.
I Went Behind the Scenes to Do Research for My Book
I hadn't thought about that employment experience in decades until my husband and I relocated from twenty-three years in the greater Chicagoland area to the temperate climate of southwestern Idaho, and I saw one of the stores. I pulled into the parking lot, entered the doors, and a flood of good memories rushed in.
As a businesswoman I wondered: Does this superstore—which has since been bought by a megastore, but still operates under the same name—still practice its fundamental governing beliefs? Have the original principles been expanded? Have they been compromised?
But more importantly, as a transformational life coach I wanted to answer this question: Can implementing business values improve personal lives?

To get the answers I applied for a job. During the interview process, I explained the purpose of my desire for employment—to get back "in the trenches" so I could answer those questions honestly and write a book from a present-day perspective that would benefit my clients.
As a holistic health practitioner, I was an ideal fit for a position in their Nutrition Center. Thus began my two-year behind-the-scenes, investigative look at what moves a current-day business forward—and what holds it back.
Not new to the business world, this superstore experience was on the heels of twenty-five years in business: eleven in the corporate world (recruiting and communication), and fourteen in my private practice.
The Business of Being: Soul Purpose In and Out of the Workplace is a culmination of research, personal experience, and hundreds of conversations with employees at every level, customers, and clients.
How a Big Disappointment Led to My Best Book Ending
The ending was the most difficult part to write because at the last minute, the manager at the store where I was doing the research reneged on his two-year promise to do an exit interview. In my mind's eye, I'd seen that dangled carrot as the pièce de résistance.
As it turned out, that shift in gears left me with an ending that is much better than anything I'd anticipated. And not only did it upgrade the ending, that particular disappointment (which in hindsight isn't a disappointment) helped to shape the overall way I designed the delivery of information in the book.
I call it the Oreo Cookie Principle:
The lightly sweet wafer on one side reviews a single business plan element.
The delicious wafer on the other side is its counterpart in our personal lives and shows how it can be used to make being even better.
The sinfully rich ganache filling in between is the story of La Mandarine Bleue, a French restaurant that shows from start to finish—hors d'oeuvres to café—how the elements (ingredients in a business plan) are dished up and served to perfection in real life.
Record-Breaking Cold and Snow Filled My Three-Month Writing Sabbatical
I took a three-month sabbatical in Darby, Montana to finish writing the book. Little did I know that the first three months of  2017 would bring record-breaking cold and snow to that geographic location.
So much so, that I only ventured out once a week to get groceries and supplies in Hamilton, a neighboring town. I also took that weekly opportunity to stop at the library so that I could connect to the internet because the place I stayed didn't have internet.
Willa, my Irish Wolfhound, was with me. Together we enjoyed watching deer, and sometimes wolves, through the windows.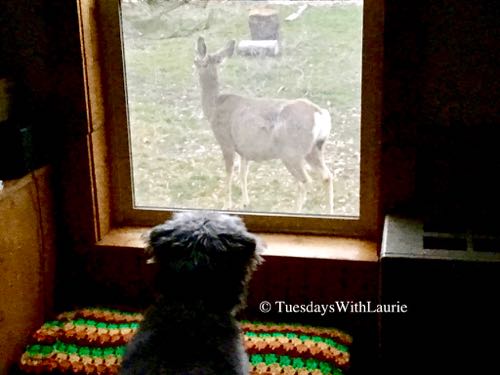 My Advanced Reader Let Me Know I'd Done Something Right
My sister is my best advance reader. My best critic.
She doesn't stretch the truth to accommodate or spare my feelings. She doesn't hold back. I count on her to shoot from the hip—even if it hurts.
So when she flew in to stay with me for a week, and I saw the split-faced grin on her face as she read the manuscript, I knew I'd done something right.
Writing This Book Helped Me Realize I Was Giving My Son the Wrong Advice
Writing this book helped me realize that as the mother of an adult son, I'd been giving him advice that wasn't in keeping with the advice I give my clients and readers.
For him to follow his heart in the workplace means less pay. Much less pay. On the flip side, it means joy-filled living.
I was advising him to get a haircut and a desk job. Writing The Business of Being expanded my point of view to include my son in the same advice I give to clients and readers.
When I came to that realization, it changed me for the better.
I Write Until the Flame Goes Out
Writing is, indeed, a spiritual practice for me.
In Buddhism, we sometimes look at nature as divinity, or an extension of divinity. Fire is one of the four classical elements—earth, air, fire, and water. As a Buddhist, when I sit down to write, I touch a flame to a tea light—a spiritual contract for me to stay at it until the flame goes out of its own accord.
During that time I experience "flow"—a mental exchange with Spirit that results in words on the page.
I didn't learn the ritual, I made it up using Yankee tea light candles (in my experience they burn for the longest period of time). For me, lighting a candle is a spiritual "contract," meaning I don't blow it out.
I write until the flame goes out on its own accord.
Advice for Other Writers: Honor Your Work
Be tenacious—don't give up. If you receive a "no" to your query, understand that it puts you one step closer to a "yes."
Honor your work—treat your writing as a business and others will too.
Claim space—stake out your territory and write in an environment that you enjoy.
Be concise—write tight, brevity is your friend.
Practice self-care—get plenty of exercise and sound sleep. Stay hydrated.
Unplug—build in downtime so your brain can recharge.
Feed your brain—eat nutritionally dense food and read, Read, READ.
Read Laurie's previous post on Writing and Wellness here.
* * *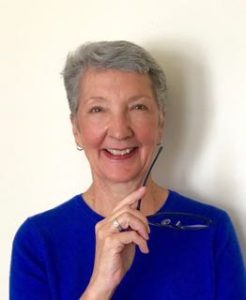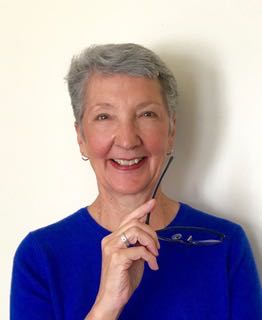 Board-Certified holistic health practitioner, life coach, and award-winning author, Laurie Buchanan, focuses on purposeful living. Her first book, Note to Self: A Seven-Step Path to Gratitude and Growth won six literary honors including the coveted Foreword INDIES Book of the Year.
Her second book, The Business of Being: Soul Purpose in and Out of the Workplace, maps personal transformation at the intersection of business and spirituality and teaches how to enhance "profitability"—body, mind, and spirit—and how to be your best self and live your best life—always.
For more about Laurie and her work, please see her website, or connect with her on Twitter, Facebook, LinkedIn, and Instagram.
---
The Business of Being: This book isn't just about being in business; it's about the business of being. But when you stop to think about it, each of us is like a small business. Successful business owners implement strategies that improve their prospects for success. Similarly, as human beings, it serves us well to implement guiding principles that inspire us to live our purpose and reach our goals.
The rich ganache filling that flows through the center of this book is the story of La Mandarine Bleue, a delicious depiction of how nine individuals used twelve steps of a business plan to find their vocation and undergo a transformation (with some French recipes thrown in for good measure).
From a business plan and metrics to mission and goals with everything between—investors, clients and customers, marketing strategies, and goodwill development—this book clearly maps how to create personal transformation at the intersection of business and spirituality. Merging the language of business and self-help, The Business of Being will teach you how to enhance "profitability"—body, mind, and spirit.
Available at Amazon and Barnes & Noble.
Tags: Business of Being, Laurie Buchanan, writing non-fiction, writing research, writing triumph