by Laurie Buchanan

I was 33 years old when my mother died of breast cancer at the age of 53.
I was dismayed—no, shocked!—at what traditional medicine did, and failed to do, for people in that position. In my heart of hearts it seemed there must be something more.
That horrific experience prompted me to study holistic health—body, mind, and spirit. More specifically, energy medicine. Not as "alternative" medicine (in lieu of), but as complementary medicine (in addition to). Some people refer to this as "integrative" medicine.
With what I learned, I created a 9-month experience for my clients called Life Harmony.
My Clients Encouraged Me to Write a Book
I created this program for clients who knew they needed to change, but didn't know how. The Life Harmony experience is a "guidepost" of sorts; a way show-er. It's designed to help people turn intention into action and bridge the gap between where they are and where they want to be—body, mind, and spirit.
The curriculum I wrote for this experience is relevant, engaging, and actionable, and my clients said: "This needs to be a book!"
Simultaneously, I wanted an equally captivating touch-point with my clients each week, so I created my blog—Tuesdays With Laurie. It's grown to almost 10,000 subscribers and is approaching one million views.
Protecting Identities When Writing True-Life Stories

The challenge was using real-life client examples while simultaneously protecting their identity, maintaining complete and total anonymity for them.
To accomplish this, I not only changed my client's names, but their gender and backstory details. I did everything a writer can possibly do to share the facts of the story/experience/example without making it possible for readers to identify the person(s) it happened to.
Think of the Greater Good to Help You Power Through

Rewriting my client's struggles (many of them have contemplated or attempted suicide) was emotionally down-pulling. However, the fact that they've come through that dark tunnel not only surviving but thriving is emotionally uplifting.
It becomes less difficult to "power through" when thinking of the greater good; when thinking of the wide brushstroke of people who will benefit by reading about the light at the end of the tunnel; making it clear that it's within reach for them, too.
When a Critic Praised My Work

My biggest triumph occurred when I asked a hardcore "naysayer" to read the manuscript for an honest, unbiased opinion.
A "critic" of holistic work (body-mind-spirit), I was certain they would crucify the manuscript. When they came to me, tears in their eyes, and told me I was a "writing alchemist because my words had created positive change," that was the moment I knew.
I No Longer Fear Death

I've written magazine and newspaper articles for years, but the completion of Note to Self—and it's positive reception—has bolstered my confidence to write another book.
A more important change for me, though, is that I no longer have a fear of death. In energy medicine we learn that human beings are energy. Each of us has a personal energy signature.
One of the fundamental laws of physics states, "Energy can be transferred from one form to another but neither created nor destroyed." As such, birth is not a beginning; it's a continuation. That lends tremendous comfort because we then understand that, equally true, death is not an end; it's merely a continuation. In either case, it's a change from one form to another.
That fact (it's science, not wishful thinking) is tremendously helpful when working with others who are afraid of death—either for themselves or for a loved one.
Writing is a Mental Exchange with Spirit

Writing is, indeed, a spiritual practice for me.
In Buddhism, we sometimes look at nature as divinity (or an extension of divinity). Fire is one of the four classical elements (earth, air, fire, water). As a Buddhist, when I sit down to write, I touch a flame to a tea light—a spiritual contract for me to stay at it until the flame goes out of its own accord. During that time I experience "flow"—a mental exchange with Spirit that results in words on the page.
I didn't learn the ritual—I created/made it up using Yankee tea light candles. (In my experience they burn for the longest period of time.) For me, lighting a candle is a spiritual "contract," meaning I don't blow it out. I let it burn out of its own accord. Because writing—much like giving birth—is personal, and for me, personal is spiritual, it works for me. In fact, it's never failed!
Like nature, we (human beings) are an extension of (a reflection of) source energy—divinity.
Spotlighting the Intersection of Workplace and Spirituality

I just returned from a three-month sabbatical in rural Montana where I didn't know anyone and no one knew me. During that time I wrote my next book, The Business of Being: Soul Purpose In and Out of the Workplace.
This book isn't about being in business; it's about the business of being. Spotlighting the intersection of workplace and spirituality, The Business of Being helps you thrive in business and life.
Choosing solitude for three months, I was "in the zone," and the words flowed.
* * *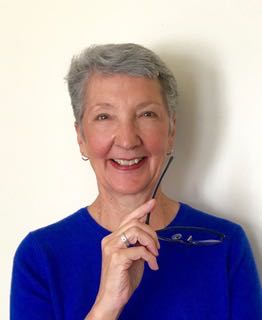 Board Certified with the American Association of Drugless Practitioners, Laurie Buchanan is a holistic health practitioner, transformational life coach, speaker, and author. Her areas of interest include energy medicine, inner alchemy, and spiritual awareness.
Embracing the belief that "Life is an expression of the choices we make," she's a teacher and student of purposeful living. With tremendous respect for the earth's natural resources, Laurie's goal is to leave the slightest footprint on the planet, while at the same time making a lasting impression on its inhabitants—one that's positive, uplifting, constructive, and healing.
A cross between Dr. Dolittle, Nanny McPhee, and a Type-A Buddhist, she's an active listener, observer of details, payer of attention, reader and writer of books, high-functioning introvert, and kindness enthusiast. She enjoys yoga, long walks, bicycling, and photographing the great outdoors. She loves laughter, red licorice, and all things Idaho. A minimalist by intent, she lives a beautiful life with fewer things—simple, yet full.
Laurie Buchanan's book, Note to Self: A Seven-Step Path to Gratitude and Growth is a 2016 Idaho Author Award winner for inspiration; 2016 Foreword Indies Book of the Year finalist; and a 2016 Body, Mind, Spirit Book Awards finalist. For more about Laurie and her work, please see her website, or connect with her on Twitter, Facebook, LinkedIn, and Instagram.
---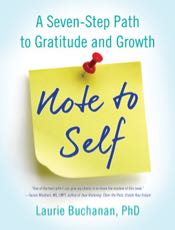 Note to Self: Baggage! We all carry it with us through life.
It comes in a wide variety of styles, shapes, and colors―more than enough to accommodate the stuff that we accumulate through life. And no matter how we dress it up, it's frustrating, inconvenient, and slows us down. In fact, it's downright disruptive.
This book is about offloading emotional baggage―something that's especially important when we realize that we don't just pack for one; we pack for seven. Each of the seven selves―self-preservation, self-gratification, self-definition, self-acceptance, self-expression, self-reflection, and self-knowledge―has characteristics, wellness types, and shadows. Each plays a vital role in harmony, overall health, and well-being.
Chock full of real-life emotional examples, as well as "keys" at the end of each chapter offering actionable tips, techniques, and exercises designed to help you unlock baggage, examine it, and offload it permanently, Note to Self will help you discover a lighter, joy-filled you!
Available at Amazon.
Tags: emotional baggage, Laurie Buchanan, non-fiction writing, Note to Self, self-publishing