Congratulations to Alexandria and J.P.—you are the giveaway winners!

Today's demands on writers and other creative artists are overwhelming.
Ever since I started "Writing and Wellness" back in 2014, I've heard stories from writers and other creative artists about their number-one difficulty: finding time to write (or create).
I understood their struggle, as I've experienced it too. And it's not getting any easier. Writers have to do more than they ever have before to complete and market their work. Meanwhile, technology is moving at an ever increasing rate, requiring not only that we keep up with the latest changes, but somehow find a way to manage all the demands on our time.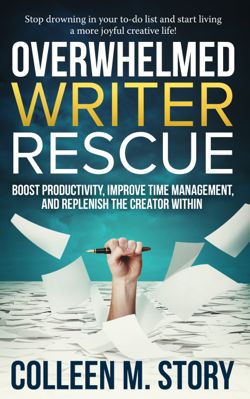 Sensing a sort of epidemic among my peers, I wanted to help, so after teaching classes on productivity and time management, I put my research and experience together in one source that I hope will give writers and other creative artists the helping hand they need to find more balance in their lives.
Overwhelmed Writer Rescue provides practical, personalized solutions to help beginning and experienced writers and other creative artists escape the tyranny of the to-do list to nurture the genius within.
You'll find ways to boost productivity, improve time management, and restore your sanity while gaining insight into your unique creative nature and what it needs to thrive.
Find out more about the book here. Meanwhile, here's what readers are saying about it:
"I thoroughly recommend the title. I will be revisiting the book many times over the coming weeks and putting the advice and exercises into practice. I was lucky enough to receive a galley copy of "Overwhelmed Writer Rescue," but having read it I would have bought the book anyway – it's that good."
~Dave Burnham, horror writer
"I have completed several of the "Time Treasure" exercises at the end of each chapter, and they have been really useful in helping me to, among other things, identify barriers to productivity with my writing and also come up with solutions. Finally, I really appreciated the friendly, conversational tone of the book. Reading it, I felt coached, not preached to."
~Beth Castrodale, reporter and editor
"What most appealed to me about "Overwhelmed Writer Rescue" was Story's individualized approach. Quizzes throughout the book help readers examine beliefs, doubts and habits to understand which facets of our personalities undermine our efforts and to learn ways of working with, not against, our natural tendencies. Who knew we have distinct time personalities and motivation styles that can affect our creative efforts? Or that boredom can enhance, not stifle, creativity? Or that making fewer decisions in the course of a day saves creative brain power? Instead of offering generic advice, such as 'write every day' or 'join a writers' group,' Story helps readers identify particular practices that best fit particular personalities."

~Nan Pokerwinsky, science writer and editor
"After reading an advance copy, I realized you don't have to be a writer to learn from this book how to manage your time. Story points out so many "saboteurs" and the solutions to time management. Thank you, Ms. Story, for throwing us a life ring!"
~Chuck Barrett, bestselling thriller author
---
Congratulations to Alexandria and J.P.—they each won a free copy of the book. I'll be in touch with the details. Thank you to everyone who entered!

Tags: creativity, Overwhelmed Writer Rescue, productivity writers, self-help writers, time management