Most writers, no matter their level of success, want to improve.
When you think about your next story, you probably want it to be better than the last. To make that happen, you may hire an editor, take your story to a writing group, or study up on things like plot and character.
These are all good approaches, but there's something you may be missing—something you've never thought about before.
It's related to your own ability to focus and bring all your creative powers to the page. Most of us struggle with that these days, because our schedules are so packed. When we do get a few minutes to write, it can be tough to zero in on a scene when our minds are running 90 mph with all the other things we've got going on.
Most of us get the words down regardless, but how might our writing improve if we could bring our full attention to the page?
Turns out there's one thing you can do that increases focus and has actually been shown in studies to improve the quality of writing. Yet it has nothing to do with writing, really. Instead, it has to do with how much you're requiring of your brain each day.
Surprising Tactic Leads to Higher Quality Writing
Imagine you're back in college, and your professor has just given you the option to earn extra credit for a two-page essay. He gives your class six potential essay topics to write on.
Now imagine your friend is in another class with the same professor, and you hear from her that she's got 30 essay topics to choose from.
"No fair!" you say. "I don't really like any of the topics he gave us. I wish we would have gotten more so I could have chosen a different one."
Hold your judgment, because between you and your friend, you stand to get the better grade on your essay.
Why? Because you have limited choices when it comes to what to write about.
Researchers found this to be true when they conducted this experiment with college students. Though the majority of the class agreed to do the extra-credit assignment, those presented with fewer essay topics were more likely to actually complete and turn in the assignment than those presented with more essay topics (seventy-four percent compared to sixty percent).
And here's something interesting: Those in the limited-choice group wrote essays that were of higher quality, and scored higher than those in the extensive-choice group.
Surprised? Me too, but here's what we can take from this study: when possible, reduce the number of decisions you have to make.
Limiting Your Choices Makes it Easier to Write Well
Think for a minute about two scenarios, and which might produce more high quality writing for you.
In the first, you rush home from work, swallow dinner, and then you've got thirty minutes before it's time to put the kids to bed. You have to make a decision: do you spend that time crashed on the couch (because you're exhausted), cleaning up the dishes, catching up on emails, or writing?
You decide to write, but though you do your best to sequester yourself away in your writing nook for 30 minutes, you struggle to focus, and get down only about 400 words.
Now imagine a second scenario where you are spending a week at a cabin by the lake. You have no cell phone service and no television. In essence, you have nothing to do but what you come up with on your own. After lunch, feeling a little bored, you decide to spend 30 minutes writing. You easily sink into your story and end up pounding out 4,000 words over a period of a couple hours.
Of course we all imagine we'd write better if we could just escape life for awhile. But the difference between these two scenarios is more about how many decisions you have to make than about getting away from the everyday rush of life (though that never hurts).
In other words: When you limit your number of choices when it comes to your writing time, you are more likely to write.
Researchers proved that two many choices mess us up in the famous "jam" study. They set up a tasting booth that displayed either an extensive (twenty-four) or limited (six) number of jars of jam. They then sat back and watched as the shoppers came by.
In the end, more customers stopped to look at the extensive tasting booth (sixty percent) than the limited tasting booth (forty percent), but when it came to actually buying the jam, more customers purchased from the limited booth (thirty percent) than the extensive booth (three percent).
The study results seem counter-intuitive; we imagine we'd prefer having more choices, not fewer. But the truth is that when faced with too many options, the brain shuts down.
This is why to increase your productivity and your quality of writing, you must limit the number of choices you have when it comes time to write.
Decisions Tire the Brain
Too many choices simply stresses us out. Yet every day of your life, you're bombarded with choices of what to do with your time, money, and thoughts.
From the time you get up until you go to bed, you have to choose what to wear, what to eat, when to leave, what route to take, what project to work on first, whether or not to tackle various items on your to-do list, how to organize your tasks for that day, when to break for lunch, what to have for lunch, and on and on.
By the time the day is done, all these decisions have caused brain fatigue.
Making a decision requires tapping into the brain's "executive function," which uses energy no matter how simple the decision. Even if you're just deciding whether or not to eat a cookie, you're using this executive function, which scientists equate to a muscle.
And like any muscle, the more you use it over the course of the day, the more fatigued it gets, and the worse it performs. If you try to write at the end of the day, you may not be very productive because your brain will be tired and more vulnerable to distractions.
How to Use Your Decision-Making Power to Increase Quality of Writing
To make it more likely that a) you'll enjoy a productive writing session, and b) create the best quality writing that you can, you must limit the number of decisions you're making each day, particularly those that exist around your writing time.
First, you can figure out where you can make it easier on yourself. Maybe you could lay out your clothes the night before, for example, so you don't have to decide what to wear the next morning. You could use your weekends to plan your daily meals, so you don't have to make decisions about "what's for dinner" during the week.
You can decide ahead of time when you're going to exercise (and what kind of exercise you're going to do), when you're going to take some time with your family, and what days you will work on catching up.
Set up a bedtime routine that you and your family follow night after night, limiting choices so there are no decisions to make. Make as many things in your life part of a regular "routine" as you can, so your brain operates more often on autopilot.
"I think we all function better when we know what to expect," says writer and simplicity coach Andrea Dekker, "whether it's what we will wear, what we will eat, what we will do each day, when the kids will go to bed, when we will have snacks, etc. etc. Plus, I'm way happier and my brain is less fried by the time I go to bed because I haven't had to make 500 decisions…."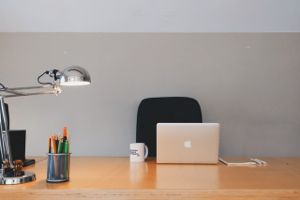 Next, to create higher-quality writing, try to limit your options available around your writing time. Head to the library or some other place where you're choices are limited, so that writing doesn't have to be a decision made among various options. Change your writing time to first thing in the morning, before you're bombarded with choices.
Create a writing space that has little else but your chair, laptop, and a few pens. Limit your choices as to what you'll work on—decide ahead of time if you're focusing on your novel this week, or on blog posts, or on a poem, or whatever. Don't leave this decision for when you actually sit down to write.
Increasing focus isn't easy in today's hurried world, but limiting daily decisions is one approach you can take that will yield almost immediate results. Faced with fewer decisions, your brain will have the space it needs to work out your next scene, and your writing is likely to flow much more easily.
Remember: fewer choices = fewer distractions = increased focus and creativity.
Do you limit the number of decisions you make each day?
Read more about limiting decisions in "Overwhelmed Writer Rescue"—available now wherever books are sold! Order the book here (or anywhere books are sold), and get your FREE chapter here!
---
Sources
Besedeš Tibor, Cary Deck, Sudipta Sarangi, and Mikhael Shor. "Reducing Choice Overload without Reducing Choices." Review of Economics and Statistics 97, no. 4 (2015), 793-802. doi:10.1162/rest_a_00506.
Tags: good writing, writing decisions, writing productivity, writing quality, writing time management, writing tips