by Sarah E. Boucher
When I debuted on Writing and Wellness I was a first-time author with bright eyes and bright hopes. Then life happened.
The last three years have been a blur of funky health. Until then, the worst illness I had experienced was the occasional cold or stomach bug. I had no idea what to do when strep hit time and again and the congestion became so constant that I couldn't take a full breath.
Phrases like "respiratory issues" haunted me. At the same time, both of my wrist were inflamed and in almost constant pain. I'd spoken to a chiropractor years before about a similar issue and he'd warned me that it looked like the forerunner of carpal tunnel syndrome.
At the time, I was editing my second novel. I wasn't sure if I wanted to publish it traditionally or try self-publishing. Since Becoming Beauty's release about 15 months earlier, I had learned that a publishing contract meant neither instant popularity nor loads of money. I had to tackle marketing and promotion at a time when I hardly knew what that entailed.
"I'm Fine, I'm Fine!" I Kept Insisting

As Mrs. Bennett of Pride and Prejudice put it, "Those who do not complain are never pitied."
Each year during my annual physical, my doctor would ask how I felt. I'd reply that I was fine. After a particularly bad health year marked by at least two bouts of strep, several colds, and the incessant congestion that never fully cleared up, I convinced myself that it was time to speak up.
"Do you think it could be allergies?" I asked, after we'd discussed my symptoms.
"Maybe. I can set you with a specialist for testing."
I hadn't had season allergies as a girl and I didn't have a family history of allergies, but adult-onset allergies would explain all of my symptoms perfectly. I took another breath. "And my hands have been bothering me for a long time."
She had me do some simple exercises and noted that I didn't have the mobility I should have had. Again, she set me up with a specialist for testing.
Feeling Like Garbage All the Time Inspires Giving Up

Before then I had given up on myself. Dealing with added stress and feeling like garbage all the time does that to you. I ate whatever food sounded good and quit exercising regularly. Writing was the only thing that kept me going. Those voices whispering in my head taunted me with their stories and secrets until I unfolded them for others to see.
I wanted to be healthy. I wanted to be able to type and type and walk and bike and hike without feeling ill, exhausted, or in pain. I wanted to be able to do my job as a teacher without worrying about catching every illness the children trotted into my classroom.
So I took the allergy test and the test for carpal tunnel syndrome. The tests themselves were enough to make me miserable, but the results were even more daunting. Allergies to everything under the sun, indoors and out, seasonal and otherwise. And severe carpal tunnel in both hands.
I Played the Waiting Game with My Health and My Book

I began a regimen of daily allergy meds and weekly allergy shots. I scheduled carpal tunnel surgery for both hands in the middle of the summer so I'd have time to polish and submit my manuscript and return to my classroom in the fall. The day before my surgery, I submitted Midnight Sisters to the same small publishing house who'd accepted Becoming Beauty a year earlier.
I played the waiting game with both my health and the publishing company. Thanks to family, friends, and the occasional Arctic Circle shake, I recovered quickly from the surgery and the strength and mobility I had lost began to return. Likewise, I began to learn which allergy meds worked for me and took them religiously.
Six months later, my health had improved dramatically and I was ready to take the next step. I did my best to eat healthier and joined a local gym. I struggled to be patient with myself and be consistent with my diet and exercise. I was also patient with the publishing company.
After six months with no word on my manuscript, I contacted them. In the end, they wouldn't be able to publish my book either in the timeframe I wanted or in the manner I wanted. On the other hand, I had indie author friends who had done well with self-publishing. So it was almost a relief when I received a rejection from my publishing company.
I Took Charge of Publishing and My Health

I called on friends to help me with beta reading, editing, book formatting, and promotion. At the same time, I called on others to help me pursue my health goals. I rejoined Weight Watchers with one bestie and took up daily walks with another. Fostering a good support system was crucial to both goals.
Almost two years after my hand surgery, I've self-published my second book, Midnight Sisters, and am continuing down the path to better health. For the most part, my allergies are manageable and my left hand doesn't bother me at all. That's fortuitous since I'm a lefty! Additionally, I've lost over 30 pounds and 1-2 dress sizes and I feel much more like myself.
Health Goals and Life Goals are Interconnected

My journey to health and indie author land involved so much more than eating healthy, exercising and writing another book. Fostering a strong support system and finding the right medical professionals made all the difference.
The two friends who joined me on my weight loss journey are still struggling to make headway. They have both been judged rather harshly by their families, members of their communities, and their doctors. The basic assumption is that if you're overweight, you're unhealthy and diet and exercise are the answer. But until I addressed my underlying health issues and personal needs, I didn't have the energy or focus to improve my diet and exercise regimen.
Health goals and life goals are as interconnected as mental and physical wellbeing. Whether it's striving to improve personal health or chasing down a writing career, we need to be both determined and creative in finding solutions to the issues we're dealing with.
* * *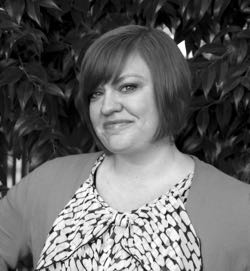 Sarah E. Boucher is a lover of fairy stories, romance, anything BBC and Marvel, and really, really cute shoes.
On weekdays she wears respectable shoes and serves as Miss B., the Queen of Kindergarten. On school holidays she writes stories about romance and adventure. And wears impractical super cute shoes.
Sarah is a graduate of Brigham Young University. She lives and works in northern Utah. Her novels include Becoming Beauty and Midnight Sisters.
Visit Sarah at SarahEBoucher.com or connect with her on Twitter, Facebook, or Instagram.
---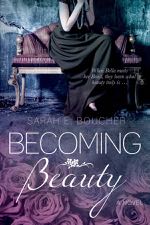 Becoming Beauty: Claws. Long, filthy, and dangerously sharp.
They're the first thing Bella sees after what's been the worst day of her life. If Bella were the quintessential Beauty–gorgeous, kindhearted, and self-sacrificing–she might have a chance at transforming this monster into a man, but she's never been the toad-kissing kind. Obsessed with landing a wealthy nobleman and escaping her humdrum life, Bella will stop at nothing to achieve her goals. Which is precisely what landed her here, at the mercy of the Beast.
In this imaginative retelling of Beauty and the Beast, Bella's sense of entitlement strains both her family's finances and patience. As punishment for her selfishness, she's sent into the Beast's service where she must choose whether to follow the path she's always dreamed of–or risk it all for something even greater.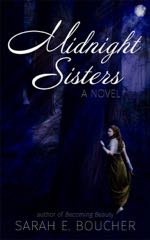 Midnight Sisters: Do not meddle with the Master's daughters.
The words rattle around Jonas's head. What is the punishment again? Death? Dismemberment? Jonas, the newest addition to the gardening staff, can't recall the exact penalty for breaking the rule. What does it matter anyway? He would never dream of meddling with the Earl of Bromhurst's haughty daughters.
Until he comes face to face with Lady Ariela, the eldest of the Master's daughters.
Her elusive smile and open manner cause him to question his convictions. In no time, he's drawn into Lady Ariela's world of mystery and intrigue, a world where she and her sisters will do anything—including leaving twelve empty beds at midnight—to escape their father's strict rules.
Only Jonas can uncover the truth and save them from their father's wrath and their own folly, if he is willing to risk everything he's ever worked for. Available at Amazon.
Tags: allergies writers, carpal tunnel writers, Health tips for writers, Sarah E. Boucher, self-publishing, YA fiction