Even though I deal with carpal tunnel syndrome and a dislocated tailbone, there are other things that stand in the way of spending hours at the keyboard, like the fact that I'm a kindergarten teacher by trade.
Each year my attention span lessens because August through June I have to cater my life around the natural attention deficits of five-year-olds.
I like that I'm always on my feet and rarely become bored. However, during the summer when I swap my full-time teacher title for full-time writer, I have a hard time sitting still and avoiding snacks, TV, and social media.
Because let's be honest, that's what my body would rather be doing.
Setting Daily Goals Helps Keep Me On Track
I find that I'm most effective when I hit my stride. You know, those days when knocking out 10,000 words is a breeze? Yeah, I've had one of those.
Generally it takes a lot of focus to stay on track. I try to set goals for myself, little projects I can reasonably accomplish in a day. Today's looked a little like this: exercise in the morning, edit one chapter, enjoy a healthy lunch (which I planned while I was working…attention issues, remember?), address the Wellness Questions while watching Unbroken (talk about inspiration!), post on the blog, and compose some interview questions for an author friend who's released a new book.
Not every day is like today, but keeping a variety of activities on the itinerary satisfies my aching tailbone, wrists, and wandering mind.
Fear: The Writing Suck Fest
As I mentioned before, I'm not a trained writer, so how could I ever have hoped to publish anything?
My fear of failure was so disabling that I didn't believe my friends when they said that I should published my story. It took multiple reassurances from several of my friends before I really considered publishing.
Now that I recognize that fear for what it is, I call it the "Writer Suck Fest." It's that moment when everything you produce feels like rubbish, no matter how brilliant it might have seemed when you penned it.
And it happens to me all the time.
My Writing Group Brought Me Out of the Closet
I would probably still be a "closet writer" if it hadn't been for the encouragement of and tips from my writing group. Before I met them, I wrote and wrote for years but showed my stories to no one and didn't dare to dream of publishing.
Now I have a group of friends with varying degrees of writing ability who all write and read different genres. Swapping scenes, short stories, and entire books with them refines my skills as a writer and editor.
Additionally, I have a number of what I call "back-burner projects" that may or may not be published one day. Playing around with them relieves stress and helps my creativity.
I'm a Bonafide Author and People Love Me!
What no one tells you is that it's just as stressful when you don't receive a rejection letter.
Undoubtedly, my darkest moment was when I submitted Becoming Beauty to two local publishers and I had only received a rejection letter from one of them.
Months went by and I imagined a large pile of "unsolicited manuscripts" with mine buried at the bottom. I struggled with thoughts of what I would do when the next rejection came. I didn't feel confident enough to self-publish my book and I began to doubt whether if it was good enough for the public.
My day job kept me from complete despair, but the thought that I wasn't good enough niggled at the back of mind. It was only silenced when I received that oh-so-optimistic email four months after I had submitted Becoming Beauty.
Ups and downs have followed that moment, but I have overcome them by remembering that I do not indeed suck. I am a bonafide author and people love me.
The One Thing That Has Kept You On Your Path
I believe in a power greater than any of us that guides us on our journey through life. Talents and skills are gifts that aid us on that journey.
My ability in teaching has helped me maintain a feeling of purpose in my life. Likewise, writing has provided the opportunity to express my unique message with others and I treasure that.
Advice for a Young Writer: Become a Willing Student
I have never been one to sugarcoat the truth. Whenever anyone asks me about writing, I spell out the difficulties of passing your work into someone else's hands and risking their disapproval.
At the same time, passing your work into someone else's hands is exactly what will make you a better writer. Accepting that you have much to learn and becoming a willing student is what makes you better at your craft.
I always advise young writers to join or form writing groups of their own and share, read, and edit writers' works so they can help one another and grow together.
But hey, it's probably the teacher in me that thinks group learning is the way to go. I can live with that.
* * *
Mild-mannered kindergarten teacher by day and self-proclaimed scribbler by night, Sarah E. Boucher has been writing stories for as long as she can remember. Her lifelong love of dressing up is manifest by the countless stories about makeovers cluttering her hard drive and a walk-in closet bursting with sassy heels and handbags. That, paired with her obsession in fairytales, led to the creation of Sarah's premier novel Becoming Beauty.
When she's not embroiled in teaching or writing, Boucher enjoys cheesy music, movies that cause her to snort while laughing, baking (especially if chocolate is involved), and more British television than anyone this side of the Atlantic has any business watching.
A native Utahn, Sarah graduated from Snow College and Brigham Young University. She currently lives and teaches in Northern Utah.
For more information on Sarah and her writing, please see her website, or follow her on Facebook, Twitter, Instagram, Pinterest, and Goodreads.
---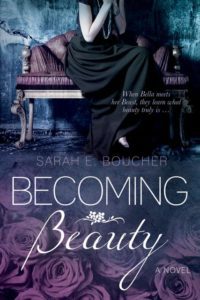 Becoming Beauty: Self-centered Bella focuses her attention on beautiful dresses and fabulous balls rather than helping her family earn a living. Her siblings have finally had enough!
To pay off their father's debt, they send Bella to serve a master who is more beast than man. As their personalities clash, Bella comes to realize that there's more to the Beast than she could ever have dreamed—if she's willing to look beneath the surface. But pursuing true love may cost Bella her dreams of wealth and beauty.
And that's not a price she's willing to pay.
Available at Amazon, Barnes & Noble, iTunes, and Books & Things.
Tags: Becoming Beauty, carpal tunnel syndrome, Sarah E. Boucher, setting daily goals for writing, teachers and writers, writers and fear, writing groups