I conducted my own very non-scientific survey.
I searched every author feature on this website—all of those obtained over the short lifespan of Writing and Wellness. (Just over a year—older posts in the Archives were carried over from a previous blog.) Total number of writers: 60.
The results? Over a quarter talked about how yoga helped them stay physically and mentally well.
The official number? Just over 28 percent.
That's well over the number of all adults who practice yoga. According to the National Center for Complementary and Integrative Health's most recent survey on the subject, only 9.5 percent of U.S. adults practice yoga—and that was an increase from 5.1 percent in 2002.
Yoga is growing more popular every day. But why are writers, as a group, so attracted to it? What makes this, beyond all other forms of exercise, the most popular for those who toil over the keyboard every day?
We'll start with seven ways that yoga can benefit writers—but then we'll dig even deeper. Yoga and writing have an almost mystical relationship, one that if you haven't experienced it, may be waiting to surprise and astonish you.
7 Ways Yoga Can Help Writers Do Their Work
1. It Eases Sore Muscles
I've found yoga to be a massively positive influence on almost every aspect of my life," says fantasy writer Simon James Barron, "and that includes helping to alleviate neck, shoulder and back pain associated with writing."
"Once in a while I'll need to do some yoga to stretch my back muscles," says novelist and essayist Tina Welling. "Even a single 'downward dog' can ease stiffness amazingly well."
The fact that yoga eases sore, stiff muscles is probably the number-one reason writers turn to it so often. Like most people with a desk job, we often suffer from sore backs, necks, shoulders, hips, and more, all brought on by hours in the chair. Muscles get tight, and over time, shorten, potentially causing chronic pain and inflexibility.
A yoga practice involves slow movements and poses that gradually stretch muscles, helping to lengthen the fibers and ease pain. Even better, if you keep a daily practice, you can avoid experiencing much of the pain in the first place.
"If practiced regularly," says Debra Fulghum Bruce, Ph.D., "yoga can relieve muscular tension or pain by improving range of motion, relaxing tense muscles, and increasing muscle strength."
In fact, yoga is so good at helping to ease muscle and nerve pain that a 2010 study found it may help combat the symptoms of fibromyalgia. After participating in a yoga program for 8 weeks, participants with fibromyalgia reported that pain was reduced by an average of 24 percent, fatigue by 30 percent, and depression by 42 percent.
"I am so NOT a yoga person," says novelist and journalist Holly Robinson. "I've always associated yoga with navel gazing, but I finally signed on for yoga classes, just twice a week, and I can't believe what a difference that has made in everything from my flexibility to my posture."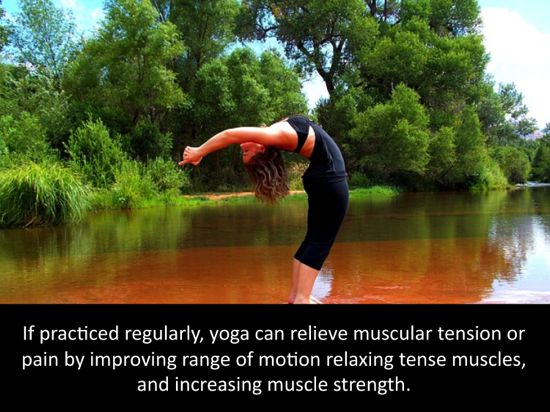 2. It's One of the Most Effective Solutions for Back Pain
I suffered a herniated disc about ten years ago. It caused me so much pain I spent about two months completing my assignments on the floor with my laptop on my belly because I simply couldn't stand to sit for more than ten minutes at a time.
"The irony is that," says Karen Macklin, San Francisco-based writer and yoga teacher, "when the physical body suffers, so does the creative process. It's hard to work when you're in pain, and it's hard to feel fluid and available to new ideas when your spine is contracted and your chest is tight."
I credit yoga with giving me back my flexibility, as do a lot of others after suffering back pain. We have a lot of studies on this, and though some results are mixed, most point to yoga as a great way to minimize lower back pain.
"People really do need some way of staying in touch with the body when they're writing," says poet and yoga writing retreat leader Patricia Lee Lewis. "It's just so integral to how you can write—and I think how we keep ourselves in shape enough to keep sitting for so long as we're writing."
In 2011, for example, researchers found that after a 12-week yoga program, back pain sufferers used fewer pain medications and experienced better back-related function. A later 2013 study reported similar results.
"Daily yoga stretches have also helped strengthen my back so I no longer experience neck or shoulder pain," says freelance writer Linda Egenes.
3. It Helps Relieve Carpal Tunnel Syndrome
Writers worry about carpal tunnel. All those hours of typing increase our risk, right?
Studies show that people who work with cash registers, who sew, or who spend their days in a manufacturing assembly line are actually more vulnerable to the disorder, but writers are wise to be cautious. Turns out that yoga stretches can help reduce risk.
In a late 90s study, researchers split participants suffering from carpal tunnel into two groups—one went through a yoga-based intervention involving stretches design to stretch, strengthen, and balance muscles and joints in the upper body. The other wore wrist splints and went through standard treatments.
After 8 weeks, subjects in the yoga group experienced significant improvement in grip strength and pain reduction, while those in the control group did not.
4. It Gives You Energy
Too tired to write? Writers are often face with fatigue, especially considering all we're required to do these days for our work to stand a chance on the marketplace.
Yoga can help here, too. A 2011 study found that yoga helped relieve chronic fatigue in cancer patients. An earlier 2006 study found that those who participated in six months of Hatha yoga classes experienced significant improvements in vitality, energy, and fatigue—even more than those who had engaged in regular walking.
According to study, yoga may even help encourage a clear mind when you're writing. Employees who participated in one 60-minute class a week reported improvements in feelings of clear-mindedness, energy, and confidence.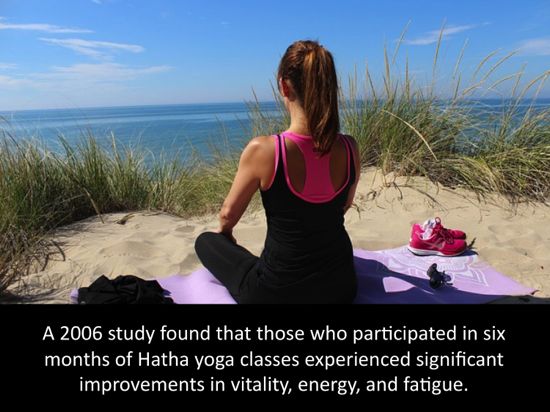 5. It Reduces Stress, Anxiety, and Depression
We all could use less stress in our lives. For many writers, yoga does just that.
"I do yoga almost daily to loosen my body and to keep my mind clear," says novelist Crissi Langwell. "It's amazing how just 30 minutes of yoga can detach me from any stress I'm feeling."
A 2011 study supports Crissi's findings. Researchers found that yoga practice reduced stress, anxiety, and depression, and enhanced overall quality of life. An earlier study found that women suffering from mental distress who participated in a 3-month yoga class experienced reduced stress and depression and increased well-being.
Studies have also found that yoga can help relieve depression, so if you're feeling down after a rejection or a bad review, strike a few poses, take a few deep breaths, and see if you don't feel just a little bit better.
6. It Sparks Creativity and May Destroy Writer's Block
Yoga, done right, has a meditative quality to it. Researchers believe it's that, combined with the deep breathing and smooth body movements, that inspire creative thoughts.
"Meditation and yoga grant us access to the deep places of our psyche and consciousness that inspire creative ideas to emerge," writes Macklin, "while simultaneously offering us tools to work with some of our biggest obstacles as artists. No matter what kind of art you call your own, your yoga practice can more fully connect you with your creative mind, body, and soul."
A number of studies have shown that yogis and other serious meditators have the ability to slow brain waves in a matter of minutes, achieving the "alpha" state and even showing traces of theta wave patterns associated with creative insight.
A regular yoga practice can help the rest of us get into that creative "flow" more easily when we're facing the blank page.
"For me, yoga is the secret to unlocking creativity," writes German yoga teacher and writer Christina von Jakobowski. She was so amazed at how the two disciplines went together, she started having her yoga students do some freewriting in class.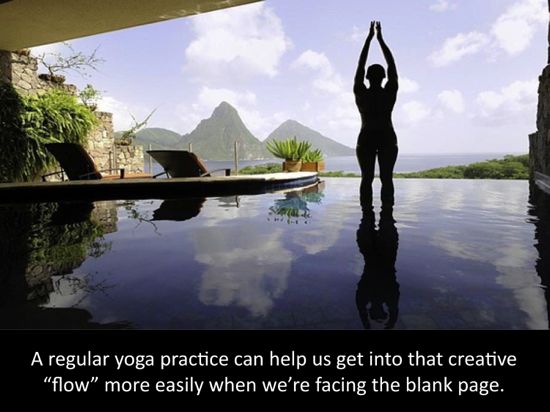 "Even participants with little writing experience said they felt inspired into a state of creative flow when they wrote after yoga. It seemed that the yoga practice itself might be a key to unlocking the ease and confidence required for writing!"
She goes on to state that yoga postures can often "create the perfect atmosphere for creativity to rise," especially when one feels blocked or stuck.
7. It Teaches You the Value of Practice
One of the magical things yoga has to offer is the discipline of a daily practice. To get the full benefit, you need to practice regularly—this isn't something you do for a few weeks and then stop. Yoga, for the dedicated, becomes a part of life, just like writing.
"Sometimes we realize that at a certain point a practice became a ritual, characterized by its pattern and by its effect upon us, a container and conveyor of meaning," writes Susanna Harwood Rubin, yoga teacher and writer. "This is ritual used as a tool to create meaning: deciding to do five sun salutes every morning or sitting to meditate when we get out of bed, writing and writing until something changes, shifts, and clarifies. We engage in the ritual until the meaning emerges."
If we're serious about writing, we're practicing it every day, or close to it. The same could be said of yoga. Both require commitment to bestow their gifts.
"Over the last year, I've gotten up at the same time but have kept a commitment to practicing yoga from 6 to 6:30 a.m.," says essayist Robin L. Flanigan. "I'm now more focused between 5:15 and 6:00 a.m. because I have a shorter window in which to get things done, and I'm much more productive once I've resumed work later on because I've stretched and created more space and energy inside."
"Creativity needs sadhana," writes Stefanie Honeder, photographer and writer, "needs commitment and a steady process; that is what we learn on the mat."
If you're having trouble sticking to a regular writing practice, yoga may be just the thing for you. I know that when I started it in my late twenties, my body craved it. I looked forward to my practice, and soon found I just didn't feel right without it. That physical pull toward the stretches, poses, deep breathing, and quiet mind helped me established a habit that I continue to this day.
This sort of practice also helps us dash our doubts. Knowing we will return again and again, we can forgive ourselves our flaws, our stiffness, our awkward poses.
"In some ways, yoga and writing are remarkably similar," writes Robert Wolf Petersen, yoga instructor and writer. "When we keep showing up, we learn that it is okay not to get it right the first time, or the second time, or the twelfth time. We learn that success is crafted from a thousand tiny failures, and that it does not matter how good we are right now. It only matters that we find the courage to keep failing. Maybe someday, when we least expect to, we will create something beautiful."
The Amazing Way Writing and Yoga Work Together
These 7 benefits are significant, and go a long way toward explaining why writers are attracted to yoga. But there's even more to it than that, more than the pain relief, increased energy, reduced stress, and access to the creative mind.
Yoga, by its very nature, helps us be better writers in a much deeper way.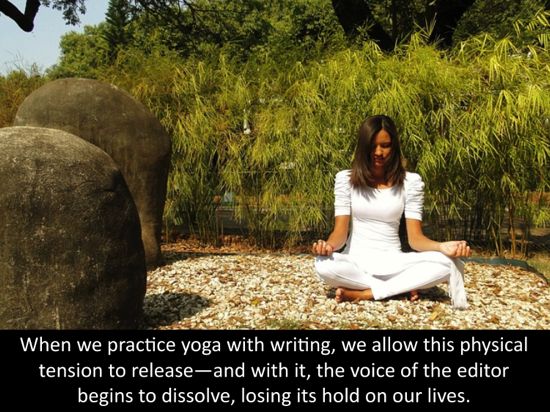 "The union of writ­ing and yoga is lib­er­at­ing a new dynamic of under­stand­ing about myself and the outer world," says writer/editor Michael L. Smith. "Through the process of yoga I have a new win­dow into my own inte­rior life and into the world outside."
"When we practice yoga with writing," says yoga teacher and writer Michèle Gunderson, "we allow this physical tension to release—and with it, the voice of the editor begins to dissolve, losing its hold on our lives. What a relief it is to breathe and live more freely. Combining yoga with writing allows us to access our innate creativity. It gives us a sense of our own limitless possibilities."
Yoga also teaches us to be still when we're uncomfortable, and to breathe through the twinge of pain we experience in some poses. This can translate into "trusting the process" of writing, so we can more easily manage the inevitable ups and downs of composing longer works.
"Often, in yoga, we hold long poses and breathe through discomfort," writes literary novelist Heather Marshall. "We also learn where our edge is, physically and mentally, when it's healthy to stay at the edge and when it's time to back off and rest."
We learn how to manage ourselves, body and mind, so that we can continue to pursue our art over the long-term.
"Beyond simply refining my writing skills," says English major Hannah Drake, "my experience with yoga helped me find truth within myself—a truth that has brought me peace as a writer. Writing is a tool we use to find our truths, to put them into words, to share them in the hopes of finding someone else who feels the same way. Yoga helped me create a place within myself where creativity and my own words have free reign."
The meditative aspect of yoga helps clear the mind, allowing space for ideas to erupt. Some writers have described their yoga practices as writing prompts, finding themselves running to the page after finishing a series of poses.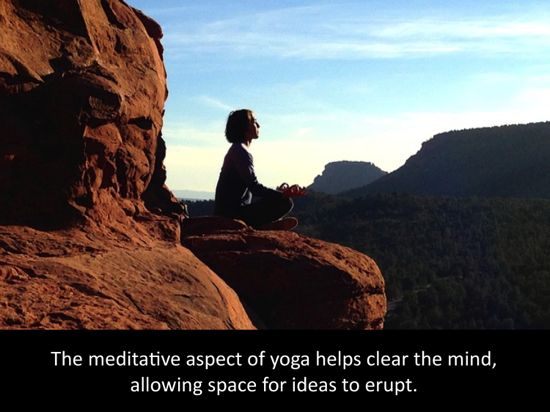 "Physical yoga practice is a good place for Svadhyaya, or self study," writes yoga practitioner and teacher Izzy Arcoleo, "and as we tune into what's going on in the body and mind, the way becomes clear for ideas to be untangled. It can bring about moments of clarity, and with clarity comes a little sprinkling of inspiration."
Both practices, as well, are often done in isolation. Even those that participate in yoga classes often find the actual movement as being more of a way of connecting with self than socializing with others.
"In most cases, there is no one cheering on the beginning, or even average, writer or yoga practitioner," says Petersen. "The successful novelist has probably endured day after day of lonely, dedicated production before ever churning out anything anyone really wants to read. The advanced asana practitioner has likely known endless hours of dedication with no audience and zero external encouragement."
And in the end, both practices are their own reward. As writers, we seek readers, which means publication and hopefully an audience, but the practice of writing itself is a lonely one, and for us lifers, it's the writing that pulls us back. Enjoying the process is the key to sticking with it—and the same is true of yoga.
"In Vinyasa, for me, the practice is its own reward, in the moment that I am doing it," says yoga instructor Courtney.
"My mantra?" says instructor Beth Wolfe. "Patiently dedicate effort to your yoga practice with no attachment or expectations to the outcome. Yoga practice is its own reward."
Novelist Henry Miller is credited with the quote, "Writing is its own reward." Other writers readily agree.
"I'll never forget the morning I typed THE END on my first draft," writes Samantha, a guest poster on Writer Unboxed. "At that moment, I didn't care if it ever got published. I didn't care if anyone else liked it (I knew it would need a lot of work before they would). I didn't care if anyone else even read it. In that moment, I just reveled in the idea that I had told this story and gone through this journey with these characters. And I couldn't wait to do it again."
Is It Time to Try a Writing and Yoga Retreat?
Scan Google and you'll see a number of listings for writing retreats that integrate yoga into the schedule. It's a thing. If you practice both, you know. If you don't, you may want to give it a try.
"How do we celebrate our creative capacity without romanticizing a painful experience?" writes poet Caits Meissner. "How can we foster a healthier promise to our well-being and still pursue our art? By flowing, bending, moving and allowing ourselves to just be, we can expand to fill our container without compromising our mental state. Yoga is a good place to start."
How does yoga benefit your writing practice? Please share your thoughts.
---
Sources
"Use of Complementary Health Approaches in the U.S.," National Health Interview Survey, https://nccih.nih.gov/research/statistics/NHIS/2012/mind-body/yoga.
"How Does Yoga Relieve Stress and Pain?" ShareCare, http://www.sharecare.com/health/yoga/yoga-relieve-stress-and-pain.
James W. Carson, et al. "A pilot randomized controlled trial of the Yoga of Awareness program in the management of fibromyalgia," Pain, 2010; 151 (2): 530 DOI: 10.1016/j.pain.2010.08.020.
Karen J. Sherman, et al. "A Randomized Trial Comparing Yoga, Stretching, and a Self-care Book for Chronic Low Back Pain," Archives of Internal Medicine, 2011; DOI:10.1001/archinternmed.2011.524.
Robert B. Saper, et al., "Comparing Once- versus Twice-Weekly Yoga Classes for Chronic Low Back Pain in Predominantly Low Income Minorities: A Randomized Dosing Trial," Evidence-Based Complementary and Alternative Medicine, 2013; Article ID 658030, http://www.hindawi.com/journals/ecam/2013/658030/.
Garfinkel MS, et al., "Yoga-based intervention for carpal tunnel syndrome: a randomized trial," JAMA, November 11, 1998, 280(18):1601-3, http://www.ncbi.nlm.nih.gov/pubmed/9820263.
Takakazu Oka, et al., "Isometric yoga improves the fatigue and pain of patients with chronic fatigue syndrome who are resistant to conventional therapy: a randomized, controlled trial," BioPsychoSocial Medicine 2014, 8:27  doi:10.1186/s13030-014-0027-8, http://www.bpsmedicine.com/content/8/1/27.
Barry S. Oken, et al., "Randomized, Controlled, Six-Month Trial of Yoga in Healthy Seniors: Effects on Cognition and Quality of Life," Altern Ther Health Med. 2006; 12(1): 40–47, http://www.ncbi.nlm.nih.gov/pmc/articles/PMC1457100/.
Hartfiel N, et al, "The effectiveness of yoga for the improvement of well-being and resilience to stress in the workplace," Scand J Work Environ Health, 2011; 37(1):70-76, http://www.sjweh.fi/show_abstract.php?abstract_id=2916.
Catherine Woodyard, "Exploring the therapeutic effects of yoga and its ability to enhance quality of life," Int J Yoga, July-Dec 2011; 4(2):49-54, http://www.ncbi.nlm.nih.gov/pmc/articles/PMC3193654/.
Michalsen A., et al., "Rapid stress reduction and anxiolysis among distressed women as a consequence of a three-month intensive yoga program," Med Sci Monit., December 2005; 11(12):CR555-561, http://www.ncbi.nlm.nih.gov/pubmed/16319785.
Purvi Mehta, "Yoga as Complementary Therapy for Depression," Evid Based Complement Alternat Med., December 2007; 4(4):493-502, http://chp.sagepub.com/content/15/3/156.abstract.
Jeffrey Davis, "The Science of Creative Insight and Yoga," Psychology Today, November 21, 2012, https://www.psychologytoday.com/blog/tracking-wonder/201211/the-science-creative-insight-yoga.
Tags: authors who do yoga, how yoga helps writers, writers and yoga, yoga and writing