~Writing Well Wednesday Tip~
When I did my little writing office makeover a few months ago,
I considered getting a Varidesk.
I had seen something similar to it in an office store, and loved the ease of pushing a button and having the desk rise up so easily, and then collapse back down just as easily.
Here's why I decided against it, and what I'm now using instead—in case something similar might work for you.
When a Standing Desk Just Doesn't Work
For weeks I thought about how nice that Varidesk would be. I imagined sitting and standing as I needed to at various times throughout the day, and knew it would be helpful in avoiding back pain and the other aches and pains that come from working in one position for too long.
The problem is, these things aren't cheap. The most economical Varidesk is about $400. Still, I would have considered it a worthy investment if not for how BIG it was.
When I put in my new corner desk, I ended up with a lot more room than I'd had in my old computer armoire, and I didn't want to give it up. The Varidesk would have consumed the whole thing, pretty much, leaving me with only the one side to work on edits and complete other tasks that I regularly do away from the computer.
Of smaller consideration was how the Varidesk would look. My desk is open, now (instead of behind closed doors), and it looks nice with little knick-knacks and things, the iMac very unobtrusive as it stands. A Varidesk would be, well, just plain ugly. It would be more difficult to clean off my desk at the end of the day and I'd feel like I always had something sitting there that needed to be removed.
What to do? I found a solution that so far, is working pretty well.
Have You Tried a Keyboard Tray?
Enter the keyboard tray. I didn't even know they had these things until I started researching options to the Varidesk and its various siblings on the marketplace.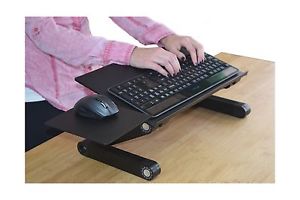 Here's what I ended up with—the WorkEZ Keyboard Tray. It's very easy to adjust, and once you've got it snapped in place, it's sturdy and holds well. Plus, I was also able to angle it down and away to save my shoulders. (Read why this is necessary while standing here!)
It fits just fine on my desk keyboard roll-out tray, and holds the keyboard up while I'm standing. Even better—it's only about $60.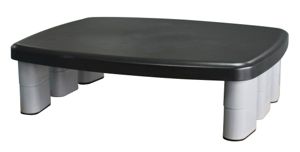 I could have gotten along just fine with only this, but I wanted to give my monitor a boost too, so I got this handy little adjustable monitor stand. You can add or remove the "feet" depending on how much height you want, and then just set your monitor on top of it. Cost: about $13.
Together, these two little gadgets gave me my standing desk for less than $75. The only drawback is that I have to move them when I want to sit down, but it's not difficult.
They're both very light and can sit on the floor for a bit while I sit down for awhile, and then they're easily restored to their positions in less than a minute when I'm ready to stand again. Not exactly push-button, but I'm happy with the trade-off.
Best of all, I can take them both down at the end of the day, tuck them under the desk where they're unseen, and leave my desk clean and open—so refreshing after a long day's work!
I wanted to share these tools with you all just to give you another option for your home writing space. Doing good things for your health doesn't have to be overly expensive or intrusive!
Have you found an alternative to the standard standing desk that works for you?
Tags: desk job tools, healthy tips for writers, healthy writer, standing desk alternative, writer standing desk