by Benjamin Sobieck
Congratulations to: Laurie B.! You won a free pair of Writer's Gloves.

Not every entrepreneur is a writer, but every writer is an entrepreneur.
The same forces percolating creative juices every time you sit down at a keyboard can pour you a cup of words or, sometimes, something completely different.
Don't dismiss the latter when it hits. For the sake of your writing career, embrace your inner entrepreneur.
Writers, Keep Your Eyes Out for Other Business Opportunities
I wrote about just that last year here at Writing and Wellness. I created a kind of glove for keeping hands and fingers warm while typing on keyboards to keep me going while working on a writing project for a large publisher.
A deadline couldn't be missed, but my cold hands had other ideas. The candle next to my keyboard went out, and a lightbulb went on. Could this be a business?
The answer, as I found out, was a resounding "yes." The Writer's Glove® is what my creation is called, and it's come quite a ways since my shingle of a website and a few glorified prototypes hit the market.
I created an LLC, sourced a manufacturer, registered a trademark with the USPTO, built an e-commerce site for direct-to-consumer sales at thewritersglove.com and can count 25 countries as being home to my customers.
That's on top of a pile of cool writing projects, a full-time job in publishing, presenting at writing conferences and raising a young son at home.
Whew.
The point isn't to toot my own horn here (OK, maybe a little), but to show off a side of writing that isn't always appreciated.
Writers as Entrepreneurs First, Then as Artists
There's an attitude within writing, and the arts in general, that discussing money matters tied to this industry degrades the experience of the art being created.
This is in part to maintain a sense of holiness within the struggle to make your way as a writer. You've got to have a spiritual core to what you do that transcends the metrics normally applied to traditional definitions of success, because the odds of you "making it" are low.
The further away those odds get, the easier it is to dismiss the entire category of writing and financial ROI [return on investment].
It just doesn't fly at cocktail receptions at writing conferences or on writing blogs to go on about how you're not making a living playing this game.
There is safety in the nebula of an artistic persona. No metric can bind you.
I take a different approach for two reasons.
Reason 1: Writers Cut Themselves Short By Thinking Small
Starting a business in any industry is hard enough. Selling writing is even more challenging. Despite that, readers pay writers for words every day. Why?
Writers are entrepreneurial. Each writer is a mini business, and the products for sale are novels, short stories, flash fiction, poetry and other works. Through excellent editing, beautiful packaging (covers), clever marketing and a knack for feeling out their audiences, they manage to sell one of the most underpriced, oversaturated products on the planet.
Given the odds that had to be shucked to pull that off, what else is possible?
Most writers don't stop to ask that question. I'm not suggesting every one of them is a would-be Bill Gates, but there are some serious opportunity costs to not considering it.
Think beyond books. Think bigger. Because when I did, I found out that the mechanics behind publishing a book are almost identical to bringing any other product to market.
It could be gloves for typing with cold hands. It could be anything.
But in order to take that leap, you've got to get over this idea that writers are solely artists. Art plays a big part, but there is art in any trade, from writing to welding. The difference is that writers are inherently disposed to product creation.
Once you put your mind to that, the opportunities to turn your efforts into a full-time gig grow by leaps and bounds. You're not boxed into just writing. You can do anything.
Reason 2: Financial Health is Tied to Personal Health
Money isn't everything, but it is still quite a bit. That's especially true if you're missing it. What's that saying? "When poverty comes through the door, love goes out the window?"
Your health does, too, impacting the psychological, emotional and physical. This can be especially true for the starving artist types. That's why they're called "starving artists."
Embracing the entrepreneurial side of writing is one way out. Diversifying the products you put out there can keep income rolling in when times are tight. The flexibility of being your own boss can open up more time for writing, too. That puts you in a much better position to maximize every word you were put on this planet to write.
The alternatives aren't nearly as satisfying. There are the "real jobs" writers work to get by, cannibalizing the time they could be spending on something more fulfilling. There is waiting until retirement. There is also couch surfing on the ebbing and flowing tides of royalty payments.
I'm not quite there yet, but I'd rather chase every muse that comes my way before I hit 65. I bet I'm not alone.
The challenge then becomes to make making money a priority. Flip that entrepreneurial switch and connect those disparate pieces of product creation just like plot points.
It'll Make You a Better Writer
None of this means walking away from that artistic persona. In fact, once you see how similar writing a book is to producing something like The Writer's Glove®, you'll become better at both.
That's because both involve creating illusion. I mean that in a pragmatic way, not a nefarious one. Somewhere, someone you'll never meet must be able to visualize what it is you're trying to convey.
Books, like any other product, use stories. So does The Writer's Glove®. A character in second-person POV (the customer) has a problem with cold hands while writing at a keyboard (the conflict) and engages on a quest in Google for a solution (the plot), eventually finding a happy ending when one of my packages arrives (resolution).
It's advertising, sure, but it's far from soulless. I created it. Why should one expression of my storytelling be more legitimate than another?
Embrace Your Entrepreneurial Side
Moving ahead with The Writer's Glove® is one of the best decisions I ever made in my writing career, and it's not even a piece of writing. Embrace your entrepreneurial side. You might surprise yourself.
Ben is giving away a pair of The Writer's Glove® to one lucky commenter on this article.
Leave a comment below about the craziest way a person could keep their hands warm.
We'll draw a winner randomly from the comments submitted on Wednesday, October 4th, 2017.
Good luck!
Giveaway winner: Laurie B.!
* * *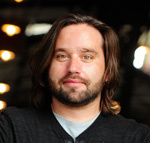 Benjamin Sobieck is the creator of The Writer's Glove®, gloves designed for typing with cold hands. He's also a Wattpad Star and Watty Award-winning author, with more than 1.2 million reads of his fictional works on Wattpad, including When the Black-Eyed Children Knock and Glass Eye: Confessions of a Fake Psychic Detective.
Through Wattpad, he's worked with FOX Television, Paramount Pictures, Universal Pictures and Warner Brothers. He's also the author of The Writer's Guide to Weapons (Writer's Digest Books) and the related blog at CrimeFictionBook.com. Connect with him on Twitter and Pinterest.
Tags: creative entrepreneur, writer entrepreneur, writer's glove, writers business owners, writing career, writing products