by Harriet Hodgson
Writing a series for family caregivers was never on my "to-do" list. But it happened.
After 20 years in the caregiving trenches, I had things to say and tips to share. I was my mother's family caregiver for nine years, my twin grandchildren's caregiver for seven years, and have been my disabled husband's caregiver for four years, with more to come.
Hard as it May Seem, Death Made Me Write About Life
In February of 2007, my elder daughter (the twins' mother), died from the injuries she received in a car crash. On the same weekend, my father-in-law succumbed to pneumonia.
Eight weeks later, my brother (and only sibling) died of a heart attack. In November the twins' father died from the injuries he received in another car crash. I was almost prostrate with shock.
Suddenly, the twins were orphans, and my husband and I were guardians.
Caring for my grandkids while grieving for four family members was the hardest thing I've ever done. Surprising as it may seem, death made me write about life.
I Turned to Writing for Information and Comfort
As I had done so often, I turned to writing for information and comfort.
I wrote several grief recovery books, became a contributing writer for the Open to Hope website, and The Grief Toolbox website. Writing was one step—perhaps the most important—on my recovery path. I continued to do my grief work and enjoy my grandchildren. Life was calm for a few years, but the respite was brief.
In 2013 my husband's aorta dissected and he was rapidly bleeding to death. Surgeons operated on him three times in an attempt to staunch blood loss.
During the last operation he suffered a spinal cord injury that paralyzed his legs.
He was hospitalized for eight months, and finally dismissed to my care. A week after he came home, I sat down at the computer, and started a book about caregiving.
Tears Didn't Stop Me from Writing
One book became two, then three, then four: The Family Caregiver's Guide, Affirmations for Family Caregivers, A Journal for Family Caregivers, and The Family Caregiver's Cookbook. Each book has the same purpose—to make life easier for caregivers.
While I was writing the series, I often had to stop, let my feelings out, and have a good cry. I cried for grandchildren who lost their parents at age 15. I cried for my husband and the courage he has shown.
I cried for myself, and all the sorrow I've experienced.
Tears didn't stop me from writing, however. Writing made me more aware of my feelings. Finishing a book proved I could still do research, distill information, and weave facts with real-life stories.
Readers will see I don't just talk the talk, I've walked the walk. I've been a freelancer for 37+ years, written thousands of articles, and 37 books on a variety of topics—recycling, sexual harassment, healthy eating, heart disease, and meditation, to name a few.
I think writing has made me a better person. Thanks to writing, I know every moment of every day is a miracle.
If You Feel Like You're Stuck in Life, I Urge You to Write
Do you feel like you're stuck in life, treading water, and not getting anywhere? If so, I urge you to write.
Start with something simple, like one-sentence affirmations, and move on to journaling, writing stories, or books. Writing involves discovery. The printed words on a page can reveal feelings you didn't know you had, validate the decisions you've made, and find solutions to problems.
Writing is my life and I'll never stop. The caregiving series has received favorable reviews on Amazon, Goodreads, and NetGalley. AARP just nominated me for its Purpose Prize. Each year, AARP recognizes five people who have tried to make life better for others. I've been nominated for the Caregiving prize for my series, and the free talks and workshops I give. While my chances of winning are slim, it's an honor to be nominated.
I write to learn about life. In the process, I learn about me.
* * *
Rochester, Minnesota resident Harriet Hodgson has been a freelance writer for 37+ years, is the author of thousands of Internet/print articles, and 35 books. She is a member of the Association of Health Care Journalists and Minnesota Coalition for Death Education and Support.
She is also a contributing writer for The Caregiver Space website, Open to Hope Foundation website, and The Grief Toolbox website. Harriet has appeared on more than 185 radio talk shows, including CBS Radio, and dozens of television stations, including CNN.
A popular speaker, Harriet has given presentations at public health, Alzheimer's, bereavement, and caregiving conferences. Her work is cited in Who's Who of American Women, World Who's Who of Women, Contemporary Authors, and other directories.
All of Harriet's work comes from her life. She is now in her 20th year of caregiving and cares for her disabled husband, John. For more information about this busy author, grandmother, wife, and caregiver please visit her website, or connect with her on Facebook, LinkedIn, Twitter, and Pinterest.
---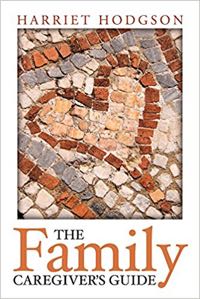 The Family Caregivers Guide: Caring for a loved one at home. What's really involved? And what does it mean for your family and future?
Tens of millions of Americans have had these questions and more as they prepare for this unsettling yet necessary task. The Family Caregiver's Guide fills in the gaps, connecting the dots between research and real life. Drawing on the author's extensive caregiving experience, this book provides strategies to care for your loved one, inside and out, as well as for yourself—including how to use your natural skills in your new role, and which skills you may need to add.
You'll discover how to set up your home for caregiving, including a safety checklist, equipment suggestions, and words you should know. And for those days that are more than a handful, you'll find positive affirmations, a section on facing and accepting illness, and smart steps at the end of each chapter, in case you need guidance in a hurry.
Caregiving has both rewards and challenges. But through it all, you'll discover what's most important—that caregiving is love in action.
Available, along with three other caregiving books, on Amazon.
Tags: freelance writing, Harriet Hodgson, writers caregivers, writing help, writing loss, writing to heal