As a young mom, I left medical school after only one year,
unable to find the right balance in my life.
When I found a job working in admissions and teaching Latin at the Waldorf School my kids' attended, I was thrilled and committed. It perfectly suited my desire to be a hands-on parent and have a meaningful professional career.
But when my children got older and I started thinking about what was next for me, the only path that allowed me to fully let go of my medical school dream was writing.
Working in the Arts, and Working at Home, Had an Impact on My Mental Health and Well-Being
As I transitioned into this new venture, I was thrilled by the creativity and flexibility I found. But working in the arts, and working from home, have both definitely had an impact on my mental health and well-being.
When I worked at the school, I had to be up and out of the house at a certain hour everyday, regardless of my mood. Now, sometimes it requires a good bit of self-talk to get dressed in the mornings.
With my previous job, I interacted with prospective parents, my fantastic colleagues, and my students every day. Now, I live predominantly in my own head.
It's been a huge change and a huge challenge. Don't get me wrong, most days I love what I do and I love the lifestyle it has afforded me in terms of freedom and independence, but I've also had to deal with some emotional issues that I had no idea were lurking in my psyche.
Habits to Stay Productive and Emotionally Healthy in This Writer's Life
I think my mood swings are mostly a result of being alone for hours at a time, and they tend to be more pronounced in the winter, but they've become more noticeable and actually interfere with my productivity sometimes. I affectionately call the bad days "circle the drain" days.
I've had to resurrect some effective habits from my previous career and develop some brand new ones in order to stay productive and emotionally healthy in this writer's life.
Here are some of my tried and true methods for keeping on track and caring for myself.
I work with a calendar to keep organized.
I admit to being obsessive about working with my calendar and to-do lists, but within the framework of my calendar, I have the freedom to be creative. I'm proactive instead of reactive and I feel in control of my time. And, as importantly, I plan my down time and self-care time into my days. These activities hold just as much weight as any deadline.
Yoga is more than a workout for me.
I try to attend two to three yoga classes per week on the days I don't go to the gym. The endorphin release of any type of exercise gives me more energy and keeps me in shape physically, but a yoga class feels like hitting the reset button. On any given day, I always feel better after yoga.
I bask in the sunshine and fresh air whenever possible.
Anytime I can, I work outside. I move my laptop and tea to the front porch and appreciate the pleasure of a warm breeze and the smell of cut grass.
Of course, I live in New England, so winters can be rough, but my hiking group goes out in just about every weather condition. As they like to say, "There's no bad weather, only bad clothing." While I don't entirely embrace that sentiment, being outside with a group of people who've been my friends for years is something I look forward to.
I embrace my rhythm.
I've come to accept that I won't always feel terrific, that I'm not always as productive as I'd like to be, and the long, dark winters take their toll. Instead of fighting the ups and downs, I've tried to embrace and honor them.
And instead of feeling bad about feeling bad, which only makes the feeling last longer, I let it drift through. I recognize it but don't dwell on it (thank you yoga practice!). Hot chocolate and a workspace by the fire make those long days of winter more tolerable. Candles lit all over the house when it's gray and rainy feel cozy.
When I'm able to open the windows, I appreciate and celebrate the burst of energy and creativity that comes with the sunshine.
Community is important.
I have really wonderful friends, many that I've known for decades. Often, when I'm feeling down, the last thing I want to do is be with people, but usually that's the best antidote. Alone in my head, I lose perspective on things large and small.
My friends can make me laugh, give me a good kick in the pants when I need it, or offer a much needed break from my day to day routine. And sometimes, just working at a coffee shop, with the background bustle of people for company instead of working from home alone, is good enough.
I Didn't Expect How a Writing Career Would Impact My Mental Health
Shifting careers into the arts has been quite an adjustment for me. I expected there would be a change in my work habits and I expected a learning curve. I didn't expect the impact on my mental health.
Recognizing that I needed to pay attention to it and adjusting my habit life around it took some time. But now, a few years in, I wouldn't want to do anything else!
* * *
Tabitha Lord currently lives in Rhode Island. She is married, has four great kids, two spoiled cats, and lovable lab mix. Her degree is in Classics from the College of the Holy Cross and she taught Latin for years at an independent Waldorf school, where she now serves on the Board of Trustees.
Tabitha's debut novel, Horizon, won the Writer's Digest Grand Prize for Self-Published Fiction in 2016. Infinity, the second book in the Horizon series, releases on June 6, 2017. Her short story "Homecoming" appears in the anthology Sirens published by World Weaver Press. Tabitha is also a senior writer for Book Club Babble.
For more information Tabitha and her work, please see her website, or connect with her on Facebook, Twitter, and Instagram.
Main photo credit: Robyn Ivy Photography
---
Horizon: Caeli Crys isn't living—she's surviving. On the run after the genocide of her empathic people, she witnesses a spaceship crash near her hidden camp. When she feels the injured pilot suffering from miles away, she can't help but risk discovery to save his life.
Commander Derek Markham awakens stranded on an uncharted planet. His co-pilot is dead, his ship is in ruins, and he's only alive because a beautiful young woman is healing him with her mind.
As Derek recovers, Caeli shares the horror of her past and her fear for the future. When Derek's command ship, Horizon, sends rescue, Derek convinces Caeli to leave with him. But his world is as treacherous as hers—full of spies, interplanetary terrorist plots, and political intrigue. Soon the Horizon team is racing to defend an outlying planet from a deadly enemy, and Caeli's unique skills may just give them the edge they need to save it.
Available at Amazon.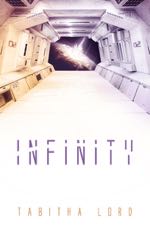 Infinity: In the second installment of the award-winning Horizon series, Dr. Caeli Crys returns to her war-torn world to fight for those she left behind.
Almagest, Caeli's home, stands on the brink of revolution. Long hidden from the rest of the galaxy, the once-peaceful planet suffers under a regime that grows more violent and oppressive by the day. Marcus, Almagest's dictator, is building an arsenal of alien weaponry by selling empathic children into slavery. A resistance has risen, but they are outmanned, outgunned, and in hiding.
Joined by Commander Derek Markham and his elite squadron of operatives, Caeli embarks on a dangerous mission to find the Resistance, rescue her captive people, and save her civilization from destruction.
Tags: Tabitha Lord, work at home, writers emotional health, writers isolation, writers mental health, writing science fiction, writing yoga