First of all, you can't sit scrunched up over your laptop all day.
Yes, I know when you are on a roll, you don't want to stop. In fact, you lose all track of time.
Now that can be dangerous and can, believe it or not, lead to strokes and all manner of problems. Your body has been built to move. So as you write, move you must. Every two hours, you should get up and get some form of exercise—walking is fine—and every fifteen minutes or so just spread your arms wide or you will end up with a writer's stoop.
Buy yourself a timer and set it for two hours—you'll be surprised how fast it comes around. (Colleen says every one hour is better!)
Don't grab snacks and keep on writing. Stop completely and eat a healthy meal. If you don't want to cook, then call and have one delivered. But make sure it is healthy food or you are going to gain weight.
Imagine a 400lb you waddling up to accept an Edgar. Will your friends and family be proud or embarrassed?
Walking Can Encourage New Ideas for Book Characters
I find taking a walk in the fresh air halfway through a writing session helpful. Obviously, it feels good, but as I walk along admiring a display of tulips or a blossom laden tree, I come up with some dynamite plots.
A wimpy character takes on a whole new life when given the time to germinate in your brain. Then there are the people you pass. Now why didn't I think of matching a Chihuahua, a Great Dane and a woman with bright red hair before?
Most important is that you bring no electronics with you! That means leaving the cell phone and mp3 player home and allow your mind to open up to new ideas while you enjoy the fresh air. You will come back refreshed and ready to go.
I've also found in the gym while riding a stationary bike, I can make that tiresome chore speed by if I think where my plot is going. Any type of exercise will help—walking or swimming is good. Skiing, running, cycling, or sky diving will get your heart pumping and your brain whirling with ideas.
Personally, I enjoy aerobics, walking, swimming and Tai Chi. Think I'll leave sky diving for later.
Writing Helps You Forget Your Problems
The great thing about writing is that you create a make-believe world, a place where you can forget your problems and relax.
My husband had leukemia and endured two years of chemotherapy before he passed away. I used to drive him to a clinic every few days where they pumped him full of drugs. Watching him suffer without being able to do anything about it was truly terrible—as so many of you must know.
When we arrived home, I made him comfortable in bed or in front of TV and escaped into the wonderful therapeutic world of my book. Wrapped up in the plot, I relaxed for the first time in hours.
A Writing Critique Group Can Save You from Many Blunders
I also belong to a critique group and we meet for a couple of hours every two weeks. Their comments on my book have saved me from many blunders and there are always plenty of things to laugh about.
After my husband passed, I returned to the clinic with flowers and chocolates to thank them for their unwavering help. As we all stood around chatting, one of the oncology nurses said to me, "I hope you don't mind me asking, but what did you do on Wednesday afternoons?"
Completely taken aback, I told her about the critique group. She beamed at me, "I knew there had to be something. Len was the most co-operative patient we've had and would switch appointments at the drop of a hat if we asked, but he would never accept a Wednesday appointment."
So, sick as he was, he understood the strain I was under and realized writing was my escape valve. Whenever life is grim, get back to your novel and forget your problems for a while.
Mystery Books Are Perfect After a Stressful Day at Work
I was an avid reader as a child and was raised on the classics. I loved them and devoured them all. However, when I first moved to California I landed a job as a technical writer.
My flowery prose did not fill the bill for that role, so a friendly older writer advised me to read Agatha Christie. Great advice. Dear old Agatha writes clean straightforward prose without any extensive descriptions or unnecessary words. It did the trick. My writing became perfect for the technical world.
Of course, I was immediately hooked on Agatha's clever plots and became an avid mystery fan. I don't know if you have noticed, but mystery books are the perfect thing to read after a truly stressful day at work. Just curl up in bed, enjoy the plot, and relax, knowing someone else will solve the problem.
Accept the Fact That You'll Be Criticized as a Writer
It comes as a big surprise to all of us that not everyone thinks our prose is wonderful. No matter how brilliant your book is, often praised by many, there are always those short-sighted people that don't recognize the beauty or terrifying drama of your book.
It is a bitter pill to swallow. That, unfortunately, is human nature. If a hundred people tell us our book is fantastic and one person says it is terrible, we focus on that one person.
So if you want to keep on writing, you have to accept the fact that you will be criticized. Justified or not, that criticism must be checked to see if you can learn something from it and then accepted as part of the job. If it makes you mad, then punch the lights out of a pillow or go for a run and burn it off. Any sort of exercise will help you get over the problem.
Criticism triggers an aggressive streak in you. Your body is ready to fight your critic or run away and hide. So take that adrenalin and burn it off with a short run or fast walk. The feeling will pass. Then go back and read all the nice comments again.
Actually, try working hard in the computer industry or some similar lucrative trade, and make enough money to retire. Then really enjoy writing. If you make money—fantastic. If you don't, you can enjoy writing for its own sake, and the company of other writers.
Advice for a Young Writer: Enjoy Your Day Job
First of all, be aware that making enough money to live on may take a very long time. It is important to enjoy your job—whatever it is—you spend hours each day at it and there's nothing worse than doing something you hate. However, a mere sprinkling of people have made money writing for a living and millions have struggled for years.
So if you intend to go straight from school to a writing career, you need to first consider how you are going to survive before those first royalties come in. Maybe you can find a part time job that will pay enough to keep you sheltered, fed and clothed, while you write.
Perhaps you can talk your spouse into shouldering all the household expenses while you pursue your dream. Parents, of course, are always a good bet, but maybe they've just been waiting for you to graduate so that they can do that cruise that has been a dream up until now.
You can always try to land a job as a professional writer. Write articles for websites, newspapers, magazines, or your own blog. Write ads, scripts or ghostwrite for a successful writer (you will be surprised when you find out how many best-selling writers employ ghost writers).
Meanwhile, join professional writers associations like the PNWA (Pacific Northwest Writers Assoc), MWA (Mystery Writers Association) and go to their conferences or the many writers workshops they run. Hang out with writers and learn some of the tricks of the trade.
* * *
Ilene Birkwood: I grew up in England. After I married, my husband and I set off to find fame and fortune overseas—actually we went in search of sunshine. We were tired of the wet English weather. When we arrived in California, I knew we had found the perfect climate.
Life in Silicon Valley was exciting and completely exhausting but I loved it. I became one of the first women in management at Hewlett Packard, and after a long career there ended up as Vice President of Tandem Computers.
After decades of sunshine in California, we retired in our fifties and bought a spectacular beach-side home in New Zealand's sub-tropical North where we spent 14 delightful years. Later, we moved to the Pacific Northwest to be close to my son and his family. A beautiful location, but the same lousy climate we started with!
For more information on Ilene and her work, please see her website.
---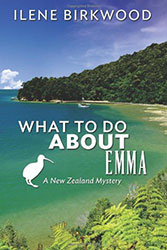 What to Do with Emma: On Monday he decided to kill his wife. By Thursday he had the perfect plan. Nicole, a young New Zealander grieving over the death of her husband, shies away from the pain of another relationship. Well-meaning friends constantly urge her to marry again. Frustrated by their endless matchmaking, she runs away to the other side of the world.
Settled comfortably in a charming English village, she enjoys her new way of life. As a software consultant, she works like crazy all week, but retreats to the slow-paced village life on the weekend. There she strikes up an unlikely friendship with a shy little homemaker, Emma. However, she has mixed feelings about Adrian, Emma's successful husband.
When months later Adrian returns from a long vacation in New Zealand without Emma, people accept his explanation – everyone except Nicole. Determined to discover the truth, Nicole decides to face her personal demons and return to New Zealand. There she uncovers more evidence, but a police investigation finds nothing conclusive. It looks as if Adrian has committed the perfect crime. Adrian hearing of Nicole's efforts, comes in hot pursuit. Undeterred, she continues her search, totally unaware of what fate has in store.
Available at Amazon.
Tags: advice for writers, Ilene Birkwood, mystery, writer day job, writers walk, writing tips