Facing my biggest physical challenge is what actually inspired me to become a writer.
I have always identified as a creative person. A pianist with a music degree, I've also sewn, quilted, painted, refinished furniture . . . you name it. (Ask me about the three-foot balloon-and-paper-mâché kangaroo I made for my report on Australia in fourth grade—or the bust of Socrates I carved from a bar of Ivory Soap. Yeah, I was that kid.)
Then, about fifteen years ago, I decided I'd had enough of the poor vision that had put me in glasses at age four and underwent Lasik surgery. I saw perfectly for the first time in my life—for a whopping three months—and then my eyes failed.
Becoming Visually Challenged Led Me to Writing
The top corneal specialist in the state reviewed my medical notes and concluded my surgeon had done everything right and then some. He said, and I quote, "We're finding that three out of every ten thousand eyes fail for no apparent medical reason. And you have two of them."
It's hard to read music when the notes distort and vanish from the page. It's hard to sew when you can barely see the needle, let alone thread it.
The personal loss I experienced was devastating to me. It still is, some days.
In an attempt to reclaim a part of my creative self, I decided to give writing a try. To deal with my visual challenge, I have a 30" monitor with my laptop and crank up the zoom to two hundred percent. I work in the sunniest room in the house, with extra wattage in my light bulbs for evenings.
And we make it happen.
I Discovered a Vulnerability that Came with Writing I Hadn't Expected
When I initially began writing, I thought I would be prepared for any conceivable fallout that could occur during the process. Heck, I'd been through more music festivals and master classes than I could count and had been critiqued at every one. But I discovered a vulnerability that came with writing I hadn't expected. It was a huge emotional challenge.
First came the dreaded rejection letters, and I have a folder full of them. And then, after finally getting my work accepted and published, I discovered that everyone's a critic, which, technically, is how it should be.
I had to learn to draw boundaries that allowed me to write and stay emotionally healthy. For example, I found beta readers I trusted to be objective and honest and collaborative, and developed a trusting relationship with my editor. I also moderate my visits to online sites where public comments are posted.
I personally think that, at some point, writers have to trust themselves and accept the validation of their readers with a grain of salt, and acknowledge the naysayers with the same grain of salt—all while staying open to constructive feedback.
It's a tricky balancing act but doable.
Our Self-Identities Should be More About Our Inward Character Than Our Outward Achievements
Discouragement happens to everyone, and I'm no exception. Part of the vulnerability I mentioned earlier included finding a way to identify as an author and feel authentic.
At writing conferences I heard countless stories of people who'd dreamt of being authors since they were in the womb, and I felt like a fraud. I hadn't followed The Life of a Writer Rule Book like it seemed they all had. They fit into a neat little society where they all related to each other, where they ate and drank and breathed writing. I felt excluded. I was discouraged.
Maybe it was because, deep down, I knew I was really a derailed musician.
Now I remind myself that musicians and writers, like everyone else, are complex individuals who wear multiple hats and that, just perhaps, our self-identities should be more about our inward character than our outward achievements. Keeping that in mind has helped me the most.
The bottom line—and good news for me—is that I found writing fulfills me creatively. I found a new way to express the need that has always been a huge part of me.
Advice for a Young Writer: Write Only Because You Feel a Need To
If I were to give advice to someone who wanted to be a writer or artist of any kind, I would say, "Dear Creative: Do what you do because you love it and feel a need to do it and for no other reason. Plan to keep your day job. Don't assume you will be the next Beyoncé or JK Rowling or Picasso. There's a whole world of amazingly talented people who didn't get the lucky break the famous and fabulously successful and wealthy got.
"But don't let that reality stop you, either. Create. Share. Teach. Reach for the stars. And if no one buys your paintings, hang them on your walls and the walls of family and friends. If you don't perform at Carnegie Hall, play for funerals and weddings and rest homes and churches. You may not appear on Broadway, but you can be onstage near your home.
"Cook that gourmet meal. Write that poem. If all you get are rejection letters, put your manuscript in a binder and be proud that you are one of a select few who actually wrote an entire novel. Allow yourself the deserved sense of accomplishment from whatever you do.
"Creations of any kind touch our souls in ways nothing else can. You only have to look at the glorious world we live in to know that. You were born with an innate need to create. If you're lucky, you may make a little money while you're at it. But if you don't, you will have enriched lives and inspired others nonetheless. And that, by itself, will make it worth the effort."
* * *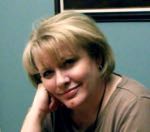 Karen Tuft was born with a healthy dose of curiosity about pretty much everything, so as a child she taught herself to read and play the piano. She studied composition at BYU, graduating from the University of Utah in music theory as a member of Phi Kappa Phi and Pi Kappa Lambda. Besides being an author and pianist, Karen is a wife, mom, and grandma (hooray!). She has spent countless hours back stage and in orchestra pits for theater productions. She likes to figure out what makes people tick, wander through museums, and travel, whether it's by car, plane, or paperback.
For more information on Karen and her work, please see her blog and Amazon author page, or connect with her on Facebook and Twitter.
---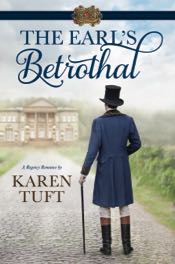 The Earl's Betrothal: Out of the war and into another, Captain Lord Anthony Hargreaves finds the politics of romance to be as uninviting a battle as the one that nearly cost him his life in Badajoz, Spain.
Wounded both mentally and physically from the Peninsular War in 1812, Anthony returns home to find that his older brother has died, placing Anthony next in line to inherit the estate. But he's not ready for such responsibilities. And when Anthony's dying father pleads with him to marry and produce an heir to preserve the family title, it nearly sends Anthony over the edge; nevertheless he dutifully faces a long line of hopeful young ladies who await him. No one grabs his attention, though, like Amelia Clarke, his mother's stunning companion, who is off-limits for the earl. But when Anthony unwittingly puts Amelia in a compromising situation, he dedicates himself to protecting her reputation.
But the horrors Anthony faced while away from home have left him feeling broken and tormented. And Anthony finds himself drawn to Miss Clarke, the only one who can chase away his demons, but he must overcome the hostility of a society driven by class, a jealous duke bent on revenge, and himself–for could Amelia ever really love a haunted man?
Available at Amazon, Desert Book, Barnes & Noble, and at other online bookstores.
Tags: joy of writing, Karen Tuft, romance, writing advice, writing inspiration, writing tips, writing vision loss