For me the biggest physical challenge of writing is also my biggest emotional challenge: the alone time and the isolation it requires to write.
You see, I am an extrovert. I am that person who when you introverts are sitting quietly alone at a coffee shop, shatters your solitude with her banal chatter.
Writing is much more suited to the person who thrives on solitude. That's not me. To address this I set very specific goals for myself of one thousand words at a time. After achieving my goal, I reward myself with a phone call or Facebook chat with a friend. Or sometimes I just talk to a total stranger, trying to write her book alone in a coffee shop and jabber away.
As a Writer, I Can Escape to a Fantastic World that I Control
I don't have a single place to write. I have a couple of favorite creative nooks within my home. If I am really inspired and go over my thousand word goal, I switch spots. It keeps me from getting all stiff and sometimes changes the direction I was going with my words for the better.
I find I write just as well when fulfilling my word count goal as when, upon rare occasion, I feel particularly inspired. The story and the characters usually suck me into their world one way or another. We all love the escape of a good book. As a writer, I can escape to a fantastic world that I control.
Extroverted Writers Like Working Out with Others
My attempts to stay healthy as a writer are no different than those to stay healthy as a regular person.
I used to exercise as I do far too many things—with a vengeance. Now, however, I have adopted a more moderate approach. I work out five days a week for no longer than an hour and try very hard to do something different every day.
Sometimes I walk to breakfast, other times I ride my bike for ten miles. I do have a weight stack, free weights, and an elliptical in my basement and visit them about twice a week. I also have a gym membership, because as you might guess, working out with others feels less like punishment.
The latest addition to my fitness repertoire is yoga. I have never had much luck meditating because I have a hard time not making up a story in my head when attempting to empty my mind. Yoga serves as a moving meditation and you can do it in a room full of people. Of course I would never chat you up during any pose but I just might after or before our practice.
I try to take a group yoga class twice per week. Rotating my activity gives me maximum benefit while minimizing the stress on any one set of joints.
Why Writers Should Take a Creative Writing Class
This lonely, discouraging, seemingly futile path we writers walk, is not a choice for me. I have to do it.
For years I planned stories to write in my head and rarely got past a few pages. I once wrote and an entire exercise book that absolutely no one would have wanted to read. In my earlier years, I escaped in the lovely words of others until one day, I took a creative writing class at the community college.
The support I got from that class was just the spark I needed. A series of short stories were quickly followed by my several practice novels.
While researching eighteenth-century women's underwear for a romance novel, I stumbled upon the memoir of Giacomo Casanova, Histore de Ma Vie. It is twelve volumes and thirty-seven hundred pages. I knew all those French classes would come in handy.
Somehow, his candor and his antics pulled me into his world. I felt compelled to share my friend with modern women in this bit of fun speculative fiction called Conjuring Casanova.
To Continue, You Have to Believe Someone Else Will Enjoy What You Write
Rejection from agents and editors are certainly not easy things to face, but to be a writer is to become an optimist. You have to believe someone else will enjoy what your write in order to continue.
We write to share the lovely words in our heads. We need to believe in them. That doesn't mean bad reviews and "Dear Author" letters aren't devastating. They are indeed, no matter how many you receive.
Once in a while I delight in the odd fantasy that maybe years after my death, someone will discover a pile of my work and posthumous best sellers will result. Until then, I type on.
Advice for a Young Writer: Get a Day Job
To anyone who thinks they might want to be a writer, I say simply, just write.
If you find you can't stop yourself, no matter what anyone says; congratulations you are a writer. If you have developed a need to eat regularly and require a roof over your head, get a day job.
The competition is fierce and even Stephen King had to teach English for a while before he sold Carrie.
Just think, if you produce a large enough pile, how happy someone might be to find and enjoy it after you leave this world. If you write well enough, long enough and weather the rejections, you just might sell something.
Few joys could possibly compare to opening a book and seeing your words on the printed page.
* * *
Melissa Rea has a degree in psychology with a minor in French, is an amateur Casanovist. A dedicated researcher, she has read Histoire de Ma Vie many times in English and in its original Archaic French. She traveled to Paris to see the handwritten manuscript when it was displayed for the first time in over two hundred years, and has stayed in the hotel in Venice that was Giacomo Casanova's home for nine years.
Originally from Louisiana, Rea received her degree in dentistry from the University of Missouri-Kansas City. She practices in St. Louis where she lives with her husband, and is at work on her third novel. When not drilling, reading or writing she is in search of the next Mad Men/50s era dress and matching bon mot.
For more information on Melissa and her work, please see her website, or connect with her on Facebook and Twitter.
---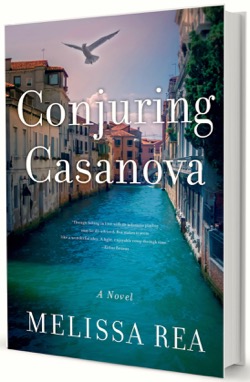 Conjuring Casanova: ER physician Elizabeth Hillman has been hurt by the men in her life far too often—which is why she spends her free time safely alone, reading the memoir of Giacomo Casanova, history's most famous libertine.
But when a child in Lizzy's care dies, she flees to Venice, Italy for a much-needed break—and there, on a lovely rooftop, Casanova appears beside her. In 2016, Casanova is still Casanova. He seduces her friends, is arrested for child endangerment, and even boffs the cleaning lady.
Although his antics unnerve Lizzy, she's determined to enjoy his conversation and not fall victim to its legendary charm. But when she and Casanova travel to Paris seeking an answer to a question of love that would have changed his life, an incendiary love affair begins to unfold. Who better to teach modern guarded Lizzy about love and life than an eighteenth-century libertine?
Available at Amazon.
Tags: extroverted writer, Melissa Rea, romantic fiction, writers believe in themselves, writers yoga