My best friend of thirty years was not doing well, both emotionally and physically.
She'd been through a lot over several years and I knew I was losing her (the cancer she had at thirty came back, and she passed away). She and I, along with two other friends, spent a lot of time together and went on several trips together over the years.
I asked myself: What would I do if I lost all three friends? And I added on from there.
Make Sure You're Ready Before Submitting to Agents
I jumped in and wrote this book from the heart, not paying any attention to character development, plot line, etc. And it was freeing at first, until I started submitting to agents!
Amazingly enough, I had a few agent requests the first round of submissions. I think my query was decent and the premise of my story was unique. What I was lacking was other people reading it.
Luckily, the following year I was paired up with two other critique partners via WFWA (Women's Fiction Writer's Assn.) and also received a grant to hire a developmental editor. Over the next couple of years those two things helped me hone my story, and the knowledge I obtained from WFWA—something I could write a whole blog about—was valuable in every other writing aspect, too.
As with most writers, I started the submission process too early. But I learned a lot along the way from agent feedback, and especially from fellow authors I connected with. Authors are a great pay-it-forward community!
Few Authors Have a Quick Trip to Success
For me, the biggest challenge was finding the time needed to invest in writing, rewriting, querying, revising, etc. etc.
After a year or so of writing my story, while working full-time, it became a challenge to push through and invest the time to keep going with a story I believed in. Most people have no idea how long it takes to write a book… at least the first one.
I generally take summers off from writing, or do minimal writing during those months. In addition to working full-time, for ten years I've also written part-time for a Minnesota women's magazine. We live on a lake in Minnesota and I want to enjoy our too-short summer, especially as we have a large family of kids and grand-kids who come to visit.
So that keeps me going, that bit of a "break." I may still write, but try to limit my expectations on what I'll accomplish.
Another thing that kept me going is hearing every other author's journey (through WFWA and other authors I met.) Few have a quick trip to success, and I knew I wasn't alone. It helps.
I never really put my book aside, though. I queried off and on for about 1-1/2 years, getting interest and feedback from several agents. I then took a year off from submitting and focused on revisions based on agent feedback, and I started on book #2, in case things fell apart with my first book attempt.
I submitted to a handful of places that fall, and signed with Pandamoon Publishing a few months after I submitted my work to them.
My Writing Group Got Me Through
I can think of two triumphs I experienced while writing the book.
The first one was about a year into querying and within a week I received three requests for my full manuscript. I knew then that I had a story with enough of a unique twist to keep at it.
The second time was actually last fall, after I had signed with my publishing company. I was at a WFWA (Women's Fiction Writer's Association) retreat and had signed up for a class where we all read from our books. I read my first chapter and got choked up, even though I'd read it twenty times. For me, it still was a touching, heartbreaking scene.
Oh, and WFWA is amazing! I'd have never made it past the first baby steps of writing without that group.
I Loved to Write, but Felt I Wasn't Qualified
I compare writing this book to taking up running late in life. Both gave me confidence.
I started running and writing after I turned 45. Both things I always wanted to do. I went to a conference several years ago and one of the quotes they told us to think about was, "What would you do if you knew you could not fail?"
It has become my favorite quote, and it helped me realize I needed to look at running and writing as things that I wanted to try, and if I didn't succeed, (and really, what is success?), so what?
Many writers run, and I think the connection for both is determination and commitment. Neither are something you "just decide" to do without putting a lot of effort and time in them.
I have learned that I generally do what I can to persevere. I may not always succeed, but I give it my best. And I didn't used to be that way.
If you'd have asked me what I wanted to be in high school (40 years ago) I'd have said a "stay at home mom with four kids." While that is a terrific goal, I had no expectations for myself with a career. I loved to write, but for some reason felt I wasn't qualified.
I sold myself short on a lot of things back then. It wasn't until I got older that I realized my potential. We all have it, we just have to tap into it.
Writing Stories is Emotionally Fulfilling
I wouldn't say writing is spiritual as much as emotional.
I've asked myself many times why I've continued putting the time into something that rarely pays off financially. Writing stories and letting the characters out of my head and heart is emotionally fulfilling. Seeing a story develop that I didn't even know was there is rewarding.
Getting Back to Writing Again
My second book, Crazy Little Town Called Love, is Molly's story. Molly is a character we meet in my first novel, a fellow "Hell Club" member. Book two is the story of how she came to join the Hell Club. It is a resurrection of the first book I wrote, about ten years ago. I dusted it off, changed it up quite a bit, and linked her story to my first book.
It is an easier story for me to tell. The most challenging part is getting back to writing it while working on marketing my first book right now. But I'm not complaining. This is a dream come true, and nobody made me do it. I chased my dreams, and I guess I caught them. 🙂
* * *
Born in California, Jill Hannah Anderson lived everywhere from the Azore Islands to Florida. After her dad left the Air Force, the family settled in St. Paul, Minnesota, where she lived until she graduated from high school. Voted "Most Imaginative" in high school, Jill assumed everyone else looked at life with "What If " questions too. She's often told that she asks too many questions, but finds it a great way to learn about people.
Jill lives on a lake in a small town in Central Minnesota with her husband and their empty nest. It is rarely a quiet nest though, as they enjoy their six adult children and ever-increasing number of grand-children when they come to visit.
For two decades, Jill has worked at a communications company. She also has written part-time for a Minnesota women's magazine for over ten years. Her first women's fiction novel, The To-Hell-And-Back Club, will be published May 16, 2017.
She is a proud member of Women's Fiction Writers Association (WFWA), and is currently at work on her second women's fiction novel, Crazy Little Town Called Love. When she isn't working, writing, or reading, you'll find her running, curling, biking, and enjoying time with family and friends.
For more information on Jill and her work, please see her website, or connect with her on Facebook, Twitter, and Instagram.
---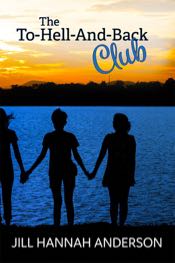 The To-Hell-and-Back Club: In this inspiring debut from Jill Hannah Anderson, Peyton Brooks, a newly-empty nester with a comatose marriage, loses her three best friends in a car crash, and reaches out to women in the To-Hell-And-Back Club, hoping they'll help resuscitate her life.
Through the "Hell Club," Peyton learns that it's never too late to begin again. These been-there-felt-that women use their sense of humor, strength, and support to help pull her off the couch and back to living her life.
She puts an end to her troubled marriage and rebuilds the life she'd put aside two decades ago. But when Peyton digs up time capsules she and her friends buried years ago and uncovers secrets about those she loved, she struggles to keep her own life-changing secret buried.
The "Hell Club" women help remind Peyton of the strength within her. She finds a renewed hope in life and love when she faces the mistakes and guilt that have troubled her for years. When Peyton's secret is discovered, she's going to need the "Hell Club" women more than ever.
Available at Amazon.
Tags: first novel, Jill Hannah Anderson, novel publishing, novel writing, writing perseverence, writing tips