When I was younger, I would hear other writers talk about how
sitting at their writing desk for long periods made their joints stiff.
I couldn't relate to their pain at the time, but now that I'm in my forties I know exactly what they were talking about.
With all the demands of family and life's responsibilities, it's so easy to skip exercising because you need to catch up on your word count. Eventually, you start feeling tight and bunched up, not to mention it's easy to add on pounds, which puts more pressure on already aching joints.
Try Not to Write for More Than 5 Hours a Day
I have made it a rule to get up from my desk and move around, whether it's to play with the dogs or run a quick errand.
As far as daily routine, I've adjusted my writing days to make exercise a priority. I've had a membership to a gym for quite some time, but I admit it hasn't gotten used the way it should. I've just recently gone back to exercising in order to relieve the tension I feel building in my joints from so much sitting.
For example, I'm writing today, but after two hours of writing, I went to the gym for a yoga class, and now I'm back at my desk. I also make it a point not to write for more than 5 hours on any day, unless a deadline truly requires it.
What Prolonged Isolation Can Do to Your Writing
I used to say that Emily Dickinson was lucky because she had the opportunity to devote most of her time to her writing, but over the years I've realized that while I love being an introvert, I still need a certain amount of human contact.
It means I will never be able to write as much as Emily Dickinson did, but for me, prolonged isolation can cause my writing to go stagnant. I feel like I need to be around other people and out in the community in order for my stories to be fresh.
Besides, how else will we understand human nature? Being around other people is the best research possible for a fiction writer.
Why Writers May Want Part-Time Jobs
Even when my introverted side begs for me to stay in, which is just about every single time, I make sure that sometimes I go out.
In addition to that daily goal, I have taken two important steps to make sure I don't isolate myself. First, I took a job outside of my writing career as a substitute teacher and I love it. Not only does teaching part-time help with the finances, but it gets me away from my desk and around people.
The other thing I did was to rent co-working space. It's only 8 days a month, but it's enough to get me out of my home office and around other people who work in similar situations as I do. I find that spending time with people refreshes me and makes me less restless or lonely when it's time to buckle down and finish the story.
There Are No Fairy Tales in the World of Publishing
My first novel, Ruby Among Us, was published in 2008 by a big publisher. It was a realization of a dream; almost everything you could ask for as a brand new author. The whole thing was a beautiful experience that I wouldn't trade for the world, but sadly, there really are no fairy tales in the world of publishing. Trust me on that.
Any author you talk to who seems to have the fairy tale probably has bounced over a huge bump in the road at some point in their writing career, and probably not just one.
Unfortunately, by the time my second novel, Rose House, came out, there was a big downturn of the economy, which many of you might remember. It affected publishing in a very big way. It made it hard to get a new deal, hard to get paid, and hard to hold your head up in this industry.
My brother, who has always coached sports in one way or another, says that adversity makes athletes stronger, not only in their sports, but as people. I've found that to be true for writers, as well.
Why I Switched My Focus from Writing to My Family
Now that so much time has passed, I do feel stronger and I look back on how I handled it and I'm happy with my decisions. What I chose to do for a time was turn my focus fully to my family.
I am a mom/stepmom to three children who are all one year apart. By the time my first two novels had released, my kids were at an age where they could really benefit from extra time from me, so I gave it to them.
For that time I did very few book signings, I stopped spending money and time on writing conferences, and I did not pursue publication of future novels at the same pace as I had planned. I came to a point where I knew I had my whole life to write books, but my kids were growing up faster than I could blink.
Devoting more time to them is something I will never regret.
Writers Will Know What I Mean
[What keeps you on your path?]
It's an internal thing. I've always had that feeling inside that propels me to write down words. It's a difficult thing to explain to non-writers, but writers will know what I mean.
I feel like God gave me this passion for stories and I must follow this desire. There may be setbacks, even sabbaticals, but after I have taken care of myself and those I love, I have to pursue it.
Advice for a Young Writer: Don't Wait for Kudos from Other People
The hardest part is doing it without any regard to what anyone thinks, even people who are close to you.
If you are going to be a writer, most people won't truly understand what drives you to do it. You have to be okay with yourself even when other people think you are simply pursuing a hobby.
If you can't handle people treating your writing career like it's a passing phase in your life, as if it's like coin collecting or knitting scarves for your grandkids in your spare time because it's fun, then you are going to have to buck up.
You can't wait for affirmations and kudos from other people, because other people won't get it. You just have to write anyway.
* * *
Tina Ann Forkner wrangles words on the pages of her novels and kids in the classroom as a substitute teacher. She lives in Wyoming with her husband, who knows when to wear a cowboy hat, and three teenagers who never do (even if she thinks they should).
Tina is proud to be a Tall Poppy Writer and is the author of five novels including Ruby Among Us and her award-winning novel Waking Up Joy. For more information on her and her work, please see her website, or sign up for her newsletter.
---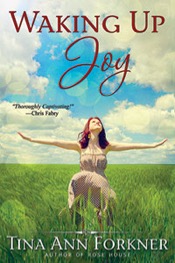 Waking Up Joy: When adored town spinster Joy Talley ends up in a coma after a peculiar accident, she is surprised and incensed to hear what is being said in her hospital room, including plans for her funeral. When she finally wakes, her well-meaning, but bossy, brothers and sisters dismiss her claims, thinking her accident has knocked her off her rocker, but Joy has never felt better, and is determined to set the past right.
Now Joy must face her darkest secret and risk reopening wounds caused by an old flame who rejected her more than twenty years ago. But taking risks brings change, as well as a new, younger man into Joy's life, making her feel like a teenager again.
Suddenly Joy's once humdrum life is anything but boring and routine and the future beckons, exhilarating and bright.
Available at Amazon, Barnes & Noble, and IndieBound.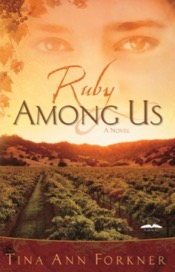 Ruby Among Us: Lucy DiCamillo is safely surrounded by her books, music, and art–but none of these reclusive comforts or even the protective efforts of her grandmother, Kitty, can shield her thoughts from the mother she can barely recall. Lucy senses her grandmother holds the key, but Kitty seems as eager to hide the past as Lucy is eager to find it.
From the streets of San Francisco and Sacramento to the lush vineyards of the Sonoma Valley, Lucy follows the thread of memory in search of a heritage that seems long-buried with her mother, Ruby.
What she finds is as enigmatic and stirring as it is startling in this redemptive tale about the power of faith and mother-daughter love.
Available at Amazon, Barnes & Noble, and IndieBound.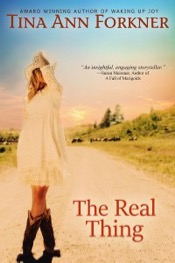 The Real Thing: Manda Marshall is ready to leave heartache behind when she marries Keith Black, a champion saddle bronc cowboy and man of her dreams. But going from the serenity of small town Tennessee to the exhilaration of the rodeo, nothing can prepare her for being a cowboy's wife. Becoming the new stepmom to Keith's little boy and teenaged daughter has Manda relying on her deep sense of longing for a family and budding love for her stepchildren to strengthen their bond.
Manda's desire of being a rodeo cowboy's wife begins to take second place as she works to reinvent a life for herself and new family, but when mysterious phone calls from Keith's missing ex-wife dredge up the past, Manda finds her marriage and family in an unusual and heart wrenching dilemma. The life she had worked so hard to build is suddenly redefined and her commitment to her husband and family is tested.
What Manda discovers has the power to heal or break her family in this emotional tale of cowboys, rodeo queens, and what it really means to ride beside a cowboy and his family, no matter the risk.
Available at Amazon, Barnes & Noble, and IndieBound.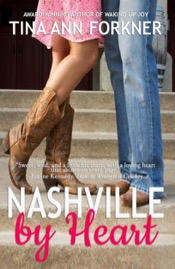 Nashville by Heart: A small town girl, a chance at stardom… or a chance at love. Does she have to choose? Gillian Heart moved to Nashville to get a record deal—not end up on some playboy's arm. That's why she tells herself she can't get too personal with sexy music agent, Will Adams. Will makes her heart flutter, but he's also broken plenty of hearts in this city.
Will thinks Gillian has what it takes to make it in Nashville, but he can't help being wildly attracted to her in a way that has little to do with music. She inspires him to change his ways, but he's still wary about mixing business with pleasure. He did that once before and got burned.
But neither Will nor Gillian can deny the spark between them. As things heat up, Gillian dares to imagine a life with Will—even though she knows he's not a forever kind of guy. And then Will makes a move—bringing back memories of the father who abandoned her—that makes her question him and her whole life in Nashville.
Can Gillian get over the disappointments of the past and find her place in Nashville, and with Will?
Available at Amazon, Barnes & Noble, and IndieBound.
Tags: introverted writers, publishing, Tina Ann Forkner, women's fiction, writers and exercise, writers health, writers isolation