I've struggled with bad posture all my life.
At 6' 1" I tower over most people. I hated my height when I was younger, so I slouched to make myself smaller. I can still hear my mother's voice in my head… "Throw your shoulders back!"
As I grew older, I learned to love my height and I put it to good use playing college basketball. But…old habits are difficult to kick and I tend to slouch over my laptop when I'm writing, resulting in a stiff neck and muscle aches in my shoulders.
An old sport's injury left me with a bulging disc in my lower back, so sitting for long periods can be a challenge for me.
How I Remind Myself to Get Up Out of the Chair
In the past few years I've made a deliberate effort to get up from my desk every 30-40 minutes. In the beginning I used a kitchen timer to remind me to stop writing and move, but I've trained my body and after sitting thirty minutes, I grow antsy and get up without a reminder.
To combat the stiff muscles and tightness in my shoulders I keep a pair of 5-pound hand weights in my office and I'll use those to stretch. I also walk on the treadmill 4-5 days a week for 50-60 minutes, which helps stretch my back and improve my circulation.
When I'm Not Writing, I'm Thinking About Writing
Anxiety [has been my biggest emotional challenge]. I was born a worrier.
My anxiety level rises quickly when I'm faced with overlapping deadlines. Add promotion and social media to the mix and it feels like I work 24/7. When I'm not writing, I'm thinking about writing—what are my goals for the next day, what post should I put on my FB page, what can I do to increase my followers…it's very difficult for me to turn off the noise in my head.
And then—like right now—I feel guilty when I complain because I have a wonderful, savvy, smart assistant who helps me with my website and my social media platforms. Without her I'd probably throw in the towel, crawl into my writing cave and never come out.
My Unusual Cure for Writer's Anxiety
Maintaining a consistent exercise routine helps me to better manage my stress. There are days when I look at my workload and think "I don't have an hour to walk on the treadmill," but if I force myself to do it, I always return to my desk feeling relaxed and focused.
Don't laugh but my go-to cure for anxiety (for a short duration) is the Animal Planet TV channel. My favorite show is Pit Bulls and Parolees. I watch taped episodes while I'm on the treadmill and my stress level immediately drops.
Maybe it's the writer in me, but there's something so brave and poignant about ex-cons and abused dogs getting a second chance in life. I'm all about happy-ever-afters for everyone.
Hard Work Pays Off…Doesn't It?
We live in a culture where we're taught that hard work pays off, but in the publishing business I discovered that's not always true.
A few years back I was forced to accept that my editors' goals for my career did not mesh with mine. My years of playing competitive sports instilled a strong work ethic in me, and a winners-never–quit attitude. Unfortunately, I had to finally accept that my hard work and dedication was not enough to convince the editors to support moving my career down a different path.
It was up to me to make the shift and once I accepted that, I wrote and sold a book in a different genre to a second publisher. Of course I just added more deadlines and more stress to my life.
How "Write What You Know" Works for Me
I live by the motto, "Write what you know."
Whether I'm writing romantic women's fiction or contemporary western romances, my stories and characters reflect my upbringing as a middle-class, blue-collar girl. I may have a college degree but you might never guess that if were talking to me.
My mother taught me the importance of a hand-written thank you note, while my seventy-five year-old great aunt showed up at a family graduation party in a bikini top and a pair of hot pants. This aunt also gave all of her nieces and nephews live baby chicks died pink and blue for Easter. I think that was the first time I heard my mother use a swear word.
I'd prefer pizza over steak. I think front yards with plastic flamingos look gaudy but I want one for my back yard. I lost my $700 wedding ring set in the ocean three years after my husband and I married—the past 32 years I've worn a $10 silver band from a mall kiosk.
I buy my underwear at Walmart not Victoria Secret. I can't stand roses, but I love daises and tulips. I've held jobs in retail, worked in a factory that makes bathroom rugs, cleaned houses for extra money, have been a caretaker for the elderly suffering from dementia, unloaded mail trucks at a post office. And… this white, Midwest girl experienced racism in the early 80's.
A Midwest White Girl Experiences Racism
After my college basketball team played in a tournament in Auburn, Alabama, we stopped to eat at restaurant on the way out of town. Because we had a black assistant coach and black players we were told the only way they'd serve us, is if we agreed to enter the restaurant through a back door and eat in a banquet room closed off from the other diners.
When I recall that memory, I am still in awe of the grace and strength my black teammates showed that evening.
I have always been most comfortable writing about imperfect people who struggle through life. I can easily get into the mind of a 7-11 convenience store clerk, a single mother or a dirt-poor farmer—people who accept the life they've been given but strive for better.
My stories will never be literary masterpieces, they will never use words you have to look up in a dictionary, but my imperfect characters, dysfunctional families and small-town settings will tug at your heartstrings and remind you of how resilient the human spirit is.
Advice for a Young Writer: Don't Sabotage Yourself
Don't fall victim to self-sabotage.
Don't accept anyone's criticism as truth or use it as an excuse to give up on your dream. You will never please everyone. Not everyone will love your work. No matter how accomplished a writer or artist you may become, there will always be people who find fault with what you create.
Remember that your creative soul answers only to you and no one else.
* * *
Marin Thomas is an Award-Winning and National Bestselling Author of over thirty-five contemporary western romances for Harlequin books, including the best-selling series, The Cash Brothers. A Cowboy's Redemption (June 2015), the first book in her acclaimed Cowboys of the Rio Grande series, was an RT Book Reviews Reviewer's Choice Award Winner.
Marin also writes for Tule Publishing and has penned two romantic women's fiction novels for Berkley Books, The Future She Left Behind…and The Mother-In-Law She Couldn't, releases September 2017.
Marin's stories are best known for their down-to-earth characters, small-town charm and the strong bonds of family. You can find out more information about Marin Thomas and where she hangs out on social media at her website, or receive information about her new releases by signing up for her newsletter. You can also connect with her on Twitter, Instagram, and Facebook.
---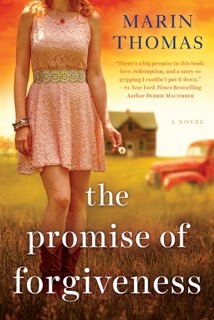 The Promise of Forgiveness: When it comes to family, Ruby Baxter hasn't had much luck. The important men in her early life abandoned her, and any time a decent boyfriend came along, she ran away. But now Ruby is thirty-one and convinced she is failing her teenage daughter. Mia is the one good thing in her life, and Ruby hopes a move to Kansas will fix what's broken between them.
But the road to redemption takes a detour. Hank McArthur, the biological father Ruby never knew existed, would like her to claim her inheritance: a dusty oil ranch just outside of Unforgiven, Oklahoma.
As far as first impressions go, the gruff, emotionally distant rancher isn't what Ruby has hoped for in a father. Yet Hank seems to have a gift for rehabilitating abused horses—and for reaching Mia. And if Ruby wants to entertain the possibility of a relationship with Joe Dawson, the ranch foreman, she must find a way to open her heart to the very first man who left her behind.
Available at Amazon.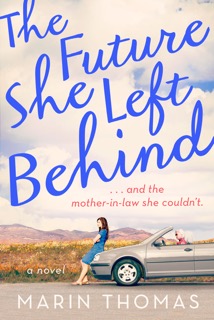 The Future She Left Behind: Cast aside by her cheating husband, Katelyn Chandler is ready to pack it all in and drive home to Little Springs, Texas. She wants a chance to regroup, reconnect with her mother, and get back to her art.
But Shirley Pratt—master manipulator, elitist snob, and Katelyn's terror of a live-in monster-in-law—has other ideas. Shirley insists on joining Katelyn's trip after her son tries to pack her off to a retirement community. Katelyn has no choice but to play peacekeeper between the ornery old woman and the proud matrons of Little Springs. Yet the small town seems to be changing Shirley.
And as Katelyn weighs the wisdom of picking up where she left off with Jackson Mendoza, the town bad boy and her high school sweetheart, she must find a way to believe in the strength of her dreams.
Available at Amazon.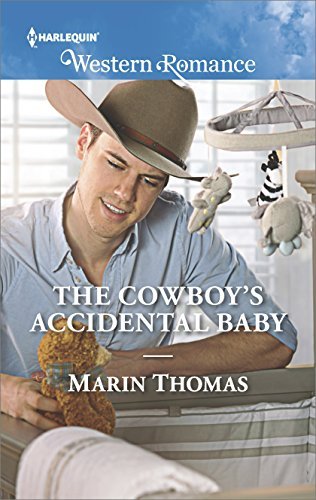 The Cowboy's Accidental Baby: Bronc rider Gunner Hardell never plans past the next stop on the rodeo. When he's home in Stampede, Texas, he's part-time manager of the run-down Moonlight Motel, to get his crotchety grandpa off his back.
Then he meets interior designer Lydia Canter—hired to renovate the motel—and suddenly the gig gets a whole lot more appealing…
Lydia is looking for love, but there's nothing wrong with some Mr. Right Now while she waits for Mr. Right. But one intimate night with Gunner has unexpected consequences. And she would rather raise their baby alone than give the good-time cowboy a chance to break her heart.
When Gunner learns he's going to be a daddy, he's determined to prove to Lydia he really is her Mr. Right!
Available at Amazon.
Tags: creative truth, Marin Thomas, romance writing, writers anxiety, writers exercise