Back pain seems to be the biggest physical challenge when I'm writing.
Sitting in one spot for too long triggers off a lower back issue I've had for years. Snacking on the wrong things can be a problem too—any excuse to get up and procrastinate, which usually means coffee and something sweet!
Lately I've developed aching knuckles. I suspect rheumatism, which could be an age issue, or a writing issue—or both!
Use the Pomodoro Technique to Ensure You Take Breaks
One thing I have found really helpful is using the Pomodoro Technique. There's an app you can download which times you for 25 minutes before a bell chimes reminding you to take a 5 minute break. After a couple of hours you take a longer break.
It's a good reminder to get up and walk around and stretch.
I've also gotten back into yoga, which really helps with the back issues and stiffness. Another great tool is a Fitbit. It tallies up your steps per day and also reminds you when you've been sitting too long. I love it! And I'm trying to drink more herbal teas rather than relying on coffee for a pick-me-up.
No How Many Books You Have Out—There is Always More Fear
I find the emotional challenges of writing a lot harder than the physical ones. There's a lot of fear. Is my writing good enough? Will anyone like it? What if this book doesn't sell?
It doesn't matter how many books you have out, there is always more to fear! That can be a real block when it comes to sitting down and writing.
I've been in situations where I've stalled for months on a manuscript, even when I do have a deadline. Balancing my time is a big problem for me, too. I'm not a very organized person AND I'm a huge procrastinator which can both lead to a great deal of stress.
The Best Antidote to Not Wanting to Write: Writing
I've already mentioned the Pomodoro technique and yoga, but there are a few other things I do to help with the stress and doubt.
Being in a supportive writing group is essential. They'll be there for the highs and the lows, and having someone to get honest, constructive feedback from is a must.
I have a huge library of books about writing and turn to them for both help with craft and motivation. Natalie Goldberg and Julia Cameron have always been my go-to authors when I need inspiration and last year I read Big Magic, by Elizabeth Gilbert, which is my new favorite.
There are some great blogs and writing podcasts out there too. Anything to make you feel less alone with it all. Walking is a great way to clear your head, as is freewriting. Getting outside and spending time in the natural environment and with my four legged friends (dogs, cats, horses, goats) is a great stress reliever.
But the best antidote for not wanting to write is actually writing. Once you sit your bum in the chair and get into it, there's no better escape, and no better way back into your story.
Sharing Your Work with Others Can be Torture
I'll never forget my first writing workshop when I was doing my Masters in Creative Writing. Sharing your work with others can be torture and when you get feedback that's less than brilliant it is agony. But, over the years, I've learnt that taking the criticism on board is the best way to improve your work.
I've also had quite a few rejections from publishers and agents. You either give up or use them as fire to fuel your writing. As with everything in life, there are highs and lows. Getting great feedback from a reader certainly makes up for the down times.
I Love the Way Words and Stories Connect People
In the end, it's my love of writing itself that keeps me going. Unless you're a hugely successful author you won't make a lot of money so you have to love what you're doing.
I love the way words and stories connect people. One of the best things about being a writer is meeting fantastic people—both writers and readers. I also teach writing and seeing the way new writers blossom is truly inspirational.
Advice for a Young Writer: Follow Your Passion
I would definitely encourage them to follow their passion.
We all have things locked away inside us and writing, art—any creative pursuit—are all ways of digging into our subconscious and becoming who we were truly meant to be. Everyone is creative in their own way and tapping into that creativity is, I believe, the best way to experience joy.
And in finding your own joy you bring it into the lives of others.
That being said I would warn any young artist to be aware of the pitfalls—have another source of income (don't do it just for the money), be prepared for rejection in all sorts of forms, and find ways to fight your fears. Love what you do but also develop a discipline about it.
Above all, don't wait until you're older or more experienced to start. As Natalie Goldberg says, "If you want to write, then write. This is your life. There are no excuses."
 * * *
Pamela Cook is a city girl with a country lifestyle and too many horses. Her rural fiction novels feature feisty women, tangled family relationships and a healthy dose of romance. Her first novel, Blackwattle Lake, was published in 2012 after being selected for the Queensland Writer's Centre/Hachette Manuscript Development Program. Her following novels were Essie's Way (2013) and Close To Home (2015) and her fourth book, The Crossroads was released in December 2016.
An eclectic reader, Pamela also enjoys writing poetry, memoir pieces and literary fiction and is proud to be a Writer Ambassador for Room To Read, a not-for-profit organization that promotes literacy and gender equality in developing countries. When she's not writing she wastes as much time as possible riding her handsome quarter horses, Morocco and Rio.
Pamela loves to connect with readers both in person and online. For more information on her and her work, please see her website, or connect with her on Twitter and Facebook.
---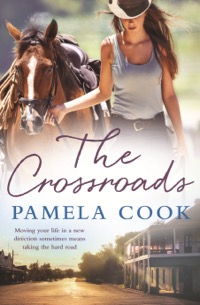 The Crossroads: Rosie O'Shea dreams of seeing the world. But right now the outback hotel she owns is falling down around her ears, her bank account is empty and family duty means she's staying put.
Drought is impacting hard on Stephanie Bailey and her family. They've already been forced to sell off most of their cattle. The rains aren't coming and Stephanie's husband is becoming more and more distant.
City girl Faith Montgomery is left reeling after a shocking discovery. Determined to uncover the truth and make sense of her life, she arrives at The Crossroads Hotel but soon realizes deception isn't an easy game to play.
One family. Three women. Will the lies they tell and the secrets they hide lead to more heartache or will fate bring them together before its too late?
Available at Pamela's shop, on Booktopia, and on iTunes.
Tags: back pain writing, Pamela Cook, Pomodoro technique, rural fiction, writers fear, yoga and writing