I was a forester for over twenty years working in the private sector.
My job consisted of office time behind a desk, but also field work. A good balance.
Writing a novel required sitting for long hours working on a computer. Bad posture, leaning too close to the monitor and the strain on my wrists created issues. My sciatic nerve would cause leg aches. Sitting for lengthy periods of time is unhealthy on the whole body.
Writers, Get a Good Office Chair and a Good Mouse
To help keep my sciatic nerve from getting irritated, I opened my wallet and bought a good ergonomic office chair. Well worth the money.
To find the right one, I went to a lot of stores and sat in a lot of chairs. Since we are all built differently, not every chair works for everybody.
For my wrists, I helped reduce strain with a low-profile mouse. To help with posture, I moved my keyboard closer and forced my back up against my chair back. I am not a consistent person so I did not always do this. But, my shoulder and leg aches were great reminders.
Stretch Every Couple of Hours to Avoid Sciatica
Exercise and stretching are great tools to help with posture and sciatic nerve issues.
I try to stretch about five minutes every couple of hours. Getting up and doing a few stretches works best. You can Google online and find plenty of good exercises.
An easy one I can do in my chair for my sciatic is to take my left leg and place my left ankle on top of my right knee. Hold for a brief time and switch sides. Also, I sometimes use a towel rolled up and placed against my chair and shoulder blades. It helps my posture and elongates my spine. Another thing I do for circulation when I am sitting is wear compression socks.
Self-Doubt Was a Major Roadblock to Writing
I had three big challenges trying to write my first novel.
Nagging self-doubt. I considered myself an idea person not a writer. Ideas bombard my brain like the ball in a pinball machine.
Lack of focus. A gnat could distract me. Therefore, it is extremely hard for me to stay on task.
Trying to keep my writing organized. I bounce from idea to idea creating problems with my time line.
My self-doubt was a major roadblock to writing. I argued I was not a writer, just an idea person. My husband, a writer, continuously encouraged me to write the story brewing in my head. But the catalyst was when the man I was going to write into my story did something I did not expect.
He is an army veteran who had lost his leg in Afghanistan when his patrol was trying to open a school for girls. He was hit by an IED. We started communicating about the character I wanted to develop. After several conversations, he told me if I wanted to understand what he went through recovering at Walter Reed Army Hospital, he would send me the diary he had to keep.
After reading his diary, I knew I had to write the story.
Taming a Sporadic Writer's Brain with Lists and Timelines
My lack of focus is an ongoing battle. I deal with it like I have all my life. I keep lists of things I want to get done. If I keep the list in front of me, then I am not happy until I can check something off.
My list might have to complete a scene or a page count. It helps unless I look out my window and a beautiful day is beckoning me outside. I feel the urge to take a walk. I did say we need to exercise, didn't I?
Trying to keep an organized timeline while writing was almost insurmountable for me. My brain is so sporadic with ideas; I can write a Fall morning and next chapter it is Summer. My husband is also my editor and it drove him crazy. He advised me to make notes at the beginning of a chapter for the weather, season and time of day.
I find motivation for writing by reading other authors and getting out in nature. I am in awe of a good writer who keeps me coming back to the story. Nature is a great place to let your mind rest and stir new ideas.
On My Next Novel, I'll Lay Out Each Part of the Story
The times I wanted to throw in the towel were those times I had written myself into a corner. I was liking what I was writing and then it happened. I could not figure out how to move the story past the point I had gotten to.
This was where my husband rescued me. We would talk about the possibilities and what I might want to do with the story. Tossing ideas back and forth is something we always did with his novels. Yep, my husband would always throw me a life line. (Joke)
Next time I write I will put more effort into laying out each part of the story.
Advice for a Young Writer: If I Can Do It, So Can You
If anybody told me they wanted to be a writer, I would tell them it is probably one of the most difficult things you will ever do. But, if I can do it, anybody can.
* * *
D. J. Steele, a graduate of the University of Georgia, was one of the first female foresters hired in the private sector where she worked in the timber industry for over twenty years. Prior to writing her own thriller, Declared Dead, she edited five award-winning novels for her husband, also a thriller writer. She enjoys research and weaves historical facts into her work of fiction. She lives in Northern Colorado where she is working on her second novel.
For more information on D. J. and her work, please see her website, or connect with her on Twitter and Facebook.
---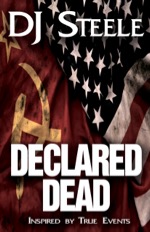 Declared Dead: Some say the Cold War never truly ended. A rising threat is upon us— the New Cold War. Spies of old are back, bearing secrets from the past. The battle to reveal the truth might be the most treacherous warfare of all.

Julia Bagal's life has hit rock bottom. A murder in her duplex, a missing body and now, her hated supervisor is strangled. Only this dead body is found in Julia's cubicle. Now, sitting in a police station, she is scared she might be a suspect…or worse yet, the intended victim.
She suspects who might be involved, but before she can question her, the woman disappears. Entangled in a web of deceit, Julia is afraid the missing woman is in danger and searches to find her. With the clock ticking, she's forced to accept the help of a man she believes is dangerous. A man trained to kill by the best, the U.S. Army. Julia finds herself drawn to the man who seems to know too much about her.
Suddenly, Julia uncovers a terrifying secret. A bungled CIA operation twenty-three years ago has put her on a deadly collision course of vengeance and betrayal. One leading all the way to the White House.
Available on Amazon, Barnes & Noble, iBooks, and Kobo.
Tags: D. J. Steele, novel timeline, self doubt and writing, thriller novel, writing office, writing organization