Working from a home office has equaled some weight gain due to lower activity levels, but I do use the apps My Fitness Pal and Runtastic to track daily calories when I want to lose a few pounds.
It's easy to delude one's self and not think about how unhealthy some foods are, so such apps provide much-needed reminders. Indeed, a slice of heaven from the Cheesecake Factory can harbor a thousand calories! Even though I live a life of moderation, I also allow myself to indulge on occasion.
Eye strain has been my one nagging ailment. Other than that, I've always been quite healthy. Even when I taught high school English and was around tons of germs, I rarely got sick.
As someone who has always been fairly active due to outdoor pursuits, I make some form of exercise a daily priority because it simply makes me feel better in both body and mind. I've found it's also important to have a bedtime routine (such as drinking herbal tea) and forgoing screen time at least an hour before bed.
What's the Best Modification a Writer Can Make to Her Home Office?
The best investment I have made has been setting up a larger monitor that I connect to my laptop when I work at my desk.
A couple of years ago, I had issues with blurry vision. It turned out the downward cast of my eyes at my desk toward my laptop monitor was responsible for the strain. Now that I type and look forward instead of down, the strain on my eyes has been greatly alleviated.
I also prefer to use a wireless mouse with a built-in scroll wheel when working at my desk rather than my laptop's touchpad. Navigating through pages of text when making edits and revisions goes much more smoothly that way.
On the other hand, I'm glad my FitBit broke. I used one for about a year. The shift of our society to need to track and quantify so much is an interesting phenomenon. When it came to using a FitBit, it seemed counterproductive and a waste of energy to need to be reminded by a device that I was being mobile. The apps I mentioned above are used in more of a ballpark capacity.
A Major Challenge for Writers: Motivation
The main emotional challenge I typically face in my creative writing is motivation. Becoming successful as a writer requires a long-term commitment, and the payoff between slaving over a piece of writing and getting it published is a sizable span of time.
I do better now that I focus on writing for a certain number of hours each week, rather than on reaching a daily word count. Little by little, those words do add up.
I made the happy mistake of starting an author blog way too soon. I blogged about teaching, writing, and traveling. I had no focus, no experience, and no plan. Yet, I am never one to give up.
Once I started posting critical book reviews, the editing requests began. I took to the demands of blogging with the frequent deadlines and rewards of cultivating an engaged community of readers. It helps that I am also technologically inclined.
The uncertainty of slogging through writing a novel still daunts me, but I'd like to say I've written at least one. I am much more motivated as a blogger than an aspiring novelist.
Now I know if I can carve out a full-time living for myself as a digital nomad with my editing business, I can certainly do the same with my writing. I needed to learn that lesson in a roundabout way!
Ultimately, I see myself living in an RV and making a living by blogging about alternative lifestyles. That's years away at this point, but the initial planning is taking place.
How Writers Can Improve Their Focus
I read how-to or self-help books on a semi-regular basis, and Dan Harris's book 10% Happier acted as the catalyst for me to get more serious about becoming a more mindful person. I am gradually making meditation a greater part of my daily practice.
There can be so much going on in our lives, that we lose focus of what's important.
Cristen Iris, the national chapter director of the Nonfiction Author's Association (NFAA) and leader of its Boise chapter, introduced our group to the FOCUS Challenge. The acronym stands for "focus on one course until success." My most recent monthly goal was to research local and regional publications that practice editorial discretion. I will focus on submitting short pieces of writing to titles on that list this year.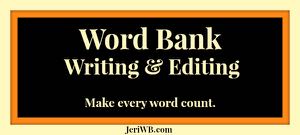 In the early days of Word Bank Editing & Writing, I was also fortunate enough to work with Susan Cooper as my career coach. The saying "fake it until you make it" goes a long way in life. Plus, when I would get down on myself, she reinforced the value of following the 80/20 rule. One day a week might run off course, but the other four are still salvageable.
It took me a long time to be able to apply that to my business practices and my writing.
When Your Life Turns Upside Down, Take a Risk
My darkest moment was when my former husband literally walked out the front door of the house and never came back.
I was only freelancing part-time at that point, and it was emotionally taxing and embarrassing to be a woman in the position of not being able to fully support myself.
I resisted the urge to go back to teaching. Luckily, I did have the recommended six months of living expenses saved up, so I took the risk.
I will never get past what happened, but I am stronger for it. And wiser. Only after he left did I realize how shaped I'd been by growing up with a severely bipolar mother to pick someone like him at nineteen years of age to spend half of my life with.
I celebrated my fortieth birthday last October by getting my first tattoo. I picked the word "resilient" set in an old typewriter font.
I've Given Myself Permission to Go with My Natural Inclinations
I am one of the most self-disciplined people I know. Once I put my mind to something, I inevitably accomplish it.
I'm the type of writer who hates to write, but loves what I have written. The words rarely flow from my fingertips.
By nature, I am an editor. Try as I might not to self-edit as I write, I can't seem to break the habit. Rather than fight that inclination, I've finally given myself permission to go with it.
Advice for a Young Writer: Become a Good Business Person
The hardest part of being a creative person or a sole proprietor is setting realistic expectations and goals.
We all have dreams of grandeur when it comes to being successful. In this day and age, it is possible to be a successful independent artist or entrepreneur, but with that possibility comes great responsibility.
For some, the act of creation is enough no matter how large the audience. But in order to reach a larger audience with one's work, it's necessary to become a good business person. Like it or not.
* * *
Jeri Walker is a freelance editor and writer offering incomparable quality at affordable rates. She believes in making every word count. Her creative writing is influenced by a stranger-than-fiction life story. She is currently submitting short pieces for publication. You can connect with her via Word Bank Writing & Editing at JeriWB.com or browse her books. She is also on Facebook and Twitter.
---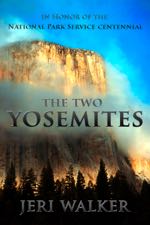 The Two Yosemites: The iconic beauty of California's Yosemite National Park lures nearly four million visitors per year. Most flock to the seven-square miles of the valley floor. Few make it into the backcountry. Even then, it can be next to impossible to find solitude during the summer months.
This travelogue recounts the highs and (mostly) lows of the author's visit as she seeks to discover the version of Yosemite not all tourists pursue. The results raise the question: What type of tourist are you?
Consider this travel memoir a cautionary tale of expectation versus reality in honor of the National Park Service Centennial.

Available at Amazon.
Tags: editing, Jeri Walker, writers blogging, writing focus