My left hand likes to protest typing, as loudly as possible.
Five years ago, I went to a physical therapist for lymphedema that resulted from surgery for breast cancer. While undergoing physical therapy, I mentioned that my hand had been hurting a great deal—I thought it was related to the lymphedema.
From the physical therapist to doctors again, I was diagnosed with arthritis. I tend to give myself weird pep talks in order to push past the pain in my fingers.
For instance, mild arthritis beats the heck out of cancer.
In May of 2016, I went from "remission" to "cancer-free" so I'm generally pretty thrilled with my physical challenges overall.
I Don't Have a Chair—I Have a Yoga Ball!
After my daughter was born, I worked as a personal trainer. My clients were all what is termed "special population"—people suffering from autoimmune illnesses, or coming to us after finishing physical therapy from injuries, and requiring modified workouts.
The yoga ball/balance ball was a huge component then, and it's my desk chair now. I do not have a chair. Sitting puts more pressure on the spine than any other activity, and the ball relieves that pressure. Plus, I can fidget on a ball while continuing to work.
The hidden benefit is that sitting on a ball, or any unstable surface, forces the abdominal muscles to work harder for balance.
I love running and swimming, but there are some days that I am short on time. I try to make sure to do something, even if it's only crunches, each day. I prefer to start the day with something to get my blood moving, plus my coffee.  🙂
I Live in a World Populated by People Only I Can See
To be a writer is to live in a world populated by people only I can see or hear.  
There comes a point in time where those characters feel very present, especially once my plot is starting to move almost on its own.
This can be crazy-making, because my mind is always percolating. Sometimes, I'll have an "a-ha!" moment, and have to explain that my exclamation was entirely based upon my imaginary friends…er, characters.
Fortunately, my children and my spouse are very flexible and invested in my writing. They roll with it and will often ask me what Finola, my main character, is up to on any given day.
Hey, If I Come Across as Weird, It's Because I'm a Strange Writer-Person
The toughest thing for me is talking to perfect strangers to promote myself in real life. I'm an introvert with anxiety, and sometimes it is absolutely necessary to get out there and meet people.
I went into Barnes and Noble and asked to do a book signing. Then, I spent five hours at the Barnes and Noble doing a book signing and talking to strangers. I had created a Facebook event to publicize the book signing.
I was flat-out TERRIFIED.
Clammy hands, stomach tied up in knots, scared to talk to anyone. I knew that this would be the case, so I read author interviews in the weeks leading up to my signing. I decided that authors don't have to come across as so-called normal people, so if I stumbled over words or used some big super-nerdy words, well, it's just because I'm a strange writer-person.
This Year, I'm Doing More of What Works
From a writing standpoint, I am emerging from my darkest days right now. My schedule during 2016 was packed, with little time for writing and re-writing.
2017 is bringing with it a shift, so that my writing can be prioritized again. Last year was my lowest output of words in my life. Unless you count the years when I was so young I couldn't write at all yet! It involved shifting things around, figuring out—the hard way—what wasn't working, and what was.
This year, I am doing more of what works.
Advice for a Young Writer: Be Prepared for the "Slow Build"
Young writers should know that writing is only a small part of the work involved in being a writer.
Taking courses in marketing wouldn't be a terrible idea. Also, having some graphic design experience is helpful, too.
I've been fortunate in that my spouse, Joanna, can do cover layouts and formats for me, since that is her profession. If my teenager turned around tomorrow and told me she wants to be a writer, I would tell her to be prepared for the slow build.
When you first start, almost no one even notices if you've published a book. Two books in, it's the same. Around the 4th book, you start to build a little momentum.
It's work, but if it's what you love, it's completely worth it, every moment.
* * *
Caroline A. Slee has been writing poetry and fiction since childhood. In University, she was a regular contributor to Art/Life Magazine. In 2011, she was diagnosed with cancer, and chose to pursue her writing full-time.
She is the author of The Cancer-Free Gourmet, based upon her experiences with nutrition during her cancer treatment. She is also the author of a series of supernatural fiction novels, currently including three books: Blessings, Damnation, and Darkness.
Caroline lives at home in the California desert with her spouse, two children, and a highly neurotic dog who is jealous of her computer. For more information about her and her writing, please see her website and Amazon author page, or connect with her on Twitter and Facebook.
---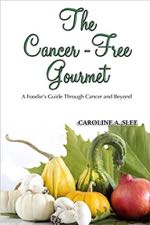 The Cancer-Free Gourmet:
A collection of recipes and guidelines for women undergoing treatment for breast cancer, and those who love them.
Written by a breast cancer survivor, "The Cancer-Free Gourmet" is an unflinching look at cancer treatment today.
Available at Amazon.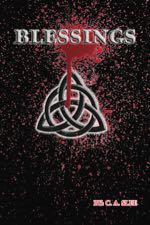 Blessings:
An innocent woman, blamed for a murder.
An inexplicable chain of events unfolding within her lifelong home.
To prove her innocence, she must first uncover the truth of what is happening around her: both seen and unseen.
Available at Amazon.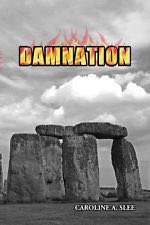 Damnation:
In this sequel to Blessings, Fin and her family must come together to face their enemy once again.
Can they survive a second battle?
Available at Amazon.
Darkness:
Mara has disappeared without a trace, and none of the family can bring her back.
Fin is forced to rebuild her life and move on, leaving Mara behind. But, sometimes, people are much closer than we realize.
Find out what has become of Mara, and if she can truly be saved.
Available at Amazon.
Tags: balance ball, Caroline Slee, characters novel, fantasy novels, writers hand soreness, writing goals