When I was writing my first novel, I gave little thought to my physical health—how I was sitting, the postage-stamp size of my desk, if in fact squinting down at a screen with hunched shoulders was a good idea.
I had two small children and an urgent need to get the words down as quickly as possible, whilst they napped or were entertained by Peppa Pig (for the uninitiated, Peppa is a cartoon pig who specializes in jumping up and down in muddy puddles and enabling working parents with under-threes to get stuff done. I owe her my career.)
That was before I got published of course, before the dream became a reality, before I actually had to do it as a full-time job. That was a bit of a game changer. My body could just about cope with twelve months of abuse (by which I mean bad posture and sitting still for hours at a time).
Writing More Brings on Back Pain
So when I was writing my second novel, I began to notice a niggling lower back pain. This pain soon had a best friend called upper back, neck and shoulder pain.
None of these pains wanted to be friends with me. They just wanted to make being alive as painful as possible. I went to the doctor. She referred me to an orthopaedic surgeon. He referred me for an MRI scan. I went to the follow-up consultation with hope in my heart and an ache in my spine.
He read my notes before peering up at me from behind small round spectacles.
"Ah, so you're a writer."
I nodded with faint smile. Vain pride but everyone needs a hobby.
"Not great for the back," he observed.
I shrank a little in my chair. Also not great for the back.
"And you've had two children."
I dared another nod, minus the smile.
"That will explain your wonky pelvis."
"O-kay."
"Plus your spine has a slight kink to it, nothing to worry about. It's merely a defect from when you were growing as a child."
"Oh. Good. Thank you," I said, although I've no idea why because I felt like crying. I had basically brought all of this pain on myself just by growing, having children and trying to earn a living.
I think the consultant spotted my lip wobbling and there's nothing a senior doctor hates more than a weeping middle-aged woman. "Don't worry," he breezed. "I'll refer you for physio and osteopathy. It's more about finding ways to manage it through good practice and exercise."
"Oh," I sniffed feeling a tiny bit better. "All right then. Thank you."
Daily Exercises Help Keep Back Pain in Check
So, I went to the physiotherapist, was given two pages of exercises specific to my condition and by golly, I do them every day. And if I'm really tired and can't be bothered, I just make sure that I lie on the floor for at least five minutes and stretch out my spine and then let it rest. Because a) it's better than nothing and b) I'm lying down, which is one of my favorite things to do anyway.
Secondly, I go to the osteopath every two to three months. My osteopath is basically a spinal magician. Also he is very positive.
I think what you really need on the day your back "goes" is a calm, handsome man who tells you that this pain will pass plus some really strong painkillers from your GP. Works a dream for me.
You Need the Correct Tools to Write Well
I also realized that in order to write well, I needed the correct tools.
My osteopath suggested that I get a better chair so I took myself to Ikea and bought the most supportive chair I could afford. This specimen has it all—the neck rest, the adjustable arm-rests, the lever at the side that makes that reassuring "pffff" sound. Basically this chair couldn't be more supportive if it was making my morning coffee and vacuuming the lounge.
Sadly though, I still have the teeny weeny laptop desk on which I have written all five of my novels. I have tried, really, really tried to find my perfect desk but so far without success—the quest continues.
However, I do have a vertical mouse (fantastic for averting, alleviating and easing tennis elbow—I cannot recommend highly enough) and a wrist pad for support. Simple but beautifully effective.
Plus I never sit at my desk for longer than half an hour (mostly) and my office is on the first floor, so I have to leave the room in order to get more coffee. It's the ultimate win-win, my friends!
Writing Can Be Lonely—We're Always Waiting
Of course, taking care of the physical is important but as writers, it's often the emotional side that needs more than a little TLC. Writing can be lonely, we're constantly waiting for something—a positive word from our editor, an acceptance letter from an agent or often in my case for the children to come home, so that I have a legitimate excuse for a biscuit.
One of the things I struggle with is not seeing many people. I take my son to school every morning and if I don't see one of my friends in the playground, I probably won't have an adult conversation until my husband comes through the door that evening.
Some days this is fine. Some days I'm happy with my own company but there are days when I have been known to chat to the lady in the post office for just that little bit too long. So, with my physical health in mind too, I swim twice a week at my local pool, often passing the time with a very friendly octogenarian called Bill, who is also approximately seven thousand times fitter than me.
Plus I have started to play tennis again after a gap of twenty-five years and absolutely love it. Firstly, it's really good fun and secondly, there's nothing better than whacking a tennis ball as hard as you can, channeling your inner Serena Williams, whilst working off your frustrations around some pesky plot point.
The Darkest Moment in Writing: When I Had "the Meltdown"
Every writer has their dark moments too—times when we doubt ourselves, worry that our writing isn't good enough and that it's high time we went out and got a proper job.
My darkest moment came one night in early 2013. I had an agent back then and she had submitted my first novel to all the big UK publishers. Their feedback had been positive but the market was crowded. They liked it but not quite enough to commit.
Undeterred, I wrote another book and sent it to my agent. She told me that it was great but she didn't think she'd be able to sell it. She had lost heart. I had lost heart. I had what my husband now refers to as "the meltdown." It wasn't pretty and I'm not proud. Cushions were punched and many swear words uttered. My husband handed me a gin & tonic and I wept.
One month later, an editor I'd contacted on Linkedin got in touch saying that a publisher she used to work for was launching a new digital start-up. She thought my first novel would be perfect for them. Would I like her to put it forward?
Not Quite Perfect was published in July of that year and became a top ten Kindle bestseller in the autumn.
Advice for a Young Writer: Tenacity Is Your Best Friend
So the biggest lesson I've learnt as a writer is to never give up.
You will face rejection and you will fear that it's never going to happen but you have to keep trying. Tenacity is your best friend and she eats quitters for breakfast.
And my best piece of advice for any aspiring writer is that if one person who isn't a friend or family member tells you that you can write, keep going. Keep trying and keep believing. You'll get there.
Oh, and always have gin, tonic, ice and limes in the house. They're very useful too.
* * *
Having worked in the worlds of book selling and publishing, Annie Lyons decided to have a go at book writing. Following a creative writing course, lots of reading and an extraordinary amount of coffee, she produced Not Quite Perfect, which went on to become a number one bestseller. Her second book The Secrets Between Sisters was nominated in the best eBook category at the 2014 Festival of Romance and Life or Something Like It was a top ten bestseller.
The Choir on Hope Street will be published in spring 2017 and is the first of three books in the Hope Street series inspired by the grubby but colourful south-east London streets where she grew up. She tries to write stories that make people laugh and cry, although hopefully not at the same time. Annie lives in a shambolic money-pit of a house with her husband and two children plus a cat, who she pretends not to like.
For more information on Annie and her work, please see her website, or connect with her on Twitter and Facebook.
---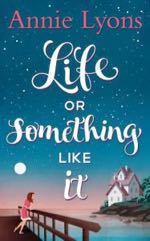 Life or Something Like It: Step into someone else's shoes for a day… And it will change you for a lifetime.
Cat is very good at her job. She runs a PR company with her best friend (and secret crush) Jesse, and is never happier than when her high-profile celebrities are glittering in the spotlight.
But when her footballer client gets in the press for all the wrong reasons, Cat's career takes a sudden nosedive. So when her brother Andrew unexpectedly needs her to look after his kids for a few weeks, she can hardly say no. She's happily single, hasn't exactly been the 'World's Best Auntie' over the years, and what she knows about looking after children would fit on the back of a postage stamp. But it's only temporary until she gets her real life back on track – isn't it?
Available at Amazon.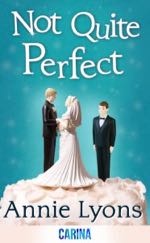 Not Quite Perfect: Sometimes having it all isn't enough…
Emma has everything she's ever wanted. Her boyfriend's just proposed and her career has finally taken off. And so what if her latest client just happens to be downright gorgeous? She's getting married. Isn't she?
Rachel's married with 2.4 children (well, actually, 3) and life is all about trying to leave the house in a non-stained top. Once it was about skinny cappuccinos, cocktails and dynamic ad agency meetings. She wants her old life back, but can it ever be the same?
A gripping and laugh out loud story of two sisters and how often you don't know what you've got until it's gone.
Available at Amazon.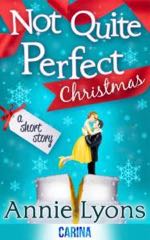 Not Quite Perfect Christmas: A Christmas fairy tale in New York?
This Christmas, Emma Darcy has decided, is going to be perfect! Not only has she exchanged her glamorous London life to jet out to the even more glitzy New York, but she has her gorgeous boyfriend finally by her side, and her dream job comes with an invite to their super-dazzling Christmas party. Ooooh, what to wear?!
To celebrate, this year she's planning a Christmas like you see in the movies; her tinsel-topped to-do list includes ice-skating outside Rockefeller Center, strolling around a snow-covered Central Park and Christmas (window) shopping at Tiffany.
That plan goes slightly out the window with news that her Mum, sister and niece Lily will be visiting her – that's a lot of Darcy women, even in the Big Apple! With family drama and a work disaster to avoid too, this might not quite be the picture-perfect Christmas she'd had in mind…!
A Not Quite Perfect short story. Available on Amazon.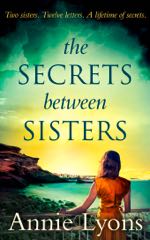 The Secrets Between Sisters: If you could see me now…
Lizzie and Bea Harris were always very close. They were sisters and nothing could tear them apart. Until Bea dies, leaving her sister twelve letters, one for every month.
Alone for the first time Lizzie is left trying to pull together the pieces of a life she has for so long ignored and find a place for herself…out from under the shadow of her sister.
But the letters are revealing a sister Lizzie isn't sure she recognises, and she's beginning to wonder if she ever really knew Bea? As Lizzie delves deeper into her sister's life she begins to uncover secrets that could tear her and her family apart.
Perfect for fans of Sue Fortin, Tracy Buchanan and Cecilia Ahern.
Available at Amazon.
Tags: Annie Lyons, romance writer, writing back pain, writing chair, writing persistence