I actually ended up with tendon overstrain as I was publishing my first book and it's basically never gone away since that time.
It starts in my thumb and ends up affecting me all way into my shoulder and neck the longer I work.
It requires that I always use an ergonomic keyboard, use my mouse with my left hand and ice after long sessions. I also see an Osteopath for manipulation, which some would compare to a chiropractor but is a much gentler, holistic health experience.
A Writer's Emotional Challenges Vary with the Stage of the Book
Oh where to start with this one [emotional wellness]!
As a creative, I think the answer to this question varies by the day and the stage of the book you're in.
There is the beginning of a book, when you're just certain your idea is brilliant but you're so nervous to see if you can pull it off.
Then the completion of the first draft, where you're now convinced it's all crap and you should have never started.
The edits begin and that's when you start thinking about titles and covers and the reality of the book coming to light. It's where you're hitting deadlines and pushing through and forgetting to talk to your friends or husband. You feel like a jerk but you're so engrossed and you don't want to stop.
The editing round is often a blur, written in tandem with release planning and generating all kinds of anxiety. Will people love it or hate it? Will this be the book that flops or flies? Will your friends still like you when you finally return their text messages?
Authors Have to Conquer It All If They Want to Do This
Throughout my time as an author I've also worked full time, been in grad school and had a husband (though no kids, those are coming in January—TWINS!).
I've struggled to balance it all and only succeeded through utter patience from those who love me and want me to succeed.
I also live through my Asana dashboards. (It's project management software that's free and helps keep you on track. Check it out!)
There are high highs and very low lows, but you have to conquer all of those if you really want to do this.
A Writer Needs a Tribe of Other Writers
It's crucial to have a tribe of other writers.
While it's great to be surrounded by your family and friends, if they don't live this life, then they don't get it.
You need people who can talk you both onto and off of the ledge. They can motivate you to keep going, they can remind you that you deserve that glass (or bottle) of wine after a long week. They understand that a part of you has to be crazy to crave this life but they are right in the midst as well.
Being an author is very much a solitary endeavor unless you make it a group activity. Having my writer's tribe is my sanity.
You Need a Lot of Self-Awareness to Survive
That said, I also have learned over the course of three years to make myself a priority (I didn't initially).
I schedule nights off with no writing or marketing.
I don't force myself to write everyday, that doesn't work for my Muse. She needs breaks to think about the story and it makes me a more efficient writer to give myself that mental space.
It's important to pay attention to yourself and see your triggers. Know when you need to step away, or when you must force yourself into the chair.
You have to have a lot of self-awareness to survive this trade.
Authors Can Become Consumed by the Wrong Things
When I was writing my third book (Bound by Prophecy), I was on a tight turn to get it out, my day job was super busy and I was taking six credits of grad school classes.
I probably worked 100 hours or more a week and it was bad. I survived on coffee and sugar. It took my husband coming to me and saying, "You have to stop. You have to leave this room. You have to make yourself, and us, important."
It was eye-opening. I was so deep in things that I had no idea how much I was working and neglecting the relationships that needed to be most important to me. I was consumed by the wrong things and coming out of that book releasing, I took two months off.
The first two weeks I walked around my house utterly lost. What was I supposed to do if I wasn't writing or marketing a book? I felt lazy for watching TV. I was sure my career would tank if I didn't get X social posts out a day and test out yet another marketing tactic.
But after those two months I wrote my next book at my pace. It's a new genre. It's a book from my heart. And I think that only because I gave myself that opportunity to decompress could I do it.
The One Thing That Keeps Me On My Path: Writing is for Me
Being an author is not something I always aspired to be.
In fact, I had zero aspiration to do it until I was 31 and my first story appeared. It forced me to reevaluate every choice I'd ever made.
I quit the job I had worked my whole career for and took one that brought me more work/life balance. But once I wrote the beginning of Bound by Duty, I knew I could never go back.
Heck, I'm about to have twins and even now I know that while quitting my day job is off the table, and there will be longer time between my releases, I will still write. I can't not write.
But when you ask what that ONE thing is…it's that writing is for me.
It isn't my sole income. It isn't something that anyone else can influence or force. It comes from a place inside of me I worked really hard to find and I'll never walk away from.
Advice for a Young Writer: Bare Your Soul to the World
I would tell that the hardest part is putting yourself out there and that it never gets easier. You have to bare your soul to the world.
In fact, you are begging people for the opportunity to bare your soul to them. Every book you put out could be the one everyone loves or everyone hates. You have to be strong enough to know not everyone will like your stories.
You have to be strong enough to go back to the chair if no one liked your story. You have to commit yourself to learning things you didn't want to (like marketing) to be successful.
We are not in a time where you can only be an author. I'm an author, a cover consultant (I don't design but I have my ideas for my designer), an accountant, a marketer, a social media guru, a photographer, videographer, formatter, book blurb writer…I am everything I don't pay someone else to be.
You have to be ready to commit your whole self to this or you will not succeed.
* * *
Stormy Smith is the author of the number-one bestselling Bound series. She calls Iowa's capital home now, but was raised in a tiny town in the Southeast corner of the state. She grew to love books honestly, having a mom that read voraciously and instilled that same love in her. She knew quickly stories of fantasy were her favorite, and even as an adult gravitates toward paranormal stories in any form.
Writing a book had never been an aspiration, but suddenly the story was there and couldn't be stopped. When she isn't working on, or thinking about, her books, Stormy's favorite places include bar patios, live music shows, her yoga mat or anywhere she can relax with her husband or girlfriends.
For more information about Stormy and her work, please see her website or Amazon author page, or connect with her on Facebook, Twitter, and Instagram.
---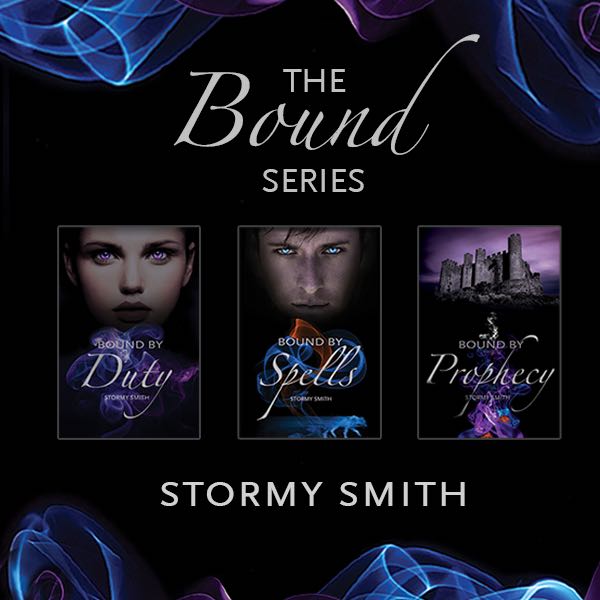 Bound by Duty (book one): Amelia grew up in a world of half-truths. She knows she's an Elder, but has no idea what that means. Her father reminds her daily that she must maintain control, but he refuses to explain why. Even worse, she's betrothed to the prince of the Immortals and doesn't even know his name.
Finally breaking free to live a few normal years at a community college, the last thing Amelia expects is to find her best friend in a cheeky southern girl, or fall for a self-assured human who sees her for who she is, not what she will become.
As she learns more about herself, Amelia realizes the line between love and duty is a thin one. As her power continues to increase exponentially and her questions are slowly answered, Amelia must make the ultimate choice. The question is, will her head win the battle, or her heart?
Continue Amelia's story in Bound by Spells and Bound by Prophecy. Then, enjoy the bonus novella, Bound Together.
Available at Amazon, Barnes & Noble, iBooks and Kobo.
Tags: fantasy books, novel writing, Stormy Smith, workaholism, writer overwhelm, writing friends