I'm not sure if this challenge is singular to writers, but as someone who writes and has a day job, it's hard to find/make the time to exercise.
Thankfully I have a dog who HAS to go for a couple of walks a day, which gets me outside.
A Change in Jobs Opened Up Time for Exercise
A change in my job situation allows me to have time in the morning to take my dog (and myself) for a walk, which we do fairly religiously, barring bad weather.
But I don't do much "exercise" besides walk or hike, housework (that counts, right?), and yardwork (mowing definitely counts, imo!).
I do try to eat fairly well, i.e., more vegetables and fruit than anything else, not too much bread and pasta, but I do like ice cream. * sigh *
The Emotional Roller Coaster Hasn't Made Me Want to Quit
I think the biggest disappointment for me has been not arriving where I wanted before now coupled with the many rejection letters.
The good news is the emotional rollercoaster hasn't ever made me want to quit.
I suppose my mantra is, I can only do what I can do, and I'll get there when I get there.
All I can do is practice my art as much as possible.
I also belong to weekly chat group of writers, some of us published, some not, and we often talk about the challenges of writing, which helps.
And of course there are all my blogger friends, all at different points along the writers path, who always have something to offer, be it some humor, encouragement, or a success story.
I've also given up comparing myself to anyone else because it's pointless and non-productive.
I Can't Imagine Ever Retiring from Writing
[What one thing has kept you true to your path?]
The fact that I have about a million ideas for stories but only a very finite time in which to write them all!
I can't imagine ever retiring from writing so I guess you could say it's a calling.
Advice for a Young Writer: No One Ever Got Good at Anything Without Practice
I would tell them that it's a hard and sometimes lonely path, that they might find instant success, or work years for only mild success, or find none at all, regardless of talent.
I'd also say it's a bit of a crapshoot, because unless you self-publish, you have to hope you hit the right agent at the right time and that they in turn hit the right editor at the right time.
There's lots of luck involved, but there is also one sure way to better your odds and that's practice. Because no one ever got good at anything without practice.
Finally, find a writing buddy/critique partner or two, someone to trade your work with and get feedback. I don't know what I'd do without my CPs!
* * *
Marcy S. Hatch is the author of West of Paradise (think Tombstone meets Romancing the Stone) from WiDo publishing. She lives in Midcoast Maine, where she can walk downtown to the Damariscotta River and the award winning Maine Coast Bookshop, which has a webcam on its roof and a cafe on the sidewalk. If you want to see what her town looks like from up there, click here and you'll get a bird's eye view.
Find more information about Marcy and her work at her website, or connect with her on Goodreads and Twitter.
---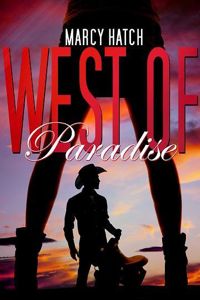 West of Paradise: Katherine Kennedy has it all: she's beautiful, she's wealthy, and she's engaged to the perfect man. There's just one problem; she can't marry him.
Jack McCabe arrives home from the war with a pretty medal and a lot of ugly pictures in his head. Both of them are drawn separately to Paradise Tours and Cristobel Island where Louis Cade offers them the unimaginable, something neither can quite believe until the find themselves back in 1881.
For Jack McCabe, it's the adventure he's always dreamed of—until he meets a beautiful but deadly train robber. Katherine Kennedy can't believe an ignorant bounty hunter has mistaken her for a criminal—until she sees the picture, which looks exactly like her. Neither of them can imagine how the past has a funny way of catching up with the present.
Available at Amazon and Barnes & Noble.
Tags: historical romance, marcy hatch, writers and exercise, writing emotional roller coaster, writing practice