For my entire writing career, I have lived with the dual roles of writer and student.
These are two roles that are difficult to juggle, as both demand a lot of attention.
Writing is my passion, but unfortunately, it often takes a backseat to my education. The busy life of a student, as many know, often leads to a rather unhealthy lifestyle. Being both a writer and a student has taken a toll on my emotional health and on my physical health as well. However, keeping both of those in check is essential to contentment.
Icy Hot Has Become My Best Friend
I have had a lot of pain in my back and neck in recent years, and most of that was attributed to the type of chair I sat in, which was not conducive to long periods of sitting. It was also a dorm room chair that I always sat in when I wasn't sleeping or watching TV.
Icy Hot became my best friend during those high points in the semester when I was writing papers constantly and during NaNoWriMo, when I was racing to write 50,000 words and keep up on my schoolwork.
Snacking and eating unhealthily has always been a struggle for me, but as of late, I have been trying to make better choices on what I drink as well as snacking. Soda has always been one of my favorites, but I have instead been trying to drink flavored sparkling water. Raisins have also been a choice snack for me, and they are wonderful because they are both filling and sweet.
Anxiety Cripples My Creativity
Anxiety is crippling for me, and it has been for about two years now.
This puts a damper on my creativity, often not allowing me to write. My role as a student often bolsters my anxiety levels, which forces me to fixate on assignments and work until I am ridiculously far ahead on my assignments.
Unfortunately, that also means either sacrificing writing time or getting no sleep.
During the semester, I'm still usually not getting much sleep because there is so much to do, but I end up sacrificing writing time. This is difficult for me because writing is so important to me. However, I am working to change this.
I am in the process of following an anxiety recovery program outlined by a self-help workbook. It has provided me with a variety of strategies and techniques that have allowed me to work through my anxiety and learn how to rewire and alter how I think about and interpret situations.
I have the tendency to imagine the worst possible scenario and become self-sacrificial in regards to the things I love, and this recovery plan is designed to alter these thought processes.
My Goal: Make Every Day a NaNoWriMo Day
Finding time to write has been my biggest problem, therefore I am working on implementing and scheduling times throughout the day for me to write.
I have participated in NaNoWriMo three times, and for some reason, I have no problem getting my writing in during those thirty days. Any other time of the year, though, I seem to struggle.
My goal is to make every day like one of those in November, where I have a word count goal to meet. This would encourage me to sit down and just do the writing rather than worrying about everything else I feel like I should be doing.
Music Inspires My Writing
Music has always been a solace for me, and it continues to be particularly when struggling with anxiety.
Seventies music is my favorite, in particular the singer-songwriters that came out of southern California. Most of that music is very mellow and relaxing yet thought-provoking, so putting on a record by Carly Simon or the Eagles can make everything feel a little less dire.
I have also found that music to be quite beneficial for inspiring writing, as I have a work-in-progress entirely inspired by that music scene.
I Have to Remind Myself that Not Everyone Will Like What I Write
Throughout a writer's career, there are always dark moments and discouragements.
The one that was most difficult for me was when I submitted my third novel to multiple traditional publishers so that I could begin the process of becoming a hybrid author, and the novel was rejected by all of the publishers I submitted to.
It hurt a lot because it made me feel as though my writing was not good enough. However, I remembered that I could still self-publish and that my work would still get to readers regardless of who published it.
I have also found that reading negative reviews can be quite discouraging. That has made me feel, like with the rejection, that my writing was inadequate or not as good as I thought it was.
It still bothers me sometimes because I care what people think, but I have to remind myself that not everyone will like what I write. I also remind myself that writing improves the more I do it, so if I keep working on my stories, they will improve with each one.
Writing Novels I'd Like to Read
The novels I write are the books I would go into a bookstore and pick up to read.
Ultimately, I also want people to feel happy and learn a little something from each of my books. It does not have to be a huge life lesson, but it could be about a concept that I have introduced such as domestic violence/abuse or anxiety.
These characters have often been inside my head for months or years, so their stories are begging to be told, even though it often takes a while for the stories to develop enough to be written.
Advice for a Young Writer: Don't Expect Overnight Success
I began writing at a very young age, so there were a lot of lessons that I had to learn on my own.
If a young person who wished to be a writer or artist asked me what the hardest part would be, I would say it is the impression that success will be overnight.
The first book someone writes may not be on a traditional store shelf and be number one on The New York Times bestseller list. So many great writers and artists are not recognized for their contributions until later in their lives, and that may be the case for you.
Just keep working hard and getting better at whatever your craft might be, and while you might never have that legendary bestseller, you were able to do what you wanted, which is the most important thing.
Writing isn't all about money and fame. It's about the journey of telling the stories that need to be told. As long as a writer does that, they are not a failure.
* * *
Mary Frances Gualandri fell in love with the romance genre after reading The Flame and the Flower. She is the author of the Love, Windy City Style series and two standalone novels. When she is not writing, she spends most of her time reading, listening to music, and watching Once Upon a Time.
For more information about Mary and her work, please see her website, or connect with her on Twitter, Facebook, Pinterest, and Goodreads.
---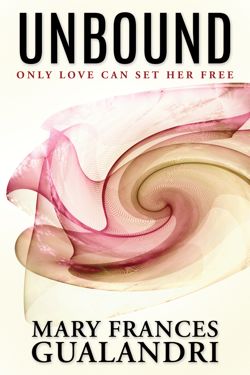 Unbound: Celia Emerson lives a double life. On the outside, she is a beautiful, successful artist mesmerizing the East Coast with her mysterious works of art. Behind closed doors, however, Celia harbors a dark secret that has left her elusive and distant. However, there is one tall, dark, handsome stranger who gets her blood pumping and tangles her feelings in knots, making her consider breaking down the walls she put up around herself.
Manhattan attorney Dash Greyson is intrigued by Celia at first glance. Her quiet, private manner boldly contrasts the strokes of color and blatant emotion on her canvases. Even after her initial coolness toward him, he continues pursuing her, desperate to know more about her and how her bottled-up emotions spill onto the easel. When she turns to him as secrets of her pass begin to surface, he finds himself not only protecting her but the passion between them simmering to the boiling point.
Available at Amazon and Barnes & Noble.
Tags: Mary Frances Gualandri, rejection, romance writer, the writing life, time to write