by Patty Somlo

As someone who was a journalist for 10 years before trying my hand at fiction, I have long been interested in stories and novels that, in some way, address important issues of contemporary life.
The last several years I worked as a journalist, I focused on immigration and Central America. Part of this focus came from the fact that these were hot topics in the news at the time. But I also had a personal interest in these subjects.
The Problems We're Experiencing Today are Global in Nature
I had grown up as the granddaughter of immigrants in a military family. This upbringing caused me to be interested in travel and learning about other parts of the world. Because my family moved all the time, I never felt that I belonged, wherever we happened to be living.
As someone who always felt like an outsider, I have been interested in, and empathize with, people, such as immigrants and refugees, forced to leave their homes and live in some strange place where they don't feel they fit or belong.
At first with this book, I thought I wanted to write a collection of linked stories about immigrants. I wrote several pieces and then realized that the stories weren't just about immigrants once they began living in the United States. The stories were also about how in leaving one's country for a new, foreign place, a person brings important pieces with him of the country and life he left behind.
That got me thinking beyond my initial idea to realize that nearly every critical issue or problem we as a country are facing today, whether it be securing the border, what to do about the millions of undocumented immigrants currently living here, terrorism, Syrian refugees, jobs lost to globalization, climate change, and even diseases and pandemics, are global in nature.
It became clear to me that America of the 21st Century is inextricably linked to the rest of the world, and this was what I wanted to be writing about.
Struggling with the Tone of the Story
One difficult issue I had with this book had to do with both the subject matter and the style.
I wanted to use magical elements and humor to tell stories that would shine a spotlight on serious subjects, such as terrorism, racism and immigration. When I was writing, and even afterwards, it felt like a tricky balancing act to tell the story as it had unfolded to me, while being serious enough.
The story, "The Rug," for instance, focuses on a Muslim refugee who brings a prayer rug to work, as a way to help him overcome the grief he feels over having to leave his country. In some ways, the story makes fun of the stereotyping by some people and politicians of all Muslims as terrorists.
But I struggled with whether the story might be viewed as taking the very serious threat of terrorist attacks too lightly.
One of the central themes of the book that ties the stories together is that we are all connected, regardless of the country where we live or in which we were born, and that we as humans are linked to the natural world.
This theme necessitated me creating a diverse array of characters—a Chinese woman, Latino orchard workers, a Middle Eastern woman in a refugee camp, an elderly Hungarian-American man, and even monkeys and creatures known as Bird Women. I worked hard to make sure that my characters were multi-dimensional and not stereotypes, but of course worried a lot that I might not have succeeded.
Keeping the Faith: You Need to Finish This Book
The biggest struggle I had with this book was in holding onto the faith I needed to finish it.
I hadn't been able to find publishers for several books, including two for which I had agents. I didn't want to put a great deal of time and effort into another book, only to not find a publisher and have to add it to my collection of unpublished manuscripts in the drawer.
Thinking about wanting to have a publishable book sometimes made me question what I was writing. Who would want to publish this? That question ran through my mind on the days when the worst doubts came up. Trying to write something that fit into the box I'd created of "publishable" sometimes had me self-editing everything I wrote.
I fought against this by submitting the individual stories to journals, to see if they would be accepted for publication. Happily, nearly all the stories were eventually accepted and later published. This gave me the confidence to keep going.
Writing the Query Letter Before the Book is Done
About three-quarters of the way through the book, I started thinking about the themes of the book, to begin imagining how I would interest a publisher in it.
As I came up with various ideas, I quickly scribbled them down. Eventually, I had a rough draft of a beginning query letter. This not only helped me come up with ideas for the remaining stories. It also made the book more real as a finished product.
And perhaps most important, by writing a description of the book and why it mattered, I convinced myself that it did and a publisher would agree with me.
The Next Book Moves Your Writing to a Higher Level
I'm not quite sure how to say this but in this book, I felt as if my writing moved up to a higher level. Or perhaps a better way of saying it would be that I managed to go deeper in this book than I had before.
After I finished my first published book (this one is my second), I went through a period when I wasn't happy with anything I wrote. For months, I worried that my best writing was behind me and whatever had made that happen would never happen again.
This book taught me that there will always be more, even if it takes time to get there.
My Characters Give Me Hope
Writing is a spiritual practice for me.
Much of my writing, and this book is no exception, centers around issues of faith and hope. As someone who has struggled with depression for much of my life, faith and hope have been key ingredients for my healing. I try not to write melodrama or sappy fiction but my characters give me hope, as they overcome often difficult odds.
I write early every morning and treat my little writing space as sacred. The practice of writing on a regular basis with a set schedule is like any other spiritual practice to me—and, of course, it's also work.
The lights in the room where I write have to be somewhat dim, to create the atmosphere I need, the sense that I'm inviting the muses in to take me on a journey.
I Have Too Many Ideas and Paths I Want to Follow
I am working on a novel about a group of people who have lived in the same small apartment building for many years.
I have written stories about these characters for quite a long time. I am interested in the way they are like a family to one another. The novel is set in San Francisco where I lived for twenty years. I am interested in the conflicts and differences between these longtime residents of the city and the high tech newcomers, who have been moving into the city over the last decade and a half, changing it, and making it unaffordable for most other people.
I see the novel as a microcosm of what is happening throughout the country.
One of the biggest challenges I am already facing is trying not to tell too many stories, so that it becomes unwieldy. I'm hoping this will work itself out as I go.
Some people I know suffer from writer's block, when they can't seem to come up with anything to write. My problem is the opposite, and that is what I am struggling with on this book and probably will be for some time. I have too many ideas and paths I want to follow.
Again, I'm hoping as I go along that a clearer thread will begin to emerge that I can follow and which will be a guide in showing me what can be cut out and what should remain.
(Read more about Patty on her previous Writing and Wellness post.)
* * *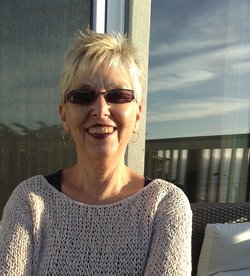 Patty Somlo has received four Pushcart Prize nominations, been nominated for storySouth Million Writers Award and had an essay selected as a Notable Essay of 2013 for Best American Essays 2014. Her second book, The First to Disappear (Spuyten Duyvil), was a Finalist in the Fiction: Short Story category of the 2016 International Book Awards.
Her work has appeared in journals, including the Los Angeles Review, the Santa Clara Review, Under the Sun, Guernica, Gravel, Sheepshead Review, and WomenArts Quarterly, and numerous anthologies. She has two forthcoming books: a memoir, Even When Trapped Behind Clouds (WiDo Publishing), and Hairway to Heaven Stories (Cherry Castle Publishing).
Find more information on her and her work on her website and Amazon, or connect with her on Twitter.
---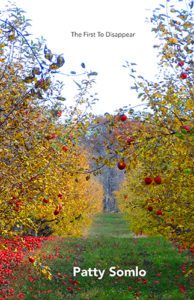 The First to Disappear: Weaving together the real and the fantastic, the stories in this collection provide a window into our globally connected world.
In the 18 stories in this collection, borders are broken—between fantasy and reality, the animal world and the human, the world as we have long known it, and the countries people consider home. The title story describes what happens to the all-American fruit, the apple, after longtime Latino pickers suddenly disappear. In "The Rug," Saeed, a Muslim refugee from a war-torn African nation, places a rug purchased from Cost Plus World Market in the hotel parking lot where he works to unforeseen consequences.
"Dots" shows what happens when a forest habitat disappears and monkeys move into the human world. "Bird Women" describes the search in a mythical Latin American country for half-avian/half-human creatures.

Available at Amazon.
Tags: immigrant life, Patty Somlo, short story collection, short story writer