by Chuck Barrett

As I was writing my first book, The Savannah Project, there was a character—not the protagonist—that urged me to give him his own series.
He had radical personality differences than my protagonist, Jake Pendleton. He called to me (and all my women readers), so my original plan was to write three Jake Pendleton books and then write a Gregg Kaplan book.
I'm happy to say, I stuck to my original plan. The Jake Pendleton series consists of The Savannah Project, The Toymaker & Breach of Power. The first in the spinoff Gregg Kaplan series is BLOWN, published a year ago.
(For all the other Jake Pendleton series fans, I have written another and it will be released on October 25, 2016. It is titled DISRUPTION.)
Finding a Distinct Voice for the Main Character
I wanted BLOWN and the Gregg Kaplan series to be fast and furious thrillers beyond any measure I had written thus far. I think I succeeded, but it was a rough venture in the beginning.
I didn't want my Gregg Kaplan series books to read with the same voice as the Jake Pendleton series. I wanted Kaplan to have a distinct voice, which meant getting deeper into his head. What made him rough and tumble? Why does he give short answers? Why does he act first and ask questions later?
As I mentioned the first few months were rough…for me. Every time I would read what I'd written, it read too much like a Jake Pendleton book. Finding Kaplan's voice was considerably more difficult than I imagined.
Eventually, after so many false starts, I found a voice I knew belonged to Gregg Kaplan.
The Pacing of a Non-Stop Thriller: Physically and Mentally Exhausting for the Writer!
Beyond the obvious frustration of figuring out Gregg Kaplan's voice for BLOWN, writing that book wore me out.
Not only was it mentally exhausting, it was physically exhausting. Contrary to the belief of many authors, I believe a thriller should take you on a non-stop breath-taking journey from beginning to end with no slowdowns and no time for the reader to take a break from the action.
I mean, it's called a thriller, for crying out loud.
I wanted it to move like the Jason Bourne movies. Bam, bam, bam!
I found out that it is extremely difficult (for me, anyway) to keep that level of pacing for an entire book.
To make matters even worse, I had issues with one of my subject matter experts waffling about how much information he would disclose about the U. S. Marshals Witness Security program. Eventually, he realized I didn't want any WitSec secrets and became very forthcoming with where I was taking my storyline.
Couple those delays with the pressure of the timeline for publishing that book…? I definitely needed a vacation when I finished.
Facing Self-Doubt When the Book Goes to Beta Readers
I still had those author-specific doubts about that book when I sent it out to beta-readers, of whom I think I have the best.
How would they respond? Would they like it? They had all read the Jake Pendleton series, so how would this first Gregg Kaplan series book stack up?
I sat around on pins & needles waiting for their feedback to come my way. It was very stressful. It felt like success or failure with this new venture rested in their hands. Wine helped, but only for a short while.
Needless to say, the response was a resounding thumbs up. Everyone said it was the best one I had written to date. Happy dance time. And more wine to celebrate.
The next big "pick me up" was when the reviews started coming in from book reviewers on NetGalley. That was when I felt I had a winner. It also helped me decide how much $$$ I would throw at pre-release promotion and marketing.
It's been a little over a year since BLOWN was released and it is still selling at a monthly rate over twice all my other books combined.
Research for the Book Took Me Into Unknown Worlds
The research for this book took me into worlds I knew nothing about and in some instances, didn't even know existed, from the preponderance of details from my U.S. Marshals Service subject matter experts to my interviews on health care fraud with a former hospital administrator.
But, the biggest eye-openers were my interviews with two Sicilians, one of whom grew up in Sicily with a Mafioso boss right down the street. The insider knowledge these two unloaded on me about the Mafia was beyond enlightening.
You think you know a little from watching movies such as The Godfather—not even close. That was a time long gone. In real life, it is a world considerably less violent, and yet, even more so in many respects…just not how most people are led to believe.
Writing a Spiritual Activity? Um….
No spirituality here from writing. It is an escape. Sometimes from reality, but usually to a world much more sinister.
I once had an editor who told me I needed to get in touch with my dark side. No, not Darth Vader. Geesh. It is fun to think of devious and despicable ways of killing people without the risk of going to jail. To think of plotlines beyond many people's imaginations.
Spiritual? No. Writing fiction is simply "lying for a living."
Writing is therapeutic, though. It fills that need. That want and desire that most authors share in common. We don't write because we want to, we write because we have to. If we don't, that little thing inside our head keeps pinging away, getting louder and louder, wanting to be fed.
Then we write, and it goes away for a while.
Hmmm. Maybe it is spiritual after all.
What's Next? Scare the Crap Out of Everyone
My next book, DISRUPTION, to be released on October 25, 2016, is the fourth in the Jake Pendleton series, and then I will take a short respite from the Jake books while I crank out a couple of follow-up Kaplan series books.
This story follows closely one of today's biggest threats against society: cyber-crime. It is the culmination of several things—today's reliance on technology, the current hacking threats, and a couple of conspiracy theories, all woven together in a story that is guaranteed to make you worry next time you go online.
What could happen? Not just to you personally, but to the country…or worse, the entire world.
We live in a world where we cannot trust the technology we depend on. If you feel safe about technology now, you won't after you read this book.
Challenges met—now it's time to scare the crap out of everyone.
(Read more about Chuck on his previous Writing and Wellness post.)
* * *
Chuck Barrett is the bestselling author of the Award-Winning Gregg Kaplan series— BLOWN—and Jake Pendleton series—Breach of Power, The Toymaker, and The Savannah Project.
Barrett is a Florida native, a graduate of Auburn University, and a retired air traffic controller. He also holds a Commercial Pilot Certificate, Flight Instructor Certificate, and a Dive Master rating. He enjoys hiking the Rockies with his wife, Debi. They currently reside in Colorado.
For more information on Chuck and his work, please see his website, or follow him on Facebook, Twitter, or Goodreads.
---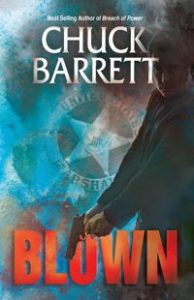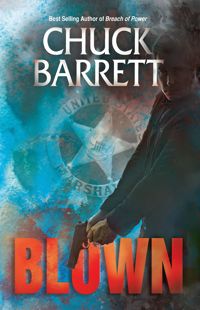 Blown: Gregg Kaplan is not an ordinary man, but a man with special skills, courtesy of the United States Government.
His assignment is to stay off the grid when he innocently stumbles into a blown witness protection detail in Little Rock, Arkansas. He simply could not walk away from the impending mayhem. After the dust settles, a mortally wounded Deputy U.S. Marshal makes him promise to personally deliver the witness to a U.S. Marshals Service safe site.
Not just a promise, an oath. A pledge between ex-Army Delta Force comrades.
A trust that could not be broken—Once in, never out. Kaplan soon suspects the witness he vowed to protect has secrets of his own; secrets that go beyond his testimony for the U.S. government. When he discovers the witness is being tracked, Kaplan teams with a WitSec Deputy U.S. Marshal assigned to recover the witness, but soon realizes some merciless people are dead set on preventing the witness from reaching the safe site.
But the witness has a hidden agenda of his own—one that could cost Kaplan his life. Available at Amazon, Barnes & Noble, and as an audiobook.
Tags: beta readers, Chuck Barrett, novel writing, thriller writer, thrillers, voice writing