The biggest challenge to being a full-time writer for me is a routine.
Routine related to wellness, you ask?
Working outside of the house offered me a strict timeline both when I was a air traffic controller and when I was a teacher. I hit the gym at four-thirty a.m. I hit the shower no later than six-fifteen, etc….
When You Work for Yourself Who Keeps You On Task?
Working for myself leaves much of my time to me. The great thing is, I don't HAVE to be anywhere at any particular time unless it's something I've scheduled.
Pitfall: I only have me to whom I'm accountable, so getting to the gym and walking the dogs seem to be the first things to fly in the face of distraction.
I'm all about working out to get the mind clear. It helps me think, it helps me sleep, and it releases a lot of tension. Sometimes I have to wrench myself away from working, writing, marketing, to get out and about.
It's going to sound silly, but Google calendar has become my go-to gadget for keeping on task.
My New Phrasing: Shifting from "I Can't" to "I Don't"
I make my workouts appointments with reminders and time settings. When I hear that twenty-minute ding, I have time to get my mindset into the next mode.
Another thing I recently do, a la Colleen (from her "productivity" class at the Northern Colorado Writer's Conference, 2016), is phrase my language into "I don't" statements. I find language is a powerful tool and not just as a writer.
My new one is "I don't eat donuts" or "I don't stay up late to watch TV." Both of those are things I avoid, but the shift from "I can't" to "I don't" has been impressive.
Change Your Writing Environment: From Fitball to Fresh Air
I also change my writing environment. I use a fit ball as a desk chair, and that helps, but I love to take my computer outside in the spring and summer. I find the sunshine and fresh air keep my brain sharp.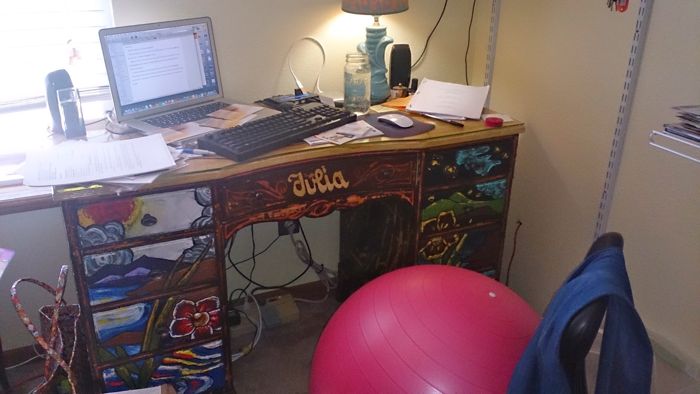 To Write is to Ride on The Colossus Roller Coaster
Emotionally, being a writer is a roller coaster, The Colossus from Magic Mountain style.
I would say I'm equal parts introvert and extrovert, which is a great thing as a writer. It's how I survived teaching all of those years. I wouldn't say I spend my time alone. I have a large writing staff. They listen to my out-loud musings, always think my ideas are brilliant, and nudge me if I've been absorbed in the computer too long.
Also, they're great at guilt. The looks I receive if I neglect their walks!
Self-Doubt is a Killer
The self-doubt is a killer. My husband and publishing partner just pitched me a great idea for a non-fiction book about yoga. I've been teaching yoga for almost thirteen years, so I'm surprised it took me this long to think about it.
I jumped on the idea. I had a title! I started planning the outline. I have a wonderful friend, Stacey Graham, who's an author and agent. I excitedly asked her advice on planning and development. I was on fire!
Two or three hours later, after working spring clean-up for another friend's art gallery, I was a mess. The great chapter titles I'd been thinking of disappeared from my brain. Who was I to write a yoga book? Did I really have anything to say? Was it really THAT good of an idea?
I spent the evening moping and down on myself. At dinner, my husband pitched the idea to our sons, and I swear they should be agents or editors because they started asking me about the target audience, my intended message, and how was planning on framing voice.
Whew! I realized I had an answer for all of their concerns, AND my answers were solid. With a little help from my family, I talked myself off the ledge of what thriller writer Grant Blackwood calls "procrastifear."
Keeping Toxic People Around Can Sink You
Surrounding myself with truly supportive and honest people who have my best interest in mind is critical.
I've distanced myself from toxic and negative relationships because we all have enough of that going on in our heads. Keeping those people around can sink you.
My friends and family are an amazing group who, even if they haven't read my books, always have something positive to say. They also remind me of things I already know.
My oldest son told me the other day that I have written TWO novels. He said, "Do you know how boss that is?" I stood there thinking, "He's right. It is no mean feat to have written two books."
This sounds like bollocks, but since I began writing The Esau Emergence, my first completed novel, I haven't had any writing dark days. I was discouraged to hear the "marketability" word tossed about while I was pitching the book. Eventually, that motivated me to do the work and self-publish.
Not that I won't ever go the traditional route, but the satisfaction of have two completed novels, one a semi-finalist in the Amazon ABNA 2012 contests, is exhilarating.
I Wake Up Every Morning Grateful for the Life I'm Living
The darkest moments of my writing career had nothing to do with my writing and everything to do with my youngest son's life-threatening illness and struggles with suicidal depression during his recovery.
I'll tell you we're still moving through those struggles one day at a time.
As for my true path, I'm going a little metaphysical here.
Every time I doubt my choice to be a full-time writer, some amazing person or opportunity comes my way to reaffirm what I'm doing. I dreamt of being an author as a child. I found my high school senior will the other day, and I said at the wise old age of eighteen, "I'll be a writer working on my best-selling novels."
It took me two careers, a failed marriage, three kids, and a lot of hard knocks learning to get back to my path, but here I am. I wake up every morning and feel love and gratitude for the life I'm living.
Advice for a Young Writer: Don't Be Afraid—Try Your Dream
The hardest part about being an artist is being surrounded by people who keep telling you it's a pipe dream. I'll say that was what kept me distracted for almost thirty years.
How're you going to earn a living?
No responsible adult believes being an artist/writer/actor/any creative career choice is real. You need to do something in the real world.
Let me tell you, I wish I'd traveled when I was young and single and only had me to worry about. I wouldn't trade my children or my current life for anything, but I always told my kids and former students they had plenty of time for "real life."
Travel, write, act! Try your dream because you'll never regret the attempt and you'll always think what if.
I'm so excited, as one of my former students is currently traveling all over Europe. When he came to me a few years ago, he had received a full scholarship to university, and he was torn. I said, "Slam that degree out as fast as you can because it's a great opportunity and THEN dump everything and travel your dream!"
Now I see his photos of Ireland, Iceland and now Scotland and it is wonderful! I tell my own kids to live adventures because you never know where they'll lead you. My youngest son wants to travel after high school. I said go for it. He spent two years bedridden, he deserves to see the world.
So you young artists, don't be afraid. Don't let grown ups tell you what you "should" do or how you must live. Be brave. Do the work. And see where it takes you.
I meet so many people who, after finding out I'm an author, say, "Oh, I've always wanted to write a book, a screenplay, or something, but…" It's terrifying some days to be a writer, but how sad that it took me so long to do what I love.
* * *
J.C. Lynne is a graduate of Metropolitan State University and Colorado State University. She holds degrees in Aerospace Science, English Education, and Education. After ten years as an air traffic controller, she spent ten years teaching Language Arts, Writing, and Film. She currently lives in Colorado. She divides her time between writing, wrangling two pseudo adult boys, three dogs, two cats and quelling dust bunny rebellions.
The Esau Emergence and The Esau Convergence are the first two books in a trilogy of thrillers based on genetic engineering, epigenetics, and mycology. These stories contain cutting edge and theoretical science. Sometimes reality is more thrilling than anything we can imagine.
For more information on J. C. and her work, please see her website and Amazon author page, or connect with her on Facebook and Twitter.
---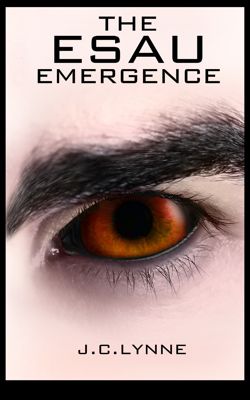 The Esau Emergence: An edge-of-your-seat, science thriller in the style of James Rollins and Michael Crichton, The Esau Emergence embroils us in the complex world of genetic engineering and the possibilities of a new generation.
During a black ops mission in Afghanistan, armed Taliban extremists unleash a deadly bacteria killing most of Sebastian Cole's unit. The consequences of infection are more dangerous than anyone knows.
On his quest for the cure, the hunter becomes prey to a deadly secret that could alter the future of humankind . . . as it has already altered Sebastian himself.
Available at Amazon.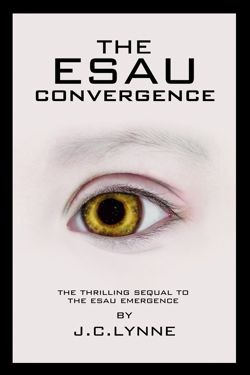 The Esau Convergence: Sebastian Cole has discovered Carlson's experiments have spiraled out of control.
He and his specialized team, including latest asset, Cordelia Fiore, begin a new hunt for answers. A quest that has Sebastian searching for pieces of himself and confronting his darkest fears. Tracking down the truth requires unearthing secrets that will test their loyalties and challenge their integrity.
Facing old grudges, criminal alliances, and new betrayals, they race to save the link to a cure from the auction block.
Available at Amazon.
Tags: exercise routine, J. C. Lynne, science thriller, self-doubt, self-employed, self-publishing