I have chronic back and neck pain, along with chronic migraines, which makes it impossible for me to sit at a computer all day long.
Still, that would be true if I was a programmer or an actuary, so I try and keep that in mind. At least as a work-at-home writer, I can get up and vacuum or take a walk or fold laundry if sitting gets too painful.
Is My Pain Real Or Is It All In My Head?
But it is hard to concentrate when I am in pain, which is quite frequently, and the very nature of pain is that it is private, invisible and immeasurable to others. That can cause it to play tricks on my mind. Sometimes I doubt my own pain: Is this real or is it all in my head?
So I try to do all the things I should. I exercise—I used to love to run, but it hurts too much now, so I mostly walk. It's great for me physically and mentally.
I visit my chiropractor regularly and take certain prescriptions (reluctantly and rarely—some of the side effects are not fun).
The Challenge of Reducing Sugar Intake
I also have a strong intolerance to gluten and dairy, so I have eliminated those from my diet for going on four years now. Recently, I've also been trying to eliminate refined sugar but I haven't quite gotten to an acceptance level on that!
With gluten, I was in so much pain that it got to the point that I didn't want the bread anymore because I associated it with hurting. My symptoms with dairy are a little less severe, but I feel much better without it.
With sugar it's been an up and down process. Let's just say I have a sweet tooth and since I already have to make so much of my food at home, I get lazy about making cookies with honey or coconut sugar, etc. I've mostly switched from coffee with sugar to tea with honey. But my willpower is not always the best.
Sometimes I just cave in and grab a bag of candy or a latte when I'm running errands!
The Stories I Write Are Not Mine
There are a lot of different emotional factors that affect me as a writer. As Hemingway said, "Writing is easy, just open a vein and bleed on the page."
I can list my personal challenges—I have a son with autism. My father suffers from depression and my mother was recently diagnosed with Alzheimer's. We moved a lot when I was a kid, (six states, seven high schools, never stayed anywhere longer than three years) because my dad was always looking for someplace that would make him happy.
A lot of insecurity and anxiety comes with that kind of transient lifestyle, but it also imprinted on me certain ideas that many take a lifetime to learn: happiness is not "out there" (for example). You can't go get it, you have to build it inside yourself.
I'm also extremely sensitive to self-focused behavior—the good and the bad. No matter what I am dealing with, other people have struggles too and as soon as I think "they have it easy compared to me" I will be wrong.
People always assume, then, that I write myself and my own experiences into my novels. I'm sure I do on a subconscious level, but the stories I write are not mine. It's just that my experiences and philosophy have made me very observant. My observations lead to questions and my questions lead me to make up fanciful answers.
Focusing on the Wonderful Things in Life Helps
Focusing on the wonderful things in my life is very helpful. I have been married for 23 years, my kids are really great people, I have a wonderful church family and I have two amazing older sisters. (Without them, I would never finish a novel. They are my alpha readers—I send them each chapter as I finish it and they say wonderful, kind things that keep me writing!)
I also keep sane by staying very busy (which also kind of drives me crazy). I moderate a book club, serve as president for my local alumni club (go Sun Devils!) and regularly volunteer with my daughter's high school choir. I am also very active in my church.
If Jane Austen Has Her Critics, Who Am I to Complain?
Rejection is my biggest pitfall as a writer. Am I good enough? Mark Twain said he could live two weeks on a compliment. I'm that kind of person too. I crave good reviews, but—happily—I don't become undone by bad ones. If Jane Austen has her critics, then who am I to complain if someone doesn't care for my novel?
It's rejection from the publishing world that affects me the most. When I queried agents for my first novel, I got more than 100 rejection letters. That was tough.
Then, when I finally signed a contract to publish it with a small publishing house, they went out of business right after I finished my edits on the manuscript. I was devastated. My novel was finally ready to publish and I had no publisher, just a stack of rejections.
That's when I made the decision to self-publish. I'm still not sure if it was the right decision overall (we don't get to see very far down the road not traveled, do we) but when I read my first review for Dream of Me online, I sat down and cried. It was from a complete stranger and she said she was "completely mesmerized by" my book.
That compliment kept me going for longer than two weeks!
This is My Third Book—I Thought I Was Good At This!
Of course, I still struggle with insecurity. Recently, I've been working with a literary agent on my latest, unpublished manuscript. The process can be humbling. This is my third book, after all—I thought I was good at this!
But that's the thing about being a writer—you can always improve.
Again, I go to another favorite author for inspiration, John Steinbeck, who once said: "When I face the desolate impossibility of writing five hundred pages, a sick sense of failure falls on me, and I know I can never do it. Then gradually, I write one page and then another. One day's work is all I can permit myself to contemplate."
I always take my iPod with me when I walk/run—it's great therapy and wonderful inspiration as well. My tastes are eclectic. I love strong vocal performances, so Josh Groban is one of my favorites, along with several musical scores—Wicked, Evita, Les Miserables. But I also really like to rock—U2 is my all-time favorite band, but I also really love Coldplay and Imagine Dragons.
I also love to check out what my kids are jamming to, so I've been listening to Twenty One Pilots lately. They're a lot of fun.
What Does the Career Path of a Novelist Look Like?
When I first realized I wanted to be a novelist, I had no idea what my career path would look like. All I wanted to do was create stories that people would love.
I had always been good at writing but I knew it wasn't an easy career. In fact, when I first went to college, I majored in accounting because I wanted to do something practical and dependable. It took me a couple of years to figure out that balancing spreadsheets was not for me.
The idea of writing novels was still festering in my brain, but I was still too practical to pursue it head on. I changed my major to journalism so I could always find writing jobs, even if I couldn't sell books. It was a smart move and I'm happy with the degree I earned.
I have been able to take on many editorial jobs over the years to augment my creative writing. I learned a lot of valuable research and interview skills in school, along with the rules of newsworthiness, which are great to consider, even when writing a novel.
Writing is Like Bipolar Volleyball
Still, when someone asks me, Should I be a writer?, my answers can be practical, silly or pessimistic, depending on my mood. Here are a few I remember:
Writing is like bipolar volleyball, lobbing you between ecstasy and torture, and you can guess where my ball always gets stuck.
If you do a cost benefit analysis (some of the accounting stuck with me), you'll find that the costs are usually higher than the benefits.
You'll either think you're good at it, and you'll be wrong; or you'll think you're bad at it, and you'll be right.
If you don't mind doing ten times more research than you will ever actually need for your book, double checking your facts with experts in their field, and then running into the one guy in America who found a technical error in your novel, go for it.
If you don't mind spending more time trying to sell and promote your books than actually writing them, go for it!
Not if I can talk you out of it.
That last one is the kicker—some of us are just too stubborn to be talked out of it!
Like Charlotte Bronte said, "I write because I cannot help it!"
* * *
Jennifer Froelich is a graduate of Arizona State University's Cronkite School of Journalism. She worked for many years as a freelance editor before self-publishing two novels: Dream of Me and A Place Between Breaths, which recently won an honorable mention in Writer's Digest's Self-Published Books competition. She also writes for Chicken Soup for the Soul. In her blog, wakeofechoes.blogspot.com, she writes about authors, writing, autism and life. Jennifer is currently writing a series for young adults. She lives in Idaho with her husband, two teenage children and a cat named Katniss.
For more information about Jennifer and her work, please see her website and blog, or connect with her on Facebook and Twitter.
---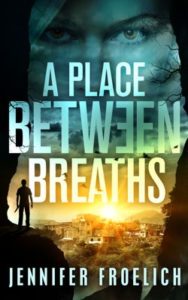 A Place Between Breaths: WINNER, Writer's Digest 23rd Annual Self-Publishing Competition, Honorable Mention for Genre Fiction…

When FBI Agent Rachel Mueller flies to Mexico's Copper Canyon to recover the body of a missing American college student, she's partnered with Mexican federal agent Marius Suarez, a man she knew and loved years ago when he used an alias and worked undercover for the DEA.

Working together while trying to sort out their troubled past, Rachel and Marius discover evidence of more murders—all committed by a man who sees himself as the reincarnate Tezcatlipoca, Aztec god of deception. As their investigation becomes complicated by corruption on both sides of the border, their renewed trust for each other is strained.

Racing against a timetable that matches the Aztec calendar, their investigation leads them back through the myth of the gods, the crumbling streets of Juarez and into the deepest corners of the Copper Canyon. When the killer kidnaps his next victim, Rachel and Marius are forced to make their own choice: protect their growing love for each other, or sacrifice everything for the greatest love of all. Available at Amazon.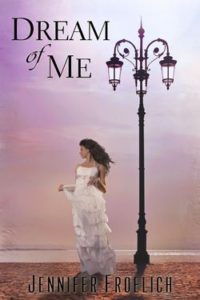 Dream of Me: HER DREAMS KEEP DRAWING HER BACK TO HIM…
Bay-area dressmaker Erynne O'Keefe begins dreaming about a handsome stranger shortly after her mother's suicide. At night they walk along a damp street until the light of morning pulls her back to reality. Practical and guarded, Erynne would like to dismiss her dreams as evidence of grief. Remembering her mother's life-long struggle with strange dreams and nightmares, she fears they point to hereditary mental illness. Erynne begins searching for answers while trying to resist her growing feelings for the stranger.
But the man in Erynne's dreams is quite real, living in Arizona and wondering why his nights are filled with dreams of a pretty stranger. Stubbornly resistant to commitments, Colin Green can't believe he has become smitten with a figment of his imagination. And his dreams always come with a persistent warning: Protect her. But how can he protect a dream? While Erynne and Colin move closer to finding each other, their dreams turn to nightmares as an unlikely foe becomes determined to keep them apart. Available at Amazon.
Tags: back pain, gluten-free diet, Jennifer Froelich, self-doubt, writer insecurity