I started writing when I was young enough not to know any better.
As a voracious reader, I just figured I could write stories and ideas as good as anything I was reading—ah, the hubris of youth!
So with the encouragement of my husband, who knew even less about writing than I did, I started tapping out stories on a cheap electric typewriter in our spare bedroom.
Was I successful? No. Did I learn how to write? Yes.
Thirty-five years later I'm no Hemingway, but compared to my humble beginnings, I should qualify for some kind of an award. Best of all, now that I've found both my voice and my writing confidence, I fully claim the title of writer.
My Eternal Optimism Keeps Me Happy as a Writer
More than anything, I believe my eternal optimism serves as the most important element for keeping me happy and healthy throughout my writing career. While some of the journey was certainly bumpy, I've managed to see the silver lining even when covered with muck.
Add that optimism to a couple of disastrous career choices before I started writing, and it's easy for me to see the benefits to being a writer rather than the challenges. Along with the advantage of a marriage to my greatest fan and muse, I can't imagine any other path that would provide the purpose, meaning and contentment that writing brings to my life.
Walking, Meditating, and Journaling to Stay Healthy
However, like all writers, I do need to take steps to stay healthy and to write. Here are a few things that I do on a regular basis:
I became a walker as well as a writer. Back when I first started writing, I gave up smoking and hit the sidewalk. My dog and I easily walk 2+ miles every single day. Although we could go further, the time commitment fits into our day and keeps us both healthy. It also gets us outside enjoying nature and that is a critical balance to staying inside all day.
Nearly 20 years ago I read Julia Cameron's The Artist's Way. That inspiring book suggested that the best way to become a writer was to write three pages of longhand writing in a journal every single day. I vowed to try it for a month or so, and now I still do it after all these years. That writing is now such a part of my ongoing mental health that I can't imagine life without it.
I meditate every single day. I didn't start a regular and consistent pattern of meditation until about five years ago. Since I made that commitment, I now meditate daily for 15 minutes. It is another critical element of my mental, emotional and spiritual health.
I've come a long way since I began typing on that cheap electric typewriter. I now have a big screen computer (24" Macintosh) with a Knoll Chair in my private office with lots of space and natural light.
Since becoming a blogger, I have found a couple of close writer friends that I can talk to on a regular basis about the writing life. Although my husband is very supportive, he is not a writer, and it helps to have someone who is walking the same path with you to share your experiences.
I routinely and consistently listen to books-on-tape and podcasts that are encouraging and enlightening. Instead of listening to music when I walk the dog, I fill myself with this kind of programming, and it is a tremendous help. A big favorite is Abraham-Hicks with their Law of Attraction. Not only do I stay positive, but I often come up with ideas to use in my writing.
I NEVER listen to news on the television or radio. I also stopped reading the newspaper. People often wonder how I can stay up to date with what's going on in the world, but by staying online a great deal and paying attention, I have never missed anything important.
I do my best to surround myself with supportive and helpful friends and family. Guarding my consciousness allows me to stay as optimistic as I am.
I've recently taken up yoga, and that is helping my upper body strength and posture a great deal.
I have a consistent writing schedule and stay out of the kitchen. If I need a break or get stuck, I talk to my writer friends, take another walk or even check out my friends on Facebook.
I Never Considered Myself a Real Writer
The greatest obstacle to my writing career has always been me.
Much of that comes from the fact that I have no formal training in writing. Yes, I've taken some creative writing courses, but I don't have a degree and never even belonged to a writing group.
When I hit a brick wall writing fiction early on, I switched to doing freelance writing related to my former failed career in real estate. Although I did very well financially writing promotional material in that field for almost 20 years, and effectively taught myself to write, I never considered myself a real writer. I struggled with what that looked like in my mind compared to the writing I was doing in the real world.
But I kept writing.
The Biggest Boost in My Writing Career Came from Blogging
Finally, in 2003 I was approached by a publisher to write a short nonfiction book called, The Findhorn Book of Practical Spirituality. Even then I avoided the label of author or writer and continued to use my former failed career in real estate instead. My doubts about my abilities as a writer kept me firmly in their grip.
I think the biggest boost to my writing career came from blogging. After years of writing technical information for others, I gradually began finding my own voice. The rejection, the criticism, the doubts all started to fade away as I doggedly continued to add to my blog.
With every project, I became a better writer and learned how to communicate what was in my mind and spirit as much or more than what I could research and share.
Finding a Publisher Isn't Always a Dream Come True
My second published book related to my real estate background. Again published by a small publishing house, it taught me that the goal of many writers to find a publisher isn't always a dream come true. After dealing with a troublesome editor, who made several unfulfilled promises, I vowed I would publish all of my own books in the future.
And I have. I currently have three published books on Amazon both as ebooks and in print.
The first is a novel titled, Finding Grace—A Transformational Journey. The next two are compilation books using mostly articles I wrote for my blog SMART Living 365 around particular topics. The most recent, Rightsizing—A SMART Living 365 Guide To Reinventing Retirement focuses on a lifestyle I am passionate about sharing with the world. Best of all, I am far happier as a self-published author than dealing with small publishers.
Advice for a Young Writer: Never Give Up
If I were to pass any information to those just beginning their writing career, I would say "Never give up."
I believe that talent matters far less than perseverance when it comes to writing. We can all be better writers by doing it. Yet, unless we stick with it in spite of our doubts or the criticisms of others, we will never reach our potential.
Keep writing. Don't give up. Find your voice. And you will know you've arrived when you can finally look in the mirror and call yourself a writer.
* * *
Kathy Gottberg has been writing on all sorts of topics for over 30 years with five published books and hundreds of articles. But her passion today is SMART Living 365 where she explores ideas and experiences that help to create a meaningful, sustainable, compassionate and rewarding life for herself and others. Beyond that, she lives with Thom, her best friend and soul mate of 38 years, along with their dog Kloe in La Quinta, CA. For more information on her and her work, please see her website, SMART Living blog, and Amazon author page, or connect with her on Facebook, Twitter, Pinterest, Instagram, Google+, or LinkedIn.
---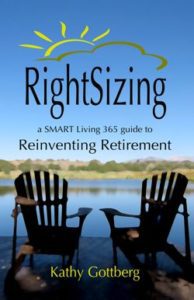 Rightsizing: Most people don't start thinking about retirement until they hit 40, 50 or beyond. But what if making some simple changes in the way we live today gave us the opportunity to retire earlier and more fearlessly than we expect? Even better, what if a way existed to start enjoying life with more peace of mind, happiness and freedom right now?
If you're worried about your future and are tired of the rat race that seems to lead nowhere, then rightsizing might be the best way for you to reimagine your life—starting today! Rightsizing provides the freedom to let go of the daily grind of just getting by day-in and day-out.
So instead of constantly striving toward more and more stuff and trying to keep up with the neighbors, rightsizing avoids unsustainable debt, stress, addiction and competition and allows us to recreate life with meaning and purpose. Rightsizing helps us each design a life that lets us spend our time and resources on whatever is most important to us. And best of all, rightsizing is about discovering what gives our life meaning, makes us smile, and allows us to sleep well and deeply every single night. If you don't have that now, maybe it's time to rightsize your life.
Available at Amazon.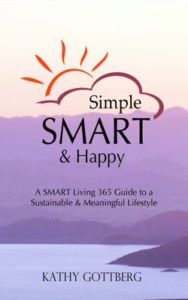 Simple * SMART * Happy: Ever wonder if your life would be happier if things were simpler? The answer to that is probably yes. In fact, research now shows that when a person steps back from a busy and complicated life they frequently learn that a simple, more minimal approach offers everything they need to live a joyful and meaningful life.
Simple * SMART * Happy is a collection of blog posts written by Kathy Gottberg on her blog SMART Living 365.com during the last three years. These articles address some of her best ideas about the topic, and tie into how each of us can discover our own version of "simple" in order to experience a more fulfilled and rewarding life.
The true value of a simple life is not one of sacrifice or denial. It is never about giving up or giving in. Instead a more focused, minimal life offers a growing awareness of what is truly most valuable and life enhancing. Sharing tips, how-tos, research and personal perspectives, Simple * SMART * Happy offers readers a new way to start experiencing the world and life. Join Kathy as she explores how each of us can create a more simple and SMART Life 365. Available at Amazon.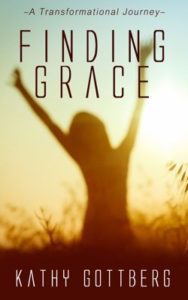 Finding Grace: Ever wonder what it takes to be uniquely and passionately yourself in a world determined to make you like everyone else?
Grace Martin intends to find out as she stumbles from one humbling life lesson to another. With a peculiar, but supportive guide and mentor named Mrs. Pettermint, Grace slowly breaks free of traditional family and religion and courageously explores life, relationships, and various spiritual traditions seeking solutions that make her soul shine. Finally, just when the peak of her journey seems within reach, her beloved mentor dies leaving her nearly $50 Million Dollars—but the only way to claim that inheritance and find the peace Grace craves is to face the fierce criticism of her past, the betrayals of the present, and the thousands she serves as a New Thought Minster.
Finding Grace reveals that in order to find grace, a woman must surrender her fears, doubts and attachments and learn to walk the transformational journey into her own soul. Available at Amazon.
Tags: author interview, finding a publisher, Kathy Gottberg, meditation and writing, Smart living, writing and walking