One of the hardest things I find as a writer is giving myself permission to rest.
Every day feels like it's go, go, go, and when I'm stressed about writing, there are two things that fly out the window: good posture and healthy eating. I tend to hunch over my laptop and I skip meals, both of which are counterproductive to producing good work.
Avoiding Writing-Related Pain
For me, the keys to preventing unhealthy outcomes are insight and perspective. Insight allows me to recognize the source of the stress (that deadline I'm worried about) and perspective helps me put it firmly in its place. If I keep my priorities straight, I can give myself permission to take a break, move around, eat, and make time to rest.
I don't have a designated space for writing because I write wherever there's a place for my laptop and whenever I can find the time—but if that forces me to lean over the keypad or have my arms at an uncomfortable angle, then I'm headed for physical pain.
If I really have no choice about it, I make sure I don't stay in that place for long. For me, it can make a big difference to elevate my laptop, whether that's making sure I use a table at the right height or pop a cushion on my knees underneath the laptop. I've found my handbag comes in handy as a makeshift cushion when I write on train trips to work.
Don't Allow Writing to Define Your Sense of Self-Worth
As far as the emotional challenges of being a writer are concerned, oh boy, those are a challenge. My debut novel, Fear My Mortality, is not the first novel I've written and I could probably cover the floor of a house with all the query rejections I received over the years.
More than once, I considered giving up, but mostly I just needed to take a break, reassess my priorities, focus on the good things in my life, and then welcome writing back into my life in a way that didn't allow it to define my sense of self-worth.
Now that I'm close to my book's release, the emotional challenges are different ones. I'm full of excitement, anxiety, nervousness, and exhilaration all at once.
The Gift of Having Someone to Talk To
By far the biggest help for the emotional rollercoaster has been having someone to talk to—someone to whom I know I can admit my greatest fears, express those worries and doubts, and who responds to every doubt with encouragement and unwavering support.
I'm lucky to have two people in my life I can talk to without hesitation—one is my husband and the other is my long-time critique partner, both of whom have been there for every difficult and joyful part of this journey.
I Can't Not Write
The one thing, above all, that has kept me on this path is that I can't not write.
Regardless of whether my books are published, or whether one person reads them or more people do; regardless of the outcome of being published, I have to write, because for me there is a kind of peace in it. I find myself in the words.
Advice for a Young Writer:
Gain a True Understanding of the Word "Subjective"
One of the hardest things about being a writer is giving control to someone else.
When you query an agent, they control whether they offer representation. When you pitch a publisher, they control whether they want to publish your book. When your book releases, readers decide whether they'll read it, and reviewers decide what they're going to say about it.
There's so much about the book publishing process that can cut right into your heart and take a slice out of it. I don't have a magic answer for that.
But to any young (or older) person thinking about embarking on the book writing journey, I have three tips:
Gain a true understanding of the word "subjective," because that's what anyone else's opinion is.
Surround yourself with people who will encourage you to improve. (That isn't easy. Surrounding yourself with people who only gush about your writing won't teach you anything. Surrounding yourself with people who rip your writing to shreds won't either. Find the positive people who are willing to help, share their experience, and give constructive feedback.)
Work hard. You're the only one who can decide how good your writing will be.
Thanks so much for having me here today!
* * *
Everly Frost is the author of Fear My Mortality. If she doesn't have her laptop handy, then she has a pen and paper stashed nearby. She writes young adult and middle grade fiction set in worlds like ours with unexpected differences. She lives in Brisbane, Australia. To find out more about her and her work, please visit her website and Amazon author page, or connect with her on Twitter, Facebook, and Goodreads.
---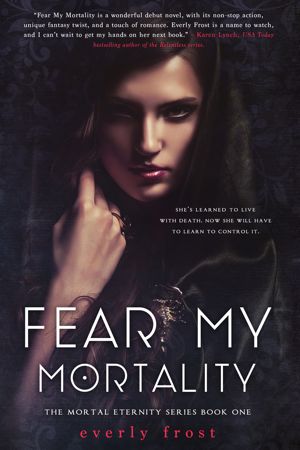 Fear My Mortality:  The future is bright for 16-year-old Ava Holland and the residents of Evereach. They don't have to worry about old age or even getting sick. In their world, humans regenerate, heal, and live for hundreds of years. Mortality isn't something to fear. Disease has been all but eradicated.
Everything changes when Ava watches her brother die and he doesn't regenerate. Ava's genetics are called into question by the government, scientists, extremists, and Ava herself. Could her genes hold the answer to mortality? Is she an anomaly or something to be feared?
Determined not to become anyone's guinea pig, Ava doesn't stick around to find out. She wants answers too, but the only person who can help her is 17-year-old Michael Bradley, the boy who killed her brother. If either of them have even the slightest chance of survival, they must find the genetic keys hidden in Ava's DNA before it's too late.
Available at Barnes & Noble, IndieBound, and Amazon.
Tags: author interview, Everly Frost, not writing, writing pain, writing self worth