It took me a long time to realize that all my aches and pains
were from leaning over my laptop.
Hunching forward like that, the chest tightens in a subtle way that strains the neck and shoulders. I had a tailbone injury years ago that also made sitting painful. I also ended up with cysts in my wrists that made it painful to type! (Or typing so much produced the cysts, I'm not sure.)
It didn't occur to me, for a long time, that I could do anything about this if I wanted to write on a laptop. I haven't owned a desktop in a long time, and I didn't know there was any other way to sit and work with a laptop than to hunch like I was.
Creating My Own Ergonomic Setup
I was on the move a lot (after I left NYC, I went on a four-year writing residency and housesitting bender) and my laptop became another appendage. To address my tailbone injury, I started asking for accommodations at each residency. I turned various pieces of furniture (book shelves, dressers stacked with books) into makeshift standing desks in each new writing space.
Eventually I figured out how to integrate an ergonomic setup. I usually use a stack of books to raise my laptop so that my neck is straight when I look at the screen, and I bought a very affordable, curved, lightweight, wireless keyboard that was easy to travel with.
Now, at my standing desk at home, I have a fatigue mat (so your joints don't get achy from standing too long), an adjustable laptop riser (plastic, very affordable online), a curved wireless keyboard with a wrist cushion, and a wireless mouse. I try to remember to take breaks from standing.
I also started exercising, finally. (This helped for a while, but eventually increased my pain from my tailbone injury!) I walk a lot, and I do try to stretch and do yoga. (When I was on the road at writing residencies, I moved very little.)
But I'm still working on integrating these practices, but low- or no-impact exercise, into my daily routine.
Playing the Comparison Game
I have certainly battled with it all, on a very mild level: mild depression, anxiety, self-doubt, stress.
The self-doubt came when close friends started to get great agents and to publish with big presses long before I was ready, and I started playing the comparison game. At that point, there was the tinge of wanting to be published for its own sake, or to feel I belonged in the writing world, rather than for the sake of my writing and the work.
Not only did the comparison game get me down, but I then berated myself for playing it.
How Meditation Changed the Way I Approach the World
I took developing contentedness with my writing life very seriously. It has expanded and continued with my meditation practice. I have been practicing Transcendental Meditation for about nine months—twice a day for twenty minutes. This has helped very directly with anxiety and has helped me cultivate a beautiful, pervasive sense of fulfillment and happiness.
It's not magic, per se, but it really has altered, in quiet and subtle ways, how I approach the world and how I problem solve. Buddhism has also offered a fantastic lens for viewing the world and now I'm trying to combine these two practices—TM and Buddhist philosophy.
Obstacles in the writing life don't feel so much like problems anymore, but lessons. I know that might sound cliché or trite! But meditation and positive thinking has lifted the weight of proving myself, and that has allowed me to write more freely and land in important and varied projects.
I Give Myself Permission NOT to Write
At a certain point I also started giving myself permission to NOT write, which allowed me to organically create a writing habit.
I was berating myself for not utilizing every moment of free time—this also made me resentful of others who would "take up" my time. Once I stopped being precious about time, there was freedom to create more suitable structures and be playful within those structures.
The same is true for any practice I have—in order to meditate every day, I have to give myself permission not to! This may be a personal quirk, but every writer can find ways of hacking their brain, as it were, by pinpointing their resistance triggers and then finding ways of flipping the script.
Now that I'm on the other side of the fortress wall of publication, it of course doesn't seem like as big of a deal as it did from the outside! Before I was published, many published authors treated me as a friend and equal. I do this naturally in turn, and have a writing community that spans the entire timeline of the writing life.
Publishing is a wonderful experience, AND there is a weight that is attached to it only before publication. Whatever writers can do to untie that weight and to have one another's backs, the better.
Figuring Out What I Desired Out of the Writing Life
I didn't think about publication when I set out writing my novel. It was certainly in the back of my mind, but it hadn't yet become a close-to-home reality that I could really imagine. And when I did think about it, I imagined that my book would end up with a well-respected small press.
When I did find an agent and she started to shop the novel, I was fed grandiose narratives about the book going to auction and huge advances. When that didn't happen, there was a lot of self-doubt and self-blame mixed in with the disappointment.
But I landed with an incredible press (Dzanc Books), and remembered that that was what I had imagined for this book all along. It made sense to me and for the work. The size of the experience and the people I was working with were exactly what I had wanted and still want, despite the other narratives and goals others wanted for me.
But it took me a while to be content with what was, and to actually figure out what I desired out of the writing life.
The One Thing That Keeps You on Your Path
Stories are what keep me on the path.
There are so many stories that get me excited enough to do the weirdest research, to spend months or years thinking about a certain character, to do a voice justice and serve the story responsibly.
Normalizing the taboo, or saying plainly "unwanted" thoughts that most people share but had no idea another had thought it, too—these are the gifts and triumphs that only writing, in one medium or another, can access.
Advice for a Young Writer—Discard the Need for Validation
The greatest difficulty, and the only way a writer will be happy and content, is to find a way to think about audience but discard the need for validation that is associated with publishing.
Of course we're not writing for just ourselves, we want our work out there in the world—but to separate that from needing something from others is a fun and difficult paradox.
The way to get around it? Be kind to yourself and others. Be quiet for a while, find a practice like meditation. Don't be in a rush. Let yourself daydream. Write as often as you can without getting mad at yourself if you need to leave the desk for a while.
Whatever you are doing is awesome!
* * *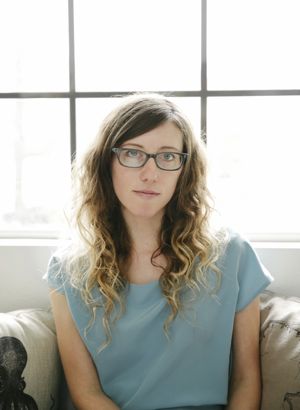 Carmiel Banasky is the author of the novel, The Suicide of Claire Bishop (Dzanc, 2015), which Publishers Weekly calls "an intellectual tour de force." Her work has appeared in Glimmer Train, American Short Fiction, Slice, Guernica, PEN America, The Rumpus, and NPR, among other places.
She earned her M.F.A. from Hunter College, where she also taught Creative Writing. She is the recipient of awards and fellowships from Bread Loaf, Ucross, Ragdale, Artist Trust, I-Park, and other foundations.
After four years on the road at writing residencies, she now teaches in Los Angeles. She is from Portland, Oregon. For more information on her and her work, please see her website and Amazon author page, or connect with her on Twitter and Facebook.
---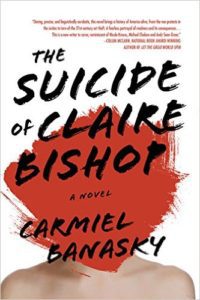 The Suicide of Claire Bishop: Greenwich Village, 1959. Claire Bishop sits for a portrait—a gift from her husband—only to discover that what the artist has actually depicted is Claire's suicide. Haunted by the painting, Claire is forced to redefine herself within a failing marriage and a family history of madness. Shifting ahead to 2004, we meet West, a young man with schizophrenia obsessed with a painting he encounters in a gallery: a mysterious image of a woman's suicide. Convinced it was painted by his ex-girlfriend, West constructs an elaborate delusion involving time-travel, Hasidism, art-theft, and the terrifying power of representation. When the two characters finally meet, in the present, delusions are shattered and lives are forever changed.
The Suicide of Claire Bishop is a dazzling debut, evocative of Michael Cunningham's The Hours (and Virginia Woolf's classic Mrs. Dalloway), as well as Donna Tartt's bestseller The Goldfinch. With high stakes that reach across American history, Carmiel Banasky effortlessly juggles balls of madness, art theft, and Time itself, holding the reader in a thrall of language and personal consequences. Daring, sexy, emotional, The Suicide of Claire Bishop heralds Banasky as an important new talent. Available at Amazon, Barnes & Noble, DZANC Books, IndieBound, and Powell's.
Photo credits: Main image, ergonomic standing desk in Carmiel's LA apartment, by Arnold Poeschl; bio image by Jason MacDonald.
Tags: author interview, Carmiel Banasky, Dzanc Books, ergonomics, meditation, self-doubt, writing life