by Tracy Shawn
A while back I ran into my first writing teacher and made sure to thank him for his help in sparking my career as an author.
In reply, he shook his head and gave me a wry smile. "I'm so sorry," he said.
I nodded, knowing exactly what he meant.
Yes, writing a novel has been one of the most fulfilling endeavors of my life. Yet—and this is the big yet—the quicksand muck of rejections, ongoing self-promotion, prickly self-doubt, and, well, let's be real here: lack of any real income, can be a tad demoralizing (especially when you work seven days a week and haven't had a vacation in nearly four years).
As my teacher and I commiserated on, though, neither of us would ever think about giving up.
Like so many other writers, artists, and musicians, the need to create is more powerful than the setbacks.
Below I've listed some of my best strategies to keep both physical and emotional health from going under. I hope, in some small way, my words can help fellow artists keep their heads above the muck as well.
Exercise Before You Write to Get Into the "Zone"

Writers, in particular, sit a good deal of their lives. Top that off with the frustration of writer's block—which can lead to emotional eating—and it's easy to see why many authors have to make a conscious effort to maintain their physical health.
Personally, I suffer from ongoing back pain (I herniated a disk in my twenties) and let's just say that I have more than one sweet tooth.
Over the years, I've learned to exercise before I write. Physically exerting myself not only increases my concentration, but also helps me relax enough to get into the "zone." When I get stuck, I do dishes, fold laundry, or take my dog for yet another walk (she gets at least two a day or she gnaws the furniture to shreds).
I also work from a laptop, so I'm able to change positions from desk to couch to standing (no fancy workstations here: I turn over a large rectangle basket on top of a file cabinet and then happily set my laptop on that while I stand on a padded rug).
Sometimes I get so overwrought from all the maneuvering through social media sites, researching and writing articles and blogs, and working on my freelance copywriting assignments—all while trying to finish my second novel—that I literally become dizzy.
When this happens, I go outside with my dog, lie down on a pad, and gaze at the sky, trees, and even ants marching in front of me. Inevitably, I become grounded enough to go back inside and pound those keys again.
Healthy Diet Plan: 80% Healthy, 20% Yummy
And then there's the lure of cookies, ice cream, chips, etc. Yes, I love my sweets. I also adore crunchy, salty snacks as well. I have come to discover, though, that when I partake of too many "fun foods" my energy plummets—and so does my writing. I have learned to eat three balanced meals a day, as well as lots of protein-filled snacks.
Of course, I still enjoy a daily dose of dark chocolate, a cookie here and there, and some ice cream, but I try to maintain the 80-20 rule, where I eat 80% healthy and 20% yummy. I also drink many cups of green tea during the afternoon, which I highly recommend to anyone who wants to increase both metabolism and energy.
Bonus Tips
I've found that eating the good kind of fats, which include olive oil, avocado, and nuts/nut butter, combined with high fiber and protein-rich foods, helps keep me from being too hungry—and grumpy!
If you're pressed for time, there are a plethora of free workout videos on YouTube. One of my favorite instructors there, by the way, is Sean Vigue. He gives a great workout while making me laugh, which is quite a feat.
A Thousand Hours for Each Book Sale

To be honest, my biggest emotional challenge of being a writer is that I'm not pulling in a real income from my seven-day-a-week work schedule. Although, I enjoy a nice check here and there from my freelance copywriting, it feels as if I put in at least a thousand hours for each book sale.
Okay, I'm not great at math—and that has to be a huge exaggeration, but when you put in all the years of writing, editing, and revising a novel and then all the time spent promoting it, it does tend to wear you down some days. So why do I keep writing, you may ask?
After all this kvetching, I have to say that writing is my biggest passion. And when readers share with me how much they've connected with my characters, loved the story, or how my writing helped them feel more connected and less alone in this crazy world, it's all worth it.
Bonus Tips
Your precious time and energy demands that you spend it with people who bring you up, not down. Take a serious evaluation of your friendships and choose wisely.
When you're feeling completely depleted, take a Sunday off, read the paper, go for a leisurely walk, nosh in front of the TV. Sometimes you really do need to recharge your batteries.
As for rejections, remember that they're not about you, but your work—and even then, it may not mean your writing isn't up to par, but rather not what the agent or publisher is looking for. Continue to hone your craft and eventually you'll find a way to publish your work.
Last, but not least, I highly recommend Twitter for all artists. It's a great place to connect with other writers, readers, and innovative people from all over the world. It also helps you feel connected during the isolation that can occur during your writing day. A quick break to go on Twitter will update you on world news as well as hashtags in which you can include links to your books, blogs, etc. (Since my debut novel is about a woman's journey through anxiety, I often #anxiety and have made some wonderful Twitter friends through this.)
* * *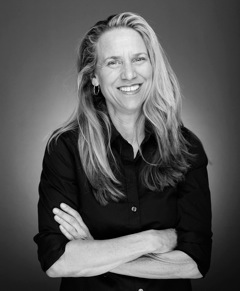 Tracy Shawn lives and writes on the Central Coast of California. Her writing has appeared in literary journals as well as print and online newspapers and magazines.
She is currently finishing her second novel, and her award-winning debut novel, "The Grace of Crows," is available on online bookstores in print, eBook, and audio versions.
For more information on Tracy and her work, please see her website and Amazon Author Page, or connect with her on Facebook and Twitter.
---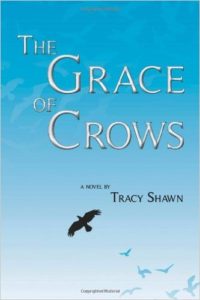 The Grace of Crows: "The Grace of Crows" is the story of Saylor Crawmore, a woman tormented by anxiety. Saylor tries every cure from self-help books and therapy to medication. Nothing has worked. Desperate for an answer, she must also navigate the ongoing rip current between the troubled generations of her family.
Saylor discovers her childhood friend, Billy, homeless and ignored since his teens living under a pier in Malibu. This encounter sparks Saylor's journey to gain insight into her strange fears and the power to overcome her severe anxiety. Armed with her new awareness, Saylor summons the courage to help her family.
Available at Amazon.
Tags: author interview, the writing life, Tracy Shawn, writers health, writers stay grounded