For me the biggest physical challenges are lack of exercise and the tension that develops in my neck and shoulders.
I have definitely gained weight since I launched my writing career. Sitting at a computer is horrible for anyone's system. We're not meant to sit all day!
And somehow exercise is the first thing to get tossed out the window.
I consider myself lucky in that I haven't had any big illnesses or other problems that have interfered with my writing. (Knock on wood!)
Keeping Exercise Close to Home
I bought a yoga ball to sit on while I write, and that helps a bit – although I don't work at my home computer very often. So I'm in a chair much more than on my yoga ball, unfortunately.
I make myself take breaks and walk around, roll my shoulders, focus my eyes on the horizon so I don't get eye strain. The only way I manage to get exercise is if I keep it close to home – my exercise bike or yoga. If I have to drive any distance or if it's going to take longer than an hour, it's hard for me to allow myself that time.
Even though yoga isn't the most aerobic form of exercise, I consider it the single most effective tool to keep me from breaking down physically.
It keeps my body from locking up and getting too tense. And it keeps me calm. Well, calmer. I don't even want to think about what my life would be like without yoga! I recommend it to everyone, at any stage of their lives, no matter their fitness level.
I even took my mother to a "yoga for Parkinson's" class, and she loved it.
Self-Doubt is an Iron Ball Chained to My Leg
I wage a constant battle with self-doubt. I often think of it as an iron ball chained to my leg, slowing me down. It makes everything more difficult. Promotion is harder, bouncing back from rejection is harder. I wonder what the writing life would be like without it?
I may never know firsthand. I just keep dragging that ball and chain onward, come what may.
I also struggle with the anxiety that comes with unpredictable finances. That's probably my biggest source of worry. I'd also say that clearing mental space to write—away from the Internet—is a big challenge.
Finding Peace in Meditation and Yoga
I mentioned the yoga—I've been practicing yoga for over twenty years, and it's pretty much a cornerstone of my sanity. In the last few years I've added meditation to the mix.
I find so much peace of mind in these practices. They help keep me from getting tossed about too much, emotionally speaking. I'm more able to ride the waves, so to speak, without getting swamped. (Most of the time, anyway!)
Another thing that really helps is that we live on the edge of wilderness. There's nothing like a starry sky or a new snowfall to bring you out of yourself.
Romance Authors Get No Respect!
[The darkest moment]: Finding out that romance authors get so little respect in the rest of the writing world!
Mostly, I live in a bubble of other romance authors and readers, people who love and respect the genre. Stepping outside that bubble can be a shock.
I include members of my very academically oriented family here. I love them, but it's been hard to accept that I'm never going to get whole-hearted respect for the hard work and art that goes into my writing. How did I get past that?
Part of me still longs for that validation. But I have to be my own person, and this is the genre I'm drawn to. Romance novels bring joy and pleasure to so many readers.
All I can do is "share my soul," as Paulo Coelho puts it. When I focus on that, rather than what the outside world thinks of my work, everything falls into place.
I Really Believe I'm On the Right Path
The amazing thing is that so often, when I've been discouraged, I've gotten a random email from a reader or a comment on Facebook that is so kind and so encouraging, and it's the perfect kick in the butt that I need.
That sort of thing reminds me that I really believe I'm on the right path, even if it has some twists and turns.
I think, underlying all the rollercoaster aspects of a writing career, I truly believe this is what I was meant to do. I feel the most alive, the most "operating on all cylinders," when I'm writing.
Advice for a Young Writer: Know Yourself
The hardest part of making your art your profession is knowing yourself.
The best advice I got, from a bestselling author years ago, was to learn how to psychologically manage myself. I didn't understand it at the time, but I've come to see how valuable that advice was.
Learn what you can handle, what you need to avoid, what's helpful. The goal is to keep writing. Do everything that helps you keep writing. If reading reviews helps you keep writing, then read them. If it throws you off stride, then don't. If you work better writing in all-nighter spurts, do that. If you like routine, stick to a routine.
Learn what works for you, what's going to keep you going over the long term. It's different for everyone, so you have to do this work for yourself. But it's worth it!
* * *
Jennifer Bernard is the USA Today bestselling author of the Bachelor Firemen of San Gabriel and the Love Between the Bases series for Avon Books. She is a graduate of Harvard and a former news promo producer. The child of academics, she confounded her family by preferring romance novels to all other books. She left big city life for true love in Alaska, where she now lives with her husband and stepdaughters. She's no stranger to book success, as she also writes erotic novellas under a naughty secret name not to be mentioned at family gatherings.
For more information on Jennifer and her work, please see her website or Amazon author page, sign up for her newsletter, or connect with her on Facebook, Twitter, Goodreads, and Instagram.
---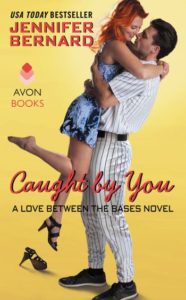 Caught by You: Months of alternately flirting and bickering with Kilby Catfish catcher Mike Solo just turned into the hottest kiss of Donna MacIntyre's life—and that's a major league complication.
Any hint of scandal could keep her from getting her son back from her powerful ex. Then Mike comes up with a game-changing idea: a marriage proposal that could help win her case—even as it jeopardizes her heart…
Mike hasn't been able to get the gorgeous, gutsy redhead out of his fantasies. The least he can do is fix the mess he helped create. Yet their engagement is quickly becoming about a lot more than doing the right thing. Because after swearing he'd never risk love again, Mike has found a passion that puts all his emotions in play, and a woman he'll go to bat for again and again…
Available at Amazon, IndieBound, Barnes & Noble, and other online booksellers.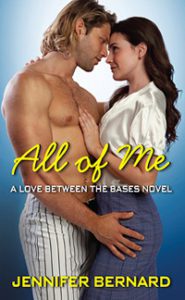 All of Me: Playing for the Kilby Catfish is hotshot pitcher Caleb Hart's last chance to salvage his career after a major league meltdown. But the day of his opener with the minor league team, Caleb strikes out with the gorgeous woman who is delivering a petition to run the unruly Catfish out of town.
Now to stay in the lineup, Caleb will need to score big with the feisty brunette he can't keep out of his thoughts.
After the nasty lies Sadie Merritt's rich ex-boyfriend spread about her all over town, she's lucky to have a job at all. She can't afford to screw it up by falling for the player who is supposed to be helping her change the image of the fun-loving Catfish.
But that's easier said than done when Caleb's voice alone is enough to make her pulse race. And when he surprises her with a mind-blowing kiss, she knows there's no turning back.
Available at Amazon, IndieBound, Barnes & Noble, and other online booksellers.
Jennifer has many other books available in other series. See her website for the complete collection!
Tags: Jennifer Bernard, romance writer, self-doubt, the writing life, writers and yoga