While there are many physical challenges we writers face, it took me a while to find the time (and determination) to schedule physical exercise.
My motivation, frankly, came from seeing my parents age and noticing what a difference physical health makes in a person's quality of life.
I realized if I wanted to be healthy and active as a senior, I needed to incorporate that routine into my life right now.
Snacking to Alleviate "Writer's Nerves"
My other biggest challenge is snacking out of "writer nerves."
I don't know what else to call them. I tend to snack to help me get over that "scariest moment" Stephen King says we face every time we sit down to start writing.
Under normal circumstances, I can push through that moment without needing snacks to distract me from it, but if I'm under a deadline or wrestling with a particularly problematic scene, I have a hard time resisting.
To try to combat this, I don't keep snacks in my office anymore, and when I do snack, I try to bring a reasonable portion with me (half a dozen chips, say, instead of the whole bag) and keep it healthier (organic corn chips instead of cookies). Right now, that's the best I can do.
Emerging from the Writing Zone Achy and Hungry
My set up really is not as ergonomically friendly as it should be. I notice this when I get in the writing zone and emerge hours later feeling achy, hungry, and like I really need to go to the bathroom.
I know there are apps to help you remember to take breaks, but honestly the last thing I want to do when I'm in the zone is stop. So I'm almost consciously allowing that to continue.
I haven't yet made the financial investment it would take to really set things up to be ergonomically healthy, but I've noticed that daily exercise is helping.
I May As Well Get Over Myself and Get Back to Work
One of the things I'll struggle with on occasion is the inevitable discouragement and self-doubt that seems to plague every writer at every stage of their career.
My husband, who's been a professional artist for over 20 years, is great at helping me with this. He knows when to listen and commiserate, when to offer encouragement, and when to give me the figurative kick in the rear.
If I ever get stuck emotionally, he'll ask, "So what are you going to do, quit?" And of course the answer is always no. So I may as well get over myself and get back to work.
Sometimes You Have to Say, "You've Done Enough for Today"
Overwhelm is probably an even bigger challenge, because it's a much more frequent problem.
Like many writers, I have too many responsibilities and not enough time.
I have my freelance business as a book editor, my kids to raise, my aging parents to take care of, a marriage to nurture, a house to manage, books to write, and novels to promote. It's a constant balancing act.
Sometimes one of those things takes center stage to such a degree that I can only fit in one or two other things.
When my father's dementia got worse and I had to move him temporarily into my home, I got zero writing done and struggled even to get my client work done. When he moved out after just two and a half months, it took me a full month to get caught up on all the things I hadn't been able to take care of.
This spring, when I decided I wanted my next book out in time for Christmas, I had to really buckle down. Over the summer I took time off client work, I didn't blog or promote, I barely saw my family, and still dang near killed myself getting the book done.
I'm really happy with the book and glad I met my deadline, but I seriously hope never to do that again.
The problem with overwhelm is that even when we're accomplishing great and important things, we're mourning for or feeling guilty about all we aren't getting done.
I've had to tell myself, "I can't do everything at once." And I really can't.
When I put in a 12-hour day managing all my various responsibilities, and want to just crash on the couch and watch The Voice with my kids, I'm not going to beat myself up over it. There's a time when I would have.
Aside from valuing unstructured time with my children, I'm also trying to be kind to myself as a human being. To say, "You've done enough for today."
How I Changed My "Pile" System to Reduce Anxiety
There is one very practical thing I've done to combat overwhelm and that's change how I organized my workspace.
I've always been a "pile" person, so I used to have piles all over my desks, which are arranged in a U-shape. I used piles for things I needed to remember to take care of, but I also tended to leave out works-in-progress. Instead of filing away a client folder until the next time I needed it, I'd set it aside on a designated spot on my desk.
I tend to work on one project at a time, and for some reason I didn't want to file it away until I was done with the project. I had the work scheduled on my calendar; it's not like I was going to forget about it.
But the way I was handling the physical stuff didn't always make sense. So I'd have everything from a bill I needed to pay to a note to reschedule my son's doctor's appointment to a list of conventions I wanted to check out to notebooks related to my latest novel, all scattered in piles on my desks. It wasn't unorganized; I could find anything I needed in seconds. But when it came time to work on my novel or a client project, all these piles called to me, reminding me about the million other things I also had to do.
I didn't realize just how much anxiety this created in my mind until I did away with the system I'd used for years.
I made a rule to religiously file away any papers that belong in files, and to put away files when I wasn't using them. Anything that wasn't on my schedule that I was afraid I'd forget, I added to the schedule. For the odds and ends that I wanted to be able to toss in a pile until I was ready to deal with it, I bought two wooden file trays and created a spot for them on one of my desks. Papers and notes that don't have a firm deadline go in the bottom tray. Anything timely goes in the top tray.
I scheduled a time every week to "sort trays." Mainly, I go through the top tray weekly and take care of anything that can't wait until the next time I go through the trays. The bottom tray gets looked at once a month and, honestly, could probably be handled differently. But those items are so low on my priority list I'm not fussing about it right now.
My key rule is that my primary desk can only have my laptop and whatever I'm working on at the moment, and I clear it away as soon as I'm done. Even if I'm ending my work day with client work and I know it's the first thing I'll touch the next morning, I still clear the files away until morning.
When I first instituted this new routine, I noticed the difference immediately. It's much easier for me to concentrate when I'm working and my work sessions feel much more productive and relaxed.
I Had to Face the Fact That I Can't Have It All
This may seem weird, but the hardest thing for me so far has been accepting the reality that I won't have the time I want (and need) to fully work on my writing career until my kids are grown.
This was a hard reality to face. I have several novels in my head, waiting for their turn to be written, and they will have to keep waiting because I'm limited in what I can do right now.
I also had to own up to the fact that part of the reason I don't have all the time I want for writing is because I'm choosing to put a certain amount of time aside for my kids, my husband, and myself, every day. Life is short, and if it all ends tomorrow, I don't want to feel I've sacrificed quality of life or relationships with the people who matter most, just so I can get my novels out there more quickly.
I basically had to face the fact that I can't have it all, and make a conscious decision about what I wanted most. That meant my writing career will have to stay out of the fast lane for several more years.
Accepting these realities and decisions, instead of mentally pouting about them, really helped. I can only do the best I can do. I can't do any more. So my best is good enough.
Writing Goes Beyond Something I Do; It's Part of Who I Am
Being a professional writer and striving to build a viable career is a tough career path. It takes an iron will and is not for everyone.
When the going gets really tough, I might spend a few minutes asking myself if maybe I should just quit. Those moments never last long though, because it always comes down to this: there's nothing else in the world I'd rather do.
Like so many of my fellow writers, I have a deep passion for storytelling that goes beyond something I want to do. It's part of who I am, and I'm not happy unless I make writing stories part of my life.
That reality pushes me forward in spite of all obstacles. I think I've also grown more accepting of the fact that I will always have moments of fear, doubt, and discouragement.
I don't think it's realistic to think we're going to "solve" those problems or make them go away. When it comes, I let myself feel it, for a time. If necessary, I talk to my husband, my mother, my friend and editor, and other people who encourage me. I recognize these moments as both inevitable and fleeting.
Then I remember what it is I really want to do, and get back to work.
Advice for a Young Writer: Don't Overestimate Your Skills Early On
I think it depends on where you're at in your career. When you're young, I think it's being patient with your growth as a writer. I think it's learning to leave your ego on the curb and get serious about your craft.
Young writers tend to overestimate their skills, then when they realize just how far they are from writing at a professional level, they get discouraged or think they're bad writers.
Not so. It just takes time to learn something so complex and advanced. Pushing past that hump is hard for some young writers, but important and worth it.
Now that I'm older and more developed as a writer, the challenges to writing don't feel "hard," even though I may have to work hard to overcome them. They're exciting. I love being challenged as a writer.
What's "hard" for me now comes from the realities and demands of the publishing industry, along with all those pesky adult responsibilities that keep me from writing in my pajamas from dawn to midnight.
When I speak with young writers, I don't talk about all these difficulties though. I encourage them. I encourage them to keep going and to be patient with their own learning process.
Either they'll find the writer's life worth all the agony or they won't. I can't decide that for them. But I can be one more voice saying, "You can do it."
* * *
Award-winning author Donna Cook is an Arizona native transplanted to Boise, Idaho, where she is delighting in the change of scenery. When she's not writing or working as a freelance book editor, she spends her time chasing the kids, exploring delicious eateries downtown, and dancing with her talented husband (Salsa, baby!). She also makes a mean Navajo taco.
For more information on Donna and her writing, please see her author and editor websites, or connect with her on Facebook, Twitter, Goodreads, LinkedIn, and Google+.
---
Gift of the Phoenix: A nation's fate rests in the hands of three strangers, thrust together by their common destiny to protect the Phoenix, and their world, from destruction.
The Three must learn to unite in spite of what separates them, and unlock the magic of three stones that seem to harm as much as they help.
(Honored in the North American Book Awards, 1st Place in Fantasy 2014, and Kindle Book Review Book of the Year Award Semifinalist 2013.)
Available at Amazon, Barnes & Noble, and Indiebound.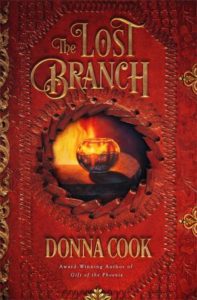 The Lost Branch: A portion of Phoenix ash stuck on the altar at the Rock of Light reveals a mysterious new threat.
In this intriguing continuation of Cook's epic saga, Gift of the Phoenix, the Three discover the power of ancient secrets, new enemies, and treacherous desires.
Together, they must protect their world from its most dangerous threat yet. If it isn't already too late. Available at Amazon and Barnes & Noble.
Tags: Donna Cook, exercise and writing, fantasy writer, Gift of the Phoenix, organizing your projects, writers overwhelmed, writing and editing