When I'm writing, the biggest physical challenge I face is stiff joints.
I'm not used to sitting for long periods of time, so I have to remember to take breaks.
I usually try to get up and move around every hour and a half. Four times a week, I'll go to a morning Zumba class. I love to dance and this energizes me.
I'll write until late afternoon and then go for a thirty-minute bicycle ride or in the winter, a walk or cross-country ski.
I really enjoy being outdoors and when I cycle, I have a playlist of upbeat, snappy tunes.
For me, being outdoors, exercising, listening to upbeat songs, or laughing at an Ellen show are the best ways of relaxing.
Shake Off Those Bad Reviews
Overall, writing has been enormously rewarding for me. If I could change one thing, though, it would be the way contests and reviews are assigned rank/stars.
As an author I'm told that reviews are essential. In fact, there are some promotion sites that won't consider your novel until you have a certain number of them. But I feel that the process could be improved and made fairer by developing a consistent standardized system.
Some reviewers only give out 2s and 3s. Some would give 3s or 4s. Some contests have no guidelines for judges—it's left as a gestalt of how they felt.
Constructive feedback is always helpful to improve as a writer but a low mark with no comments is just discouraging.
Because the reviews can have such a great impact on marketing a book, I think there is room for improvement with a goal toward standardization.
How do I handle poor reviews? I try to "Shake it Off." 😀
(Watch Linda dance to Taylor Swift's "Shake It Off!" She's the one in the front with the cute skirt.)
Learning Something New Every Day
I can't imagine not writing. Even though I only started writing about four years ago, I have such a deep enjoyment of it.
I love being immersed in the fun world of a romantic comedy. When I'm writing, I usually sit where I can watch the waves on the lake and listen to them lap (or crash wildly) onto shore, which is very relaxing.
I feel like I learn something new every day, master challenging tasks, and create something that others enjoy (and hopefully learn from too!).
Advice for a Young Writer: Writing Is a Marathon, Not a Sprint
The best advice I was given about writing was to remember that it's a marathon, not a sprint.
It takes time—not only to write a book, edit and polish it, but to get it out there for the world to see and develop a loyal group of readers.
If I had to pass on advice to an aspiring writer, young or old, I'd say, if you're passionate about writing, stick with it. But be patient little grasshopper.
Wellness Should Be a Priority
Colleen, thank you very much for inviting me. I think paying attention to wellness—physically and mentally—is such an important part of life. It requires an investment of energy and time and can be easily forgotten, but it should be a priority!
* * *
Linda O'Connor started writing a few years ago when she needed a creative outlet other than subtly rearranging the displays at HomeSense. It turns out she loves writing romantic comedies and has a few more stories to tell. When not writing, she's a physician at an Urgent Care Clinic (well, even when she is writing she's a physician, and it shows up in her stories 😀 ).
For more information about Linda and her writing, please see her website or Amazon Author Page, or connect with her on Facebook or Twitter.
---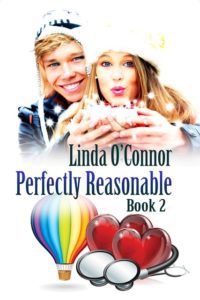 Perfectly Reasonable: (Book 2 in the Perfectly Series): Margo MacMillan finished medical school, but in the process, her self-confidence and self-esteem took a beating. So for the sake of self-preservation, she's stepped away from medicine to re-group. In the meantime, painting soothes her soul and pays the bills.
Trace Bennett set his sights on a medical degree and has to prepare the perfect medical school application. His big plan is to paint his condo for a little feng shui divine luck. When Margo shows up to paint, he realizes he's found exactly what he's looking for. He just has to convince Margo to share more than the art of medicine.
She's got it. He wants it. It's Perfectly Reasonable. Available at Amazon.
Tags: dealing with bad reviews, romance writing, writers and exercise, writers and stiff joints