Thinking about a standing desk?
A lot of writers are. We sit so much—often for hours at a time—and we know it's not good for us. A treadmill desk can be pricey, and the movement may also be distracting when we're really trying to focus. (Read more about treadmill desks here.)
Might a standing desk work better?
If you're thinking about this purchase, read on. We looked into the various models available out there, examining the features and the costs. Hopefully after you've reviewed the following you'll have a better idea of what kind you'd like.
Of course, there's always the option of making your own! Many of the featured authors on this site have done just that. (Check out Victoria Strauss' post for a good example.)
Things to Look for in a Standing Desk
Before we get into specific models, it may help to consider some questions about your own work habits. When you have the answers, you'll be better able to determine which desk might work best for you.
Work Space: How much do you need? Some desks are small—only large enough for your laptop—and others come with a lot more space for your files, books, etc.
Floor Space: How much room do you have for your desk? Is this something that will go in a writing office, or something you need to fit into a corner of your living room? Or will you be using it on the go?
Full Desk or Lifting Tool: Do you need a complete desk that goes up and down, or do you just need a tool to lift your monitor and keyboard on the desk you already have?
Height: How high do you need your desk to go? Stand up and measure about where you would be looking at your monitor, in inches. (Remember that you want to look at a slightly downward angle for your best ergonomic position.)
Accessories: What else do you require with your desk? Do you need a light? Something to hold all your cables? A keyboard tray? Somewhere to hold a CPU monitor?
Time: How much time will you be spending with this desk? Is this something to use once in awhile, or do you want to incorporate a regular standing/sitting routine for your full-time workday?
Price: How much can you afford to spend on your desk? (Remember that for most writers, any equipment is a tax write-off.)
7 Standing Desk Options for Writers
Turns out that if you're shopping for a standing desk, you'll have no shortage of options. With recent research bemoaning the health hazards of sitting all day, furniture manufacturers have responded with a number of possible products.
What desk might work best for you depends on what you need. Here are seven options that give you a glimpse into the choices you have.
1. Sit or Stand Convertible Desk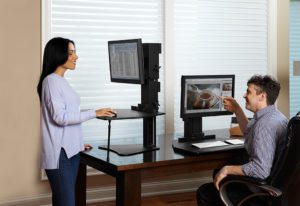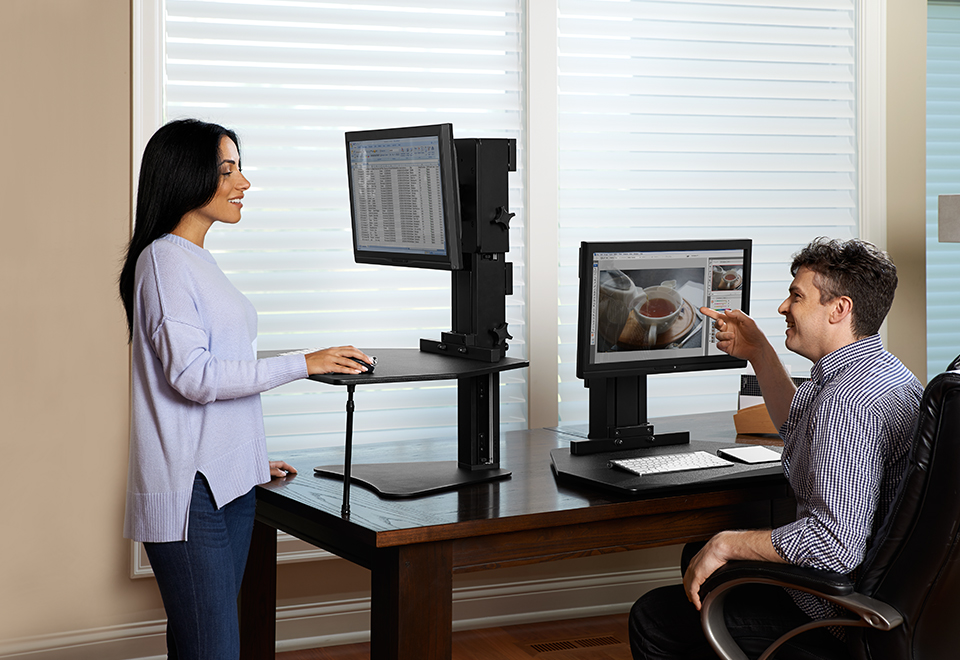 This option (available at Sharper Image) you can place just about anywhere—on a table, countertop, or desk—to hold your computer and other accessories as you work. It comes with an adjustable monitor holder, that you can raise or lower for standing and sitting, and a felt bottom to resist scratching surfaces.
Height = up to 15.5"
Work Space = 28" x 23"
Pros
This desk offers you a lot of choices. You can use it on your regular desk while sitting, and then when you want to stand, simply loosen the knob and lift your computer and the stand together (with the help of gas struts). Tighten the knob and work while standing.
This eliminates the need to have two separate work areas. There's a second knob allowing you to adjust the height of the monitor separately, and the monitor can also swivel at will.
Cons
You have to have another surface to put this desk on. In other words, it's not really a desk, but an accessory for a desk. This can be a pro or a con depending on your work setup.
Price
It's $399.99 at Sharper Image.
2. Jarvis Bamboo Adjustable-Height Desk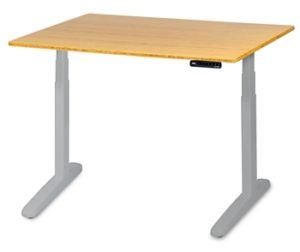 If you're looking to be conscious of the planet with your purchase, this is the adjustable desk for you. Available at Ergo Depot, it's the desk that moves, so you'll get both your workspace and your adjustable tool in one.
The work area depends on the option you choose. There are lots available, from 48" x 30" to 60" x 30". You can also choose the shape you want, from those with cutouts in the front so you can sit closer, to those with "wings" on which to put your files and accessories.
The top is made of bamboo—the eco selling point—without the use of dyes or stains. They say it's "bamboo harvested from sustainable Thai and Chinese forests and shipped directly from our Portland warehouse," with no pesticides or fertilizers required for growth.
Height = 23 ¼" to 48 ¾"
Work Space = many options, from 48" x 30" to 60" x 30"
Pros
You may enjoy the bamboo wood, and the fact that the trees are managed in a sustainable way. You don't have to wrestle with the desk to move it up and down. It has an electric adjustment so you just push a button and stand back and let the motors do the work. If you get the higher-end option, you can also program in presets.
The company has some other options—hardwood desks, laminate, and smaller size (junior)—as well as the frame alone if you want to put the top on yourself.
Ergo Depot also sells a number of accessories for the desks, from monitor arms to cup holders to file pedestals and more.
Cons
It's a bit pricey for the space that you get. Though you can choose the option of the desk with "wings" (elevated sections on each end), you're still getting basically a one-piece desk with no other accessories (keyboard holder, file cabinet, etc).
Price
Prices range from $490 for the frame alone to $599 for the bamboo (special right now—it's usually $750) to $1025 for the hardwood option.
3. StandStand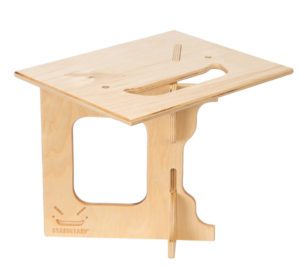 This is the most economic option we found. You can use with the office you already have. You can get either the one made of birch or the one made of bamboo, and you can also choose your height.
Available at StandStand, this little desk is portable, so you can take it pretty much anywhere. Move from your desk to the kitchen or even place it on a TV tray in the living room.
Height = 9, 12, 14, or 16 inches
Work Space = 12" x 9" for the two smaller sizes, and 14" x 9.5" for the 14" height, and 16" x 9.5" for the 16" height
Pros
Portability is a solid strongpoint. It's extremely easy to assemble (3 steps and you're done), and it's light enough (2 pounds) that carrying it around won't bother you at all. You can also collapse it (just do the 3 steps in the opposite order) and throw it in your computer bag if you're writing on the go.
And it's made in the USA of sustainable materials.
Cons
Though the desk is stable and will easily hold your laptop, that's about all. This isn't something you're going to want to load a 24" monitor on, say nothing of a keyboard or other equipment. This is pretty much a laptop desk alone.
Price
$69 for the birch, $99 for the bamboo.
4. Stir Kinetic Desk
If you really want to treat yourself to something fancy, this is the way to go. Called the "Ferrari of standing desks," the Stir is made of glass, brushed metal, and hardwood, and comes with a built-in tap screen that does pretty much everything but talk to you.
Want to stand up? Tap the touch screen and up you go. (Motors do the work.) But you can go way beyond that. The software keeps track of how much time you sit and stand so you can review your hours at the end of the day, week, or year to see how you're doing. It even estimates calories burned.
It also "breathes" to remind you to move, a gentle up-and-down movement while you're working to shake you out of your sitting trance. You can use various presets so you're getting up every 20 minutes, for example, or so that the screen reminds you it's time to stand. The adaptive technology is said to adjust to your habits over time, or to more than one user.
Height = 25" to 50.5"
Work Space = 58.5" x 29.5"
Pros
If you can afford this desk, it may be the best option for your health. Watch the video at Stir Works and you'll see how the desk seems to move with the worker as she goes about her day. This is something you could program to work with you as you concentrate so that standing and sitting could become almost second nature. Plus you'd get real information on how many hours you're actually sitting a day, which could be a nice wake-up call.
There's also the M1 option, which has a curved shape in front so you can sit closer, and features rounded edges to make it easier on your arms if you're resting them on the desk.
Cons
Obviously, it's expensive. The original F1 is nearly $5,000, and the new curved M1 is nearly $3,000. It's also just a plain flat desk—no other accessories such as a file cabinet, keyboard holder, etc.
It weighs 140-150 pounds, so not as easily movable as some of the other options.
Price
Stir F1 is $4,990, and the M1 is $2,990.
5. EvoDesk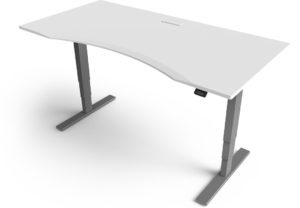 This desk aims to combine a number of features with a price that's affordable. Available at EvoDesk, it offers an electric motor to raise and lower the desk at the push of a button, and can hold a lot of weight so you don't have to worry about moving things. The company offers a number of accessories to complete your office as well, but they do cost extra.
The materials are consciously chosen to avoid potentially toxic chemicals and to use sustainable sources.
Height = About 24" to 50"
Work Space = expands from 48" to 90"
Pros
This desk holds more than most of the other options here—up to 350 pounds, which means you can have your desktop as well as books, files, and other accessories on the desk without having to worry about moving them when you want to move.
It boasts 250 different positions in height, and you can get to them all with a push of a button. It's fingerprint and smudge-resistant, and said to be super hardy, made of recycled wood coated with "evoguard" that's supposed to be stylish yet not easily marked or scarred.
The desk has an adjustable frame so you can make it wider as well as higher if you like. Get the higher-end programmable version and you can preset up to four positions. It moves quickly, at 1.5" per second, so adjustments don't take long.
This desk is customizable–you have several choices when ordering, including what kind of shape you want (rectangular, cut out, L-shape, etc.), whether or not you want a keyboard tray or monitor arm, whether you'd like casters on the bottom to wheel the desk around, what kind of edging you want, and whether you'd like a built-in sound system or cable management system.
Finally, the materials don't contain the common toxic chemicals you often find in office furniture, like formaldehyde, VOCs, and ureas.

Cons
Because of all the options, you essentially have to "build your own" desk online, which means choosing a lot of options and potential add-ons. You may like that, but it can take some time and research to make sure you get what you need—and is also likely to ratchet up the price.
Price
Your standard square desk starts at $599, with no additions. The curved option starts at $678, and the L-shape at $1,167.
6. Focal Standing Desks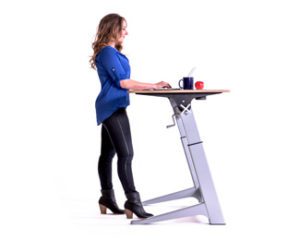 This ergonomic company offers two options in standing desks—the Locus and the Sphere. Available at Focal Upright Furniture, both come in a range of options, made of oak, walnut, and laminate. You're going to have to work harder to raise and lower the desk, though, as these have crank style systems as opposed to electric motors.
Height = 36" – 48"
Work Space = 30" x 48" for Locus, 28" x 78" for larger Sphere
Pros
This desktop tilts. So if you want to move your monitor a bit closer or get the glare off it, you can actually tilt the desktop toward you. Range is flat to 15 degrees. It comes with a cup holder and a removable work surface mat, and it's made in the USA.
If you get the larger, Sphere version, you'll have quite a bit of room to work, though nowhere to really store things.
Cons
It holds only 180 pounds max, so this is a version that's not going to work if you have a lot of extra items on your desk you want to move with you. The desk moves at a rate of a quarter inch for each turn of the crank, so it may take some work to get it where you want it to be.
You're also going to have polyurethane materials here, and varnishes, so you may have smell of those fumes for the first few weeks after you get it.
Like most of these desks, if you want accessories, they're extra. The company does supply work lights, cable management trays, and an extra bracket to hold an iMac.
Price
Locus: $1,455
Sphere: 40% larger workspace, $1,975
7. Sit to Stand Desk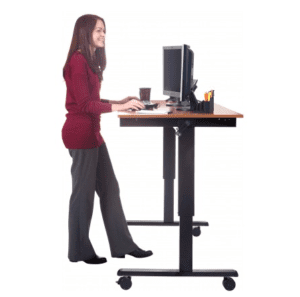 Available from the Stand Up Desk Store, this option has a crank adjustment like the one above, which may take a bit more work, but it does allow for a more economical price.
Height = 29.5" to 45.25"
Work Space = 59" x 29.5"
Pros
This desk comes with castors so you can move it from room to room if you like, with a brake to keep it still when desired. There are a number of color options, including gloss white, gloss black, teak, and natural walnut.
You can sit or stand with this desk. The company does offer straight standing desks for a little bit less, but the savings are hardly worth it. You can do both with this one.
Cons
It holds only 154 pounds, so be careful not to load it too heavy.
Price
$349
Have you tried a standing desk? What tips can you share with our readers?
Tags: ergonomic office, sit to stand desk, standing desk, writers and standing desks