Time [is the biggest challenge]. It's pure and simple, time. Which translates into being chronically sleep deprived!
Like most authors, I do more to put kibble in the puppy bowls than write.
I'm a book editor as well, so I'm just entrenched in many aspects of publishing. Which comes down to a chaotic balancing act of writing, editing, marketing.
Rest in there somewhere. Rinse and repeat!
It's a crazy life, but one I wouldn't trade for anything.
Except to carve out more time to write. (grin)
Finding Physical Fitness in an "Old People" Class
You know, I can only laugh here! I've always been a bit of a fitness fanatic. In fact, when I quit corporate America decades ago to write my first novel, as many do I worked at a lot of odd jobs, including being a certified fitness trainer! Weight lifting, running, yoga—the whole gamut of physical endeavors.
But as I have, ahem, gotten a wee bit older, my lumbar area has shown me quite specifically the error of my ways. And sitting in front of a computer hasn't done that any favors.
But man, did I ever find the most wonderful thing! I started Classical Stretch, which looked like it was all old people. They raved about the health of their backs though, so what the heck, I thought.
I could hardly get through the first workout! Wow though. My back felt better that day, and has improved and improved and I can now work much longer hours at the keyboard. With walking breaks, of course!
How I Let Rejection Derail My Writing Goals
Oh, by far, the depression of rejection [is the biggest emotional challenge]. And I'll be honest—I did let it derail my writing goals.
My first novel sold to a traditional publisher in 1993. It did okay—midlist—and I thought I was on my way. I subsequently sold three co-authored nonfiction books.
I write literary fiction. The market is tiny, sales by and large, small. But I kept banging on that door.
My second novel received the most glowing rejections from renowned New York editors at major houses. They loved it. They just had no avenue from which to sell it.
I let that break my heart. And although I kept writing, and had another co-authored book of nonfiction published, for a period I was too depressed to write fiction.
And then one day I awakened and literally said, "Is this all there is?" Because fiction is my passion, my heart and soul, the thing I do believe I was put on this earth to do.
So, haltingly, I dipped my big toe back in. And quietly, in whispers, the muse returned.
The funniest thing about all this? That novel that everybody loved but didn't know how to sell? I Just Came Here to Dance was just published by a small traditional house, to lovely reviews.
It really isn't ever over until you quit . . .  
When the Puppy Brings You a Frog
I am a spiritual seeker. And I do pretty much all of the above! Mediation, affirmations, reading psychological and spiritual books. I have the most wonderful friends as well, who have never ceased encouraging me.
Had I not had my spiritual practice to fall back on, Lord knows what would have become of me.
Funny thing, spirituality progresses when you commit to it. And I'm continually shown what a splendid world this is—if I have eyes to see. The push of creation, the art of letting go, which I see as two sides of the moon—the dark and the light. For me, both are necessary.
On the practical side, I also raise, train and show English Labradors. Getting out with them daily provides such a welcomed change of pace.
Thinking about anything else is difficult when a dog you love just learned something with a smile on her face. Or the puppy brings you a frog . . .
The One Thing That Has Kept You On Your Path
I believe, into my soul, that I was put here to write fiction. It is a calling of mine, a quest I've been on for a very long time.
That, and on the flip side, when I'm not writing fiction (and I don't mean the breaks in between, but those long stretches of life getting in the way), I go a hair crazy.
I'm sure a psychiatrist would have a field day with this! But nothing really seems right, as if the world got tilted on its axis and the tables in my mind go all askew.
Perhaps that's due to not giving voice to those characters within my head (grin).
So, in the interest of psychological sanity, and spiritual purpose, I write.
Advice for a Young Writer
Don't get in a hurry.
This is a long, long winding and sometimes precarious road. It takes so much study and writing and study and writing to learn this craft. So, settle in for the journey. Fall in love with the writing (both your own and that of others). The old cliché is right—one step at a time.
Prepare to be discouraged, and learn to deal with that.
To live in this wonderful world of words takes talent. But it also takes skill, a backbone of steel, persistence and tenacity.
And finally—perhaps ultimately—believe in your work. That's what matters most in the end.
* * *
Texas native Susan Mary Malone has published two novels, co-authored four nonfiction books, and sold more short stories than she can count. Her happiness is fiction, wine, and Labrador Retrievers, the latter of which she raises, trains, and shows. Literature is her love. In addition to writing, she edits; fifty-plus Malone-edited books have sold to traditional publishers, and one of them was made into a hallmark Hall of Fame film (another is in production). Her stories revolve around the passion and purpose, the myths and meaning in women's lives. Which often involves wine. She does, however, try to keep the Labradors out of that.
For more information on Susan and her work, please see her on her writing website or her editorial services website, or connect with her on Facebook or Twitter.
---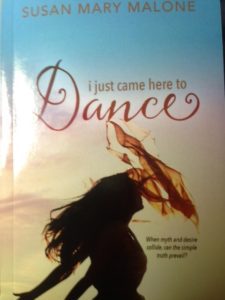 I Just Came Here to Dance, a modern allegory, waltzes atop the line between the creative and the crazy, the sacred and the maligned. Through myths it weaves together the multi-layers of personal Self with that of the collective whole.
And finally, Paula Anne and the townsfolk learn the simplest of truths: that the fire's ashes produce wisdom and courage, just as the stories say.
Available at Amazon.
Tags: author interview, literary fiction, Susan Mary Malone, writing and editing, writing and rejections, writing as a spiritual practice