Writing can be exhausting.
When I have finished an eight or nine-hour day at the keyboard—tied there because of a tight deadline—I come away physically and mentally drained.
My muscles are stiff and my eyes are scratchy. It's been a tough day at the office.
I've found a couple of things that ease the stress on my body. The first is to pay careful attention to ergonomics. I can work for hours at a correctly fitted chair and desk, but fifteen minutes at a picnic table will kink my back for a week.
A properly fitted chair will put my knees at ninety degrees, provide adequate back support, and allow my elbows to rest loosely at my sides. My desk chair has a gazillion different toggles under the seat to raise and lower this and that—and heaven help anyone who adjusts those settings!
I use a laptop, but only use that keyboard on rare occasions. If the screen is at the right height to prevent neck strain, I have to raise my hands too high, creating tension in my shoulders.
A wireless keyboard solves the problem nicely. I can place the keyboard at a height that allows my elbows to hang loosely, with my wrists slightly lower. Perfect posture for endurance!
Fancy Software Didn't Work for Me
Secondly, I prefer not to face the wall. My desk is positioned so I can see into the back yard or the front street, so it is easy to focus on something in the distance to give my eyes a brief break from the screen.
Isn't this distracting?
Only when I spot the kids creeping out of the garage with water guns or a firetruck idling two doors down the street.
In the interest of being a little less sedentary, I tried some fancy software my husband uses at work. It prompted me to take a break every twenty minutes, and even suggested stretches to ease tense muscles.
Notice the past tense here.
When I ignored the prompts three times, my computer locked! I used that enforced stretch break to figure out how to turn that crazy bit of software off.
Those Few Words of Praise Are to be Cherished
Self-doubt is a big challenge. When I was writing freelance for the newspaper and even more recently with some of my children's non-fiction projects, I rarely received feedback from editors.
Was it good? Bad? Horrible? Not knowing was stressful.
Then, I'd get the cheque, see the article or book in print, and deduce that my writing was acceptable. Maybe even stellar. I choose to believe stellar.
Now, more than 200 news articles and 45 children's books later, I guess I was doing something right. And I've come to understand that the few words of praise that might come my way are to be cherished.
I Celebrate the Successes of Other Writers
It can be very easy, as a writer, to dwell on rejection and self-doubt. I spend a lot of time in my own head, and that's not a good thing.
My solution is to get out and fraternize with other writers—any writers—at book launches, readings, poetry slams, conferences and workshops.
It's invigorating to hear what others are doing. I celebrate the successes of other writers with genuine enthusiasm because I know what they have accomplished and the effort that it took.
And perhaps there is still hope for me.
The Trick is to Find the People Who Love It
My darkest moment was a little over ten years ago. I hadn't been writing for long, had enjoyed some early success with a short story and some magazine articles, and had polished up some poetry.
I took the poems in for a critique by a writer-in-residence. I remember the crunch of snow under my feet as I left the appointment, climbed into my truck, and shut the door. And cried. Bawled actually. My poems had been eviscerated. I would never write again. I was wasting my time.
Then, three days later, I received a letter from the CBC (Canadian Broadcasting Corporation). They wanted to publish those exact same poems—to have an actor read them, arranged with music and introduction—and broadcast them on the radio. And they would pay me a few hundred dollars for the pleasure.
That was a hard, early lesson, but it has helped me maintain a healthy view of rejection—and acceptance. Response to a piece of writing is personal and subjective. For every person who dislikes my work, there may be ten other readers who love it. The trick is to find those people.
Advice for a Young Writer
Writing is my talent, my creative expression. It is something I enjoy doing and am driven to do, and I look for stories everywhere.
To a young writer, or someone contemplating writing, I would say, "Write your passion. Passion will give your words sparkle and life that can't be manufactured."
* * *
Pamela McDowell has been writing for almost 18 years. She started with magazine articles, and later wrote human interest articles for the Calgary Herald. Five years ago she began writing non-fiction children's books for an educational publisher and now has well over 40 titles on Amazon. Pamela's focus now is on children's fiction, and her second early chapter book, Salamander Rescue, will be released by Orca Books in Spring 2016. Pamela balances her writing and school visits with a busy family—including two kids who are now teenagers—and a full-time job in volunteer management. She lives in Calgary, Alberta, Canada.
For more information on Pamela and her work, please see her website and her upcoming release with Orca Books, or connect with her on Twitter and Facebook.
---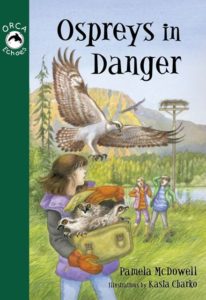 Ospreys in Danger: When an osprey nest atop an electrical pole catches fire, the whole town of Waterton loses power.  Cricket, a park ranger's daughter, is there at the scene, where she finds three abandoned baby ospreys.  Caring for the chicks proves to be challenging for Cricket.  The birds are noisy, hungry, and very picky eaters.
But when she discovers that the power company is building a new anti-nesting device on the power pole, Cricket has an even bigger problem.  How will she reunite the baby birds with their parents without a place for them to build a nest?
Available at Orca Books and on Amazon.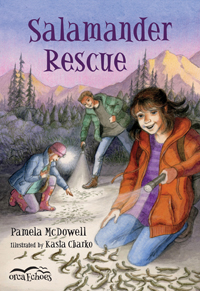 Salamander Rescue: Cricket McKay has lived in Waterton all her life, so she is surprised to discover an animal she hasn't seen before: the long-toed salamander. She finds a band of them migrating from the pond to their hibernation grounds at Crandell Mountain.
Crossing the road that lies between the pond and the mountain is dangerous enough, but now a newly-constructed curb makes their journey even more challenging. Can Cricket and her friends come up with a solution to help the salamanders? Salamander Rescue is the second book featuring Cricket and friends, following Ospreys in Danger.
Available soon from Orca Books.
Tags: children's writer, ospreys in danger, Pamela McDowell, self-doubt in writers, the writing life, wireless keyboards