Definitely the sitting [is the biggest physical challenge].
Sometimes at the end of a writing session, it takes me a few minutes to get my rusty hips to unbend and ease me into a standing position.
I think I'd have to put tired eyes/headaches as runner up. I have a cubicle and computer day job. When I'm not at work, I'm writing or reading. You probably get where I'm going with this.
There's very little built-in opportunity to move. Also, I wear glasses and have for some time. My eyesight is only going to get worse. Reading and writing are two of my favorite things to do in the world.
I have an irrational fear of someday going blind and not being able to learn Braille.
Writing is Such an Indoor Sport
I work from home quite a bit. I love my giant green exercise ball. I often use it instead of a desk chair. It takes pressure off of my hip joints and is just kind of fun to roll around on sometimes. It also makes me more conscious of my posture when I'm typing.
If I'm in a longer writing session, I will set the alarm on my phone or laptop to go off in 60-minute increments to remind me to get up and move. I use a smaller water glass so I have to get up to refill it. Of course, when I'm writing, this can sometimes lead to distractions. It's a trade-off.
I try to stick with six smaller meals throughout the day and I do write down everything I eat. Our family recently renewed a commitment to avoid processed foods and chemicals as much as possible. Within less than 48 hours we all began to sleep better and have more energy.
If I'm not eating well or moving, a sluggishness sets in. I feel it in my writing and in my body. If I'm making the commitment to my writing goals, I have to do the same for my health goals.
I also make sure I get outside every day. Chicago winters make that tough sometimes but writing is such an indoor sport. I believe wholeheartedly that nature, fresh air, and a change of scenery do wonders for stimulating the mind.
FEAR: I'm Not Educated, Original, Literary, or Creative Enough
[Biggest emotional challenge]: This one is tough for me. The theme is FEAR, all in capital letters. I'd spent so many years afraid that I didn't have what it took to be a writer. I would ignore the calling. I would dismiss signs from the universe as flukes.
Also, I think I was avoiding the hard work. Anything in life you're going to be proud of attempting or accomplishing is going to be hard. The difficulty is the necessary ingredient. It took me a long time to recognize that and I went years starting and not finishing many, many things.
The fear doesn't go away. I'm not educated enough. I'm not original enough. I don't have enough connections. I'm not literary enough. I'm not creative enough.
Family and Friends Can Encourage You Only So Far
Support is crucial. I build it in as much as possible in advance. I attended a three-day retreat last month. I'm registered for a conference in September and am looking for something to put on my calendar about two or three months after that.
I take inexpensive, one-day classes and I am enrolled in a "Novel in a Year" program that meets monthly for critique and craft discussions.
Family and friends can support and encourage you only so far. Writing is a creative pursuit and I find that being around other writers is like plugging into a grid of energy I just can't find anywhere else.
When I'm with other writers, I feel like a wandering space alien who has finally found her people.
Books about writing or writers are a healthy addiction for me. I will often treat myself to a new one when I've met a certain writing goal for the week or month.
Come Back Little Hamster Mind
I have a new, fragile meditation practice that takes my hamster-mind off the hamster wheel and allows me to remember what is important to me before I start the day. It's a simple one involving counted breaths, noticing sounds, and trying to corral my thoughts.
I haven't shared this before but I have a catch phrase I use when I feel myself getting distracted. I say "come back, little mind" over and over and it actually works most of the time.
The biggest gift I've given myself is the support of a coach/mentor. I've written about it on my blog because I think it's been invaluable.
Other than family and friends, the thing that makes me happiest is writing and reading. I made a decision that my life would include as much of that as possible.
I knew that pursuing my writing goals would be fraught with rejection, time and money constraints, and indifference from most of the world. We hire batting coaches, voice teachers, math tutors, etc., for our children. Why set ourselves up to fail?
The Darkest Moment
Discouragement is a familiar foe. Rejection emails pop up in my inbox and make me suck in my breath. One essay was published in an anthology and my next submission to the same publication got rejected. That didn't feel good.
Someone is always better published, better paid, better reviewed or better educated.
I'm in a class now that required a work sample and approval of the author instructor to participate. Less than half of the applicants were accepted. Still, I sit in a room with 11 other writers, 9 of whom have their MFAs and I can't help but feel intimidated.
Last fall, I attended a popular writing retreat. It was an extravagance for my family and I so wanted to make the most of the opportunity. On one of our last nights, the accomplished group gathered around the rustic fireplace to read from work we'd been revising all week.
The writers were all kind, but my piece fell flat. I'd tortured it to death instead of improving it. That was tough. I was sure my "Real Writer" card was going to be revoked upon departure.
Lesson learned. I'd wanted to do well, to impress. I try to remember that the times I feel most like a real writer are not when I get an acceptance email or a check. They're when I'm sitting at my laptop, fingers tap dancing across the keys, or when I'm propped up in the driver's seat of my car on my lunch break, revising my latest chapter by hand.
The One Thing That Has Kept You On Your Path
As far back as I can remember, I've written. If I was mad, happy, angry, hurt, my thoughts formed a letter addressed to the offending party in my head.
It still works that way.
But how do you turn that into a job? At a young age, you turn it into giving the graduation speech or editing your high school newspaper. Then you focus on getting a job.
My family was very much a blue collar family. We're all pretty creative and big readers, but a career as a writer was fantastical to me growing up. It was for the anointed or the gifted.
My family has always encouraged and believed in my abilities and dreams. I didn't believe in them myself or feared the amount of work required to make them come true. Plus, there was very little information floating around back then on how to go about becoming a writer.
Writing is Like Biting Into a Creamy Bar of Milk Chocolate
When not pursuing my writing goals became as scary as trying and possibly failing, I was committed.
I don't want to waste a minute more of life wondering "what if?"
Life is joyful and miserable, wild and hard all at the same time. I might as well be doing something I love.
Writing, reading, and being around writers is like biting into the most delicious, creamy bar of milk chocolate. I get a boost of energy, my brain tingles, I feel both at home and transported.
It's like magic and as long as it feels that way, I refuse to give up.
Advice for a Young Writer: Find the Happy in Having Written
I think first off I would object to the word "young" and instead change it to "beginning." Writing is something anyone at any age can pursue.
The hardest part for me was not knowing where to start. I think advice such as "You have to write a lot and read a lot," while accurate, is unhelpful.
I wrote about that on my blog, as well. I must have read several hundred novels before I tried to write one. It was a mess. I had no idea what pieces made up a novel nor how to assemble them.
Beginners need something concrete. Take a beginning fiction class. Everyone can Google writing classes. If you don't like that, sign up for a creative non-fiction class. Buy a book and follow the exercises.
I would tell them the hardest part is seeking approval outside of the process itself. Yes, it feels great when someone else reads and respects your work. If you're writing for that and that alone, you will be miserable.
You have to find the happy in having written.
That's the ice cream, the hot fudge sauce, and the nuts. The outside recognition is but a cherry.
* * *
Suzanne Brazil is a freelance writer whose work has appeared in Chicken Soup for the Soul, Writer's Digest, and many local publications. She is a correspondent for the Daily Herald, a frequent blog contributor, and a website content provider. She blogs weekly about living the writing life, interviews award-winning authors, and reviews books, both fiction and non-fiction, on her website. She is currently at work on the second draft of her first novel. She and her husband raised two children, and now live in a mostly empty nest in the suburbs of Chicago.
For more information on Suzanne and her writing, please see her website, or follow her on Facebook and Twitter.
---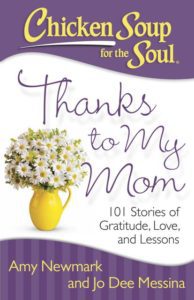 An Ordinary Life: Suzanne's essay was featured in Chicken Soup for the Soul: Thanks to My Mom. Children of all ages share their words of thanks in these 101 stories of love, learning, and gratitude to the woman they couldn't have done without!
This collection is filled with heartwarming and entertaining anecdotes by grateful children, all in praise of the woman who encourages them, supports them, and most importantly, loves them.
Available on Amazon and Barnes & Noble.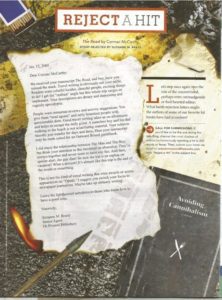 Writer's Digest: Suzanne's "Reject a Hit" of Cormac McCarthy's The Road was featured in a 2014 issue of Writer's Digest.
Her work has also been featured in the "Daily Herald," "Family Time," "BooksbyWomen.org," "The Seattle Post Intelligencer," and many more.
Click here to read the entire "Reject a Hit" in PDF form.
Tags: essay writing, exercise ball, freelance writing, sedentary lifestyle, Suzanne Brazil, writing is hard work