Biggest physical challenge of being a writer? Not plowing my way through a bag of chocolate when I'm writing.
Wow, that's hard.
I don't feel like I have any trouble getting exercise (my horse keeps me active), but when it comes to emotional eating… Writing is an incredibly emotional thing, and if I'm not taking maximum care of myself in other areas, then I'm doomed to overeating.
How do I cope? Standing. It's that simple.
That way I can stretch my hips—that helps me (especially my back) more than anything else. I stack boxes on my desk so it becomes the right height.
My eyes are also really sensitive to fluorescent light, so I try to keep tubes low on the Kelvin scale and look away from my computer screen (at least 20 feet) and blink for 20 seconds every 20 minutes.
It gets redundant, but it'll save my eyes. Computer vision syndrome is a real thing! (Read more what your computer does to your eyes here.)
Only Other Writers Get It
Biggest emotional challenge? Loneliness and misunderstanding.
Because I've got to be alone to write, lots of times I have to call off social engagements. Only writers get that—when the muse calls, you answer.
Most of my friends, no matter how much I explain, don't get that, and it's cost me a few relationships. Finding that balance between writing and social life is tricky!
I connect virtually with other writers. Introverts that we are, writers seem to love written communication. Surprise surprise, right?
Aside from that, my horse Snowdy is the most healing thing for me. I don't realize until I need it how valuable touch is, and just loving on my horse can bring me so much comfort.
Losing that Traditional Publishing Contract
Losing my traditional contract with a certain small press I won't name was definitely my darkest moment.
I had no agent, no other publishing connections, and after three and a half years of "editing" Chase, I thought for sure my chances of getting published were shot. But that wasn't true.
I had to decide writing is what I'm made to do, and even if I had to pay to have the whole thing indie published, it was going to happen!
The One Thing That Has Kept You On Your Path
I know being a writer is who I am.  Even in college when I tried to deny it, people would refer to me as "the writer."
There's always a story in my head.  Even if I never wrote it down, this is what I'm made to do.  It's in the blueprint of me.
Sydney and Magic's Blue Moon show off their skills in this audition video for a collegiate horse program.
Advice for a Young Writer
Getting started is the hardest because you know no one and usually don't have a handle on the craft of writing yet. (Ha, does anyone?)
My advice for that is to:
Decide how badly you want this.  When the going gets tough, are you giving up?
Get connected with other people who are just as passionate about writing as you are. There are some great Facebook groups that can connect you with local people. (Use caution and avoid creepers at all costs, though.)
Start building a name for yourself on your social media. Remember that everything you do online can be seen. Be professional, be kind, say something encouraging, make a difference where you can—people will notice.
* * *

Sydney Scrogham has been a horse owner writing novels on the side for the past ten years. She actively writes for Flash! Friday and Porsche Club of America e-Break News. When she isn't writing, she can be found at the barn with her horse, Snowdy. Apart from Snowdy, Sydney's inspiration for writing includes spending time with God, watching ABC's Castle or Marvel movies, Breyer model horses, Bionicle Legos, and taking long walks in the middle of nowhere.  Sydney's driving passion is to see people revive and chase after their dreams.
For more information on Sydney and her work, please see her website, and connect with her on Twitter, Facebook, and WattPad.
---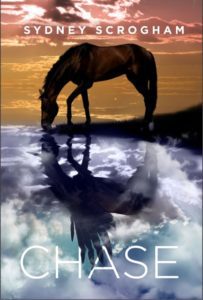 Chase: Financial strain from her mom's lost job means Lauren has to sell her horse. In a desperate attempt to keep her beloved animal, Lauren pursues an escaped genetic experiment worth a ten thousand dollar reward—a bright-red horse. With the red horse in sight, Lauren disappears into Agalrae and comes face-to-face with Chase, a man raised by Alicorns.
Lauren wants to return home, but the Snix, Chase's enemy since birth, has other plans. The Snix confronts Lauren with an ultimatum:  Kill Chase for ten times the red horse's reward money, or sacrifice the lives of her mother and horse. Forced to stay in Agalrae until she decides, Lauren wrestles with possible outcomes. But she can't hide the truth from Chase forever. Available at Amazon and Barnes & Noble.
Tags: author interview, balancing writing with social life, Chase, Sydney Scrogham, weight gain and writing, writing life