Before I took myself seriously as an author, I would write in short bursts, either on paper or at my laptop.
I did this at my desk, in the garden, or in bed.
When I began blogging and writing my non-fiction books, I realized I needed a specific place to help me stay focused. Suddenly I was sitting in the same place for long periods of time.
My neck and shoulders were the first to suffer, along with my eyesight, and I'd also get a numb bum—especially mid-way through NaNoWriMo! (National Novel Writing Month).
I invested in a better chair with arms and sufficient padding!
I also lowered it, so I wasn't hunching over my laptop. At 5′ 11″, it's easy for me to stoop, so I need to remain aware of my posture when sitting at my desk.
I also take a walk around the house every hour and have regular water breaks. As a writer of self-help, I am fully aware of the benefits of water for our wellbeing. Staying hydrated is the easiest way to help me stay alert and focused.
Overcoming the Isolation of Self-Employment
Self-doubt has always plagued me, in all areas of my life, and is probably my biggest challenge. Doubt in my abilities as a writer, marketer, networker—the list goes on.
I am quite good at motivating myself, but I'm just as good at procrastinating. I have to keep that side in check by writing a target list of what I want to achieve each day. My motivational streak will kick in when I tick each item off my list.
I started working from home seven years ago, and the isolation was terrible. As a people person, it was alien for me to go from a busy office to sudden silence.
I have learned to feel comfortable in my own company, and to cherish the silence, but it has taken time.
I began running meditation classes back in 2011 and vision board workshops in 2013. These are the topics of my Wellbeing Workshop Series, which are "handbag" guide books.
Being able to run the workshops based around the books helped to alleviate the isolation. Talking about my favorite subjects is almost as much fun as writing about them!
Distract Yourself Away from Self-Doubt
I believe that self-doubt comes in cycles, so if you can distract yourself when it's on the "you think anyone is going to want to read that?" part, then you're winning.
It happens to everyone. We write a first draft, think it's fabulous, and then we begin the edits. That self-doubt will sneak in around the same time you spot your first typo. Then it escalates until we throw the entire manuscript in the bin and go to the pub!
Breathe, walk away, and distract yourself. It works for me.
Why Writers Like Coffee Shops
To cope with the isolation of being a writer, I began to take little trips to the library or local coffee shop. The quiet helped me to focus on my work-in-progress, but knowing there were other people nearby helped me to feel less cut-off.
Social media was another life-line. I adore Facebook and Twitter and have found a community of writers and bloggers who are in the same situation as I am. We share stories, posts and laughs.
I've built my platform up over time; commenting and interacting with other writers' sites, and sharing each other's work. The world is so much smaller when you utilize the Internet.
Of course, nothing beats face-to-face interaction, so I sign up for several writing conferences throughout the year. The last one I attended was about self-publishing and ran in London, hosted by Writers & Artists. I made some great new friends that day.
The Darkest Moment
I don't think I've had a darkest moment. I knew from the start that I wanted to self-publish my books—I think that's the control freak in me—so I haven't had to cope with a flurry of rejection letters.
Don't get me wrong. Over the years I've had plenty of rejections for articles and short stories, but I was able to file them under "not my time" in my brain.
I am a "glass is half full" personality, which I believe is a huge help when writing for a living. As a holistic health practitioner and tutor, I am also able to use my personal development tools to keep the dark moments at bay.
When self-doubt rears her ugly head, I push through the red haze by using meditation techniques, or reading through my favorite affirmations. I have always been fascinated by art therapy and find this to be calming. All of these tools I use to help keep my life balanced.
The One Thing That Has Kept You On Your Path
Since the age of eight, I knew I wanted to write. I did write, at every given moment. I wrote short stories, poems and plays for my brother and cousins to act out for the family.
When I was at secondary school, my English teacher set us a piece of homework with the theme, "moonlight." She ended up reading my story out in class. I wrote about a Native American princess who was born under a full moon. My teacher was blown away and remained a constant encouragement throughout the remainder of my school life.
My mum has also fully supported my ambitions to become a writer, even going so far as to buy me a Mills and Boon "How-to-Write for Us" cassette and my first typewriter.
The support I receive from my family, my three children and my friends has been a constant anchor for me. I have friends who have never picked up a fantasy book in their lives, yet they read my YA book and loved it. I've since converted them over to the fantasy side.
Even though I have worked in many fields over the years—such as hospitality, sales and marketing and holistic health—I always return to writing. It's in my blood.
I only wish I had believed in my abilities sooner.
Advice for a Young Writer: Buy a Notebook

First of all, I would buy them a notebook or a paint brush. I have always told my children to follow their dreams no matter what.
My eldest son is doing a graphic design course and loving every minute of it; my middle son is a football pundit, and I could see him becoming a commentator one day. My daughter is doing drama and art at school and hopes to one day be in the theatre.
Not once did I tell them that their choices wouldn't pay the bills. I hear far too many parents direct their children down the 9-5 route through fear of what might be.
Life can be hard, no matter what direction you take, or what job role you choose. Belief in yourself and a passion for what you do are the best tools any person can have—young or old.
* * *
Shelley Wilson divides her writing time between motivational non-fiction for adults and young adult fantasy. Her books combine lifestyle, motivation and self-help with a healthy dose of humor. She works in the Mind, Body, and Spirit sector, blending her family life as a single mom of three, with her holistic beliefs. Her approach to writing is to provide an uplifting insight into personal development and being the best you can be.  Her mantra is, "Dream It, Live It, Become It."
Shelley was born in Leeds, Yorkshire but now lives in the West Midlands, UK.
For more information on Shelley and her work, please see her website or blog, or connect with her on Twitter, Facebook, and on her Amazon Author Page.
---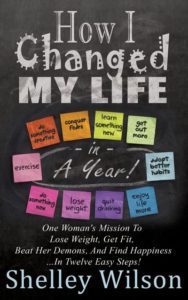 How I Changed My Life in a Year: Straight-talking, honest and with touches of humor, Shelley Wilson shares her journey as she sets out to prove that being a 40-something, single mum with back fat and grey hairs isn't the end of life as we know it.
From fighting flab to writing a 50,000 word novel in 30 days, Shelley covers a wide variety of themes as she tackles twelve challenges in twelve months.
Packed with affirmations, tips, steps and links, How I Changed My Life In A Year will keep you motivated for the year to come and beyond.
Available at Amazon.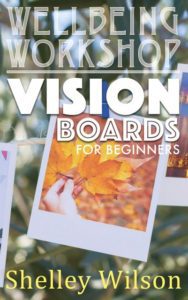 Vision Boards for Beginners: Vision Boards for Beginners takes you through the creative process of visualizing what you want in your life, and putting the pieces together in such a way as to attract your wishes.
A practical, down-to-earth guide to get you started with this highly beneficial motivational tool. Vision boards are something the entire family can enjoy.
Every edition is a down-to-earth, practical, quick read, with a touch of humour. Read them as standalone titles, or collect the series—the choice is yours.
Available at Amazon.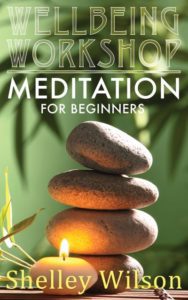 Meditation for Beginners: If you don't know a chakra from a chorizo and prefer a pair of Jimmy Choo shoes over walking bare foot on dew covered grass, then this is the book for you. Enjoy this beginner's guide to the practice of mindfulness.
You don't need to be on a spiritual path to enjoy the benefits of being in the now. This book is first in the series of the back to basics guide for the modern world.
Says one reviewer, "Shelley's book is a brief and easy to read guide introducing meditation to the uninitiated. Her chatty style will appeal those who are not familiar with the subject."
Available at Amazon.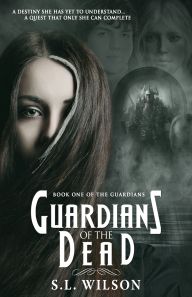 Guardians of the Dead: When sixteen-year-old Amber Noble's dreams begin to weave into her reality, she turns to the mysterious Connor for help.
His links to the supernatural world uncover a chilling truth about her hometown and a pact that must be re-paid with blood. As her father alienates her, and the Guardians take her best friend, her true destiny unfolds, and she begins a quest that will see her past collide with her present.
Drawn deeper into the world of witchcraft and faeries, it is only at the end of her journey that she realizes how much she could lose.
Available at Amazon.
Tags: health and wellness writing, healthy living, self-publishing, Shelley Wilson