Stressful environments are a huge challenge for me.
Quiet, fragrance-free and allergy-free environments are the only way I can flourish. Fragrance drifting from the neighbor's laundry will short-circuit my brain.
A way to manage "imperfections" in your surroundings is to embrace the annoyances.
Observe them as a writer and use that material. This is how the three mischievous boys who were obsessed with the soup lady walked into my novel.
Writers Need to Find the Perfect Chair

Part of my physical writing strategy is being able to sit comfortably. While the chair needs to be a good fit, exercise is the key to being able to succeed in sitting for long periods of time. A strong core is critical to reducing pain.
I researched and found the perfect chair for me. After trying very high-end chairs, I realized my car's seat was the most comfortable. So I searched out chairs with thick seats. I found one.
Once the leather broke in, no more stacks of pillows. The seat lasted two years before compressing. Now I'm back to replacing the chair and am sitting on a stack of pillows. My new coccyx cushion instead of the stack of pillows works much better at reducing back pain.
The physical therapy Styrofoam log roll unkinks my spine after sitting or standing too long. (Seek professional guidance before using the log roll.)
Walking to "Chitty Chitty Bang Bang"
My neighbor's cat used to stare through the window at me until I went out for a walk. Since I'm allergic to cats, and she didn't like being picked up, we were good companions. Now my husband walks with me.
Currently, I start my day before the sun rises and sip a double hemp milk latte sweetened with a bit of maple syrup, and then head out the door for a morning walk. I prefer walking uphill. Downhill is hard on my knees.
Sometimes I walk in an exaggerated manner employing my lower body with music from Chitty Chitty Bang Bang in my head. Straight back, high knees, glutes engaged. After breakfast, I like to do about thirty minutes of stretching, yoga, etc. Taking time to exercise is my perfect time to ponder story and character details.
Writers like all humans need sleep, water, exercise, and food to live.
Clean air helps too. My frequent batches of broth inspired the foundational element of the soup lady in Eleven Sundays.
My feel-better checklist:
Fragrance-free, quiet, organized space.
Walk in nature.
A good night's sleep.
Water, coffee, broth.
The Voice that Says, "Why Bother?"
The emotional challenge I encounter most is the annoying little voice in my head. It gnaws at me "why bother creating more (art/books/etc.), when you're just going to put it in the closet anyway?"
As a self-published author, you take on everything from editing, layout, covers, and the most un-fun part: marketing. When I was a model and an actor, I had agents. I prefer the structure of delegating certain tasks. I want to get an agent and hire someone for marketing. But before I can do that I must create more completed stories.
Even with a traditional publisher, self-promotion is part of the writing game. The writer is expected to promote, but some can be delegated. I will delegate.
Learning to Say "No"
The chaos surrounding multiple moves within a couple of years, pulling my manuscript from an agent, and self-publishing the novel so it didn't end up in the closet. Self-publishing can be terrific for authors with more than one book, particularly genre fiction, but a single mainstream/literary fiction novel shouldn't be out in the world on its own.
Recently, we bought a cute, time-consuming, fixer-upper house with unexpected complications. Prioritizing my sleep, health, and writing wasn't possible.
Defining personal boundaries and needs would have prevented some unfortunate decisions.
As a result, I've learned to say "no" to non-writing projects.
Hiring qualified professionals saves time and money.
The One Thing That Has Kept You On Your Path
Characters with particular challenges pop into my head, and I feel I must tell the story (at some point) to give them their transformational journey. To provide them with a resolution to their problems even if life keeps tossing me curve balls.
Kind of like seeing a cat stranded somewhere; you wouldn't leave the cat—you'd help.
I want to help my characters.
When editing for others, the deep obligation to protect the character's truth is motivational for me.
Advice for a Young Writer: Understand the Bigger Picture

Understand the bigger picture of writing and publishing.
Applying yourself is the big challenge—no one else is going to do the work. If you don't love challenging yourself via story, character, and continuity, perhaps another creative outlet would be a more suitable choice.
Do you have stories only you can tell? Writers are alone most of the time unless they have the ability to write surrounded by chaos.
For an insider's view, read A. Scott Berg's Max Perkins: Editor of Genius. In this book, the novice writer will learn what makes a writer, why they write, how they write.
Human frailty fuels the writer.
Max Perkins was the editor for F. Scott Fitzgerald, Ernest Hemingway, Thomas Wolfe and more. The letters between Max and Marjorie Rawlings (The Yearling) may be enlightening.
Editors like Max may no longer exist, with rare exception, so we writers need to carry an essence of Max within us to help us through the writing doldrums.
This way we can supply the wind for our sails.
* * *

Alonna Shaw is a writer and editor living in Northern California. Previously, she was a model, actress, and artist. Each interest added another creative layer to the career cake. Her debut novel, Eleven Sundays, won an Honorable Mention in Mainstream/Literary Fiction in the 22nd Annual Writer's Digest Self-Published Book Awards.
For more information on Alonna and her work, please see her website/blog, or follow her on Facebook, Twitter, Goodreads, or IMDB.
---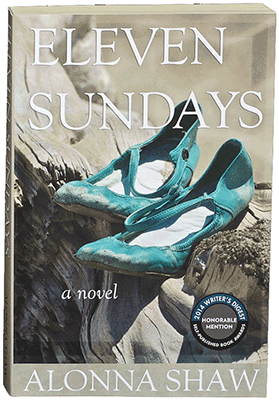 Eleven Sundays: In a Northern California seaside town sheltered from time's advances, two women without families forge an unlikely bond and become forever connected.
Annie, a Pop-Tart and espresso-fueled twenty-something, worked hard at her job. Losses plunge her into depression. The office's repetitive and tedious work-a-day life doesn't provide the distraction she needs.
So Annie shifts into denial and drives across San Francisco's Golden Gate Bridge away from her big city problems. In fog-capped Drake's Valley where explorers trekked before her, a mysterious soup lady, a green-eyed cat, and three curious boys looking for bones influence her to face up to a changed future.
Available at Amazon.
Tags: Alonna Shaw, Eleven Sundays, literary fiction, writers and walking