I think one of the biggest challenges is setting up a consistent exercise routine.
Some of my best writing time is early in the morning, but that's also my best workout time. When I'm on a writing streak, it's hard to take a break to exercise, but I'm always glad when I do.
I use a memory foam mouse pad and wrist pad to keep my wrists straight when I type.
After a bad bout of carpal tunnel, I realized I needed to change things up and these things seemed to help, along with hand and wrist stretches.
I also type both in my office and in my living room on a laptop. I try to keep a large glass of water in both locations so I can easily drink when I'm thirsty and not have to leave my story just as things are starting to flow.
I notice I drink a lot more if I always keep the glasses full and easily accessible. We have also started brewing our own kombucha, so I will enjoy drinking that as I write as well.
Motivators that Get Me Past the Negatives
I think the biggest emotional challenge is remembering all the positives when the negatives come.
It's easy to get down and get tunnel vision when a story isn't coming together fast enough or goals aren't being met as quickly as I'd like.
It helps to pull back and look at the big picture. I am finally realizing I will never get to everything I would like to do, but as long as I select a few and do them, then a few more and do them, I will always be moving forward. That's the important thing.
I do a number of things to "center" myself. I have incorporated affirmations into my morning and evening meditations. Music is a wonderful soother. Playing the piano helps me unwind. I especially enjoy going on long walks with my husband. It helps to breathe the fresh air and appreciate nature's beauty.
The Darkest Moment: Getting a Rejection Letter on My Birthday

I would have to say my darkest moment was getting a rejection letter from my most desired agent on my birthday in December 2013. I had set only two goals that year (one of them was to find an agent), and neither had worked out despite a lot of effort and I was feeling pretty devastated.
It was tough trying to decide how to move forward on my dream. After a lot of soul searching (and research), I decided to put my story up on Wattpad with the intentions of publishing. At the time, I hoped to continue to search for an agent with one story and self-publish another.
But the more I researched self-publishing, the more I was drawn to the freedom and creative control.
I have been thrilled with how well the story has done on Wattpad and went ahead and published Born of Shadow and am now posting the sequel The Bloodstone Prophecy on Wattpad as well.
The One Thing That Has Kept You On Your Path: I Don't Quit

Years ago, we decided to adopt a family motto: "Bensons are finishers." When our kids start something that seems difficult or overwhelming, we want them to prove to themselves that they can see it through.
So of course I had to show my kids that the rule applies equally to me. Plus, I'm sure my husband wouldn't have let me quit after all that effort :).
Advice to a Young Writer: Finish What You Start

I have spoken to several young writers on Wattpad and in writing groups and I think one of the biggest things they struggle with is finishing a story. They have lots of great ideas, but they struggle to know how to pull those ideas together and they often get stuck.
It's easy to start a story and then every time it gets difficult, move on to a new, shinier idea. (I'm guilty of this, too.) But it's in the process of sticking to something and learning to work through those issues that they become writers and have the confidence that they can do this again and again.
Also, I recommend young writers filter the advice they receive. Some of it is helpful, some of it not so much. Find people they trust who will give them an honest opinion but not tear their work down.
It's sad to see young writers get discouraged or quit because of poor or overly harsh advice just as they're starting to learn the craft.
The best thing about being a writer now is there are so many options available to get your book into the hands of readers.
* * *
Sarah Benson lives in a log cabin in the beautiful mountains near Coeur d'Alene, Idaho. She is a total Jane Austen and Charlotte Bronte fangirl. She likes Batman (Christian Bale, not George Clooney), Mad Libs, & Thai food. She used to collect Bazooka Joe gum wrappers as a kid.
She is a huge fan of Star Wars. She is still waiting for someone to manufacture a light saber that works properly. Sarah is married to her best friend and has four kids. She has worked as a journalist and graphic designer and is thrilled to now be writing fiction. Born of Shadow is a YA contemporary fantasy set in Egypt and is her first novel.
For more information on Sarah and her writing, please see her website, or visit her on Wattpad, Twitter, Facebook, Instagram, or Pinterest.
---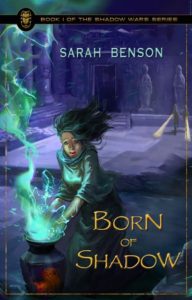 Born of Shadow: On her seventeenth birthday, Kami receives a mysterious artifact and a ticket to visit her estranged grandparents in Egypt. When she arrives, no one is there to meet her.
Alone and in an unfamiliar country, she quickly discovers her missing grandparents are only part of a greater threat. Kami must rely on a band of misfit friends she makes along the way to save her grandparents.
But does the handsome boy she just met have answers, or is he part of the reason for her grandparents' disappearance?
Available on Amazon.
Tags: Born of Shadow, carpal tunnel syndrome, Sarah Benson, self-publishing