Being both writer and artist is a double-whammy in terms of the long-term health consequences of a sedentary lifestyle.
I developed severe near-sightedness in my early teens (which made me even less likely to go outside or get active) and I've always struggled to maintain a healthy weight.
While I was pregnant, I was prone to intense carpal tunnel pain in my wrists, as well as a severe vitamin D deficiency. Post-pregnancy was really a low-point in terms of my mental and physical health, and it wasn't just the new baby interfering with my ability to work: I had lapsed into depression.
I was fortunate enough to be able to bring my baby with me to work for the first year of her life, and it was somewhere around the fourth month of this that I realized I was suffering from depression. I was afraid that taking anti-depressants would interfere with breastfeeding, and I had read that exercise was at least as effective as medication in treating mild to moderate depression—without any unwanted side-effects! So I decided to try it.
Instead of driving home from the office after our day at work, I bundled my daughter into her stroller and we walked the two miles home.
It was hard at first. Really, really hard; especially when well-meaning co-workers would offer me a ride, or it was raining, or my infant daughter had been especially challenging that day… But I thought of those walks as being my "medicine," and that made them mandatory.
After a few months—as the weather improved—I gradually started jogging the downhill stretches.  Then I started jogging the rest of it. Soon we were running all the way home. Once we'd started doing that, it seemed natural to transition to a jogging stroller and go on longer runs.
Today, I'm training for my first half-marathon in March. I'm in the best shape of my life, I've lost 65 pounds and my mental health has improved dramatically.
It's amazing how something as simple as a few hours of exercise a week has helped me in almost every aspect of my life—it's almost miraculous.
Writing Is the Hardest Thing I Do
Rejection is by far the hardest for me. I'd once heard someone say that we write not because we want to, but because we have something inside us clawing to get out.
That's how it's always felt to me. Writing is the hardest thing I do: harder for me than parenting, harder than my art, harder than running ten miles.
There's something profoundly vulnerable and intimate about it, and having someone read your writing—or even read a query letter about your writing—and then reject it? Soul-crushing.
I'm at the point now where I can more or less handle not receiving any response at all, but there have been a couple of times where an agent bothered to take time out of their day to send me a cutting or snarky response, and those haunt me still.
It's hard to shake your own self-doubt already, but it's even worse when it's set to the soundtrack of someone else's mockery.
I think this is the fortunate thing about being both a writer and an artist: usually if I'm experiencing frustration in one area, things are going well in the other.
If I've just received another rejection letter on a manuscript, for instance, I can usually find a lot of emotional support and satisfaction from my small webcomic fanbase.
Running also helps—after the fifth or sixth mile, I don't care about much of anything, and the runner's high really expiates a lot of demons. Charging up a new hill or beating my best time gives me a terrific sense of empowerment in the face of adversity.
And, of course, there's my daughter. Quality time spent with her at a park or a playground always allows me to refocus on what truly matters in life.
The Darkest Moment: A Publisher Dies
I had just spent three months working on the art for a graphic novel adaptation of Don Quixote, and that same small publisher had just accepted my original pitch for Witchfire—my first attempt at doing both story and illustration—but the payment for Don Quixote never came through.
I spent another three months politely reminding, then begging, then threatening…but no check from the publisher.
Finally, in desperation, I went to a lawyer who reviewed the contract and told me that because they were technically headquartered in Canada, it was most likely not worth the cost of international litigation to try and recoup the money I was owed. I was never going to get paid, Witchfire was never going to make it to print, and there was nothing I could do about it.
The publisher in question filed for bankruptcy and quietly went out of business a few months later. It was a very dark time for me; I lost a lot of faith in myself, in people in general, and in what it was I was trying to accomplish with my life.
I worked retail for a few years, stopped taking commissions…but I couldn't stop writing. And writing tends to put all kinds of crazy hopes and aspirations in my head.
Three years later, I revisited Witchfire; I still felt it had promise, but I wanted to completely re-work it from the ground up, starting with page one. It took an additional two years of work to re-draw, ink, color, and add text, but by the time I finished, I'd found my faith in myself—and humanity—again.
The One Thing That Has Kept You On Your Path
I've lost my way a few times, and I've deluded myself on occasion into thinking that this is something about me that I can change, or ignore. But it's not.
Creating is as essential an expression of my existence as breathing. I could no more quit the former than the latter. Sometimes this feels like a terrible weakness—because I have a hard time calculating the prices I should be charging on something I would be doing regardless of payment.
Sometimes it feels like my greatest strength—because it is the compass that always guides me back to my true path.
Either way, submitting to that truth has given me tremendous insight into myself and better equipped me for dealing with the inevitable rejections and pitfalls.
Advice for a Young Writer: Write Only If You Have No Other Choice

I always dread this, and it's happened on occasion. People also ask if I want my daughter to be an artist, and my response is usually, "Oh goodness, no."
First, I usually express my condolences, because this—for me—has been a hard path, filled with self-doubt, rejection, compromised successes, betrayal… and small business taxes. You haven't known suffering until you've filed a 1099.
I can't imagine anyone wanting to go through all of that; it's something you do because you have no other choice. I know others have found success more quickly and easily than I have, but I can only speak to my own experience. And most of my journey was pretty wretched.
I think the hardest part is that the stakes don't get any higher than when you are chasing your heart's desire.
There were times when pursuing my dream felt like crawling naked and belly-down through shards of broken glass that cut me to the very core of my being, and I wanted so badly to surrender to despair. I wished that I could content myself with being a cashier, or a sales rep, or really anything else.  But I couldn't, it was simply not an option.
There is only one thing I can say in response to those years: very, very few of us come into this world with an ironclad sense of what we must do with our lives, and even then, it's exceptionally rare that we are able to accomplish it. When that moment comes—and you get to hold your life's ambition in your hands—the joy is so sweetly transcendent as to be almost painful.
Whatever else happens in my life, I'll be grateful until my dying day that I could have that moment, and that joy.
* * *
Born and raised in Homer, Alaska, Melissa Hudson moved to Washington State to attend the Northwest College of Arts. She received her BFA in three years, majoring in both Fine Art and Multimedia, and has gone on to produce illustrations for a series of card games, comic book anthologies, magazine ads and t-shirts.
Her first graphic novel, Witchfire, was published by Markosia in February, 2015. She currently lives in Seattle with her husband, daughter Claire (pictured with Melissa above), and two cats.
Find out more about Melissa's art and writing at her website, on DeviantArt, and on Tumblr.
---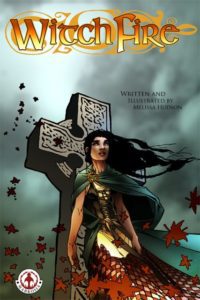 Witchfire: Elspeth is a humble girl who wants nothing more than to marry her true love…but he's already married.
And she's pregnant.
Outcast and alone, Elspeth has an unusual visitor: a ghost with fairy magic to heal the sick—but this forbidden power demands a sacrifice greater than she'd ever imagined.
Tags: creative life, fantasy, graphic novels, Melissa Hudson, self-doubt, Witchfire, writer and illustrator, writing rejection