I blew out a lumbar disc probably ten years ago now.
I no longer have a disc there, so it's important that I preserve that space through muscle and movement, or I end up with pinched nerves and on steroids. Not good.
Second is my weight. I've always had a problem keeping my weight down, but now that I've retired and am writing full time, the stress of deadlines and the proximity of the pantry combine to a lethal combination!
It's taken much experimentation and tweaking, but I've finally figured out what works with my back. I bought an adjustable desk, made by Kangaroo (the company, not the animal!).
Note to readers: find out more about these adjustable desks here!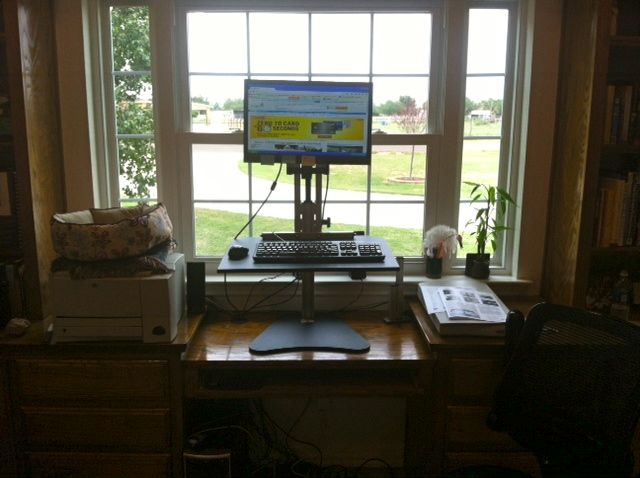 I also use an online timer/alarm, to remind me to stand for ten minutes, every twenty. Many different kinds are available free, online.
The other thing that helps both the back and the weight is working out. I go to the gym three times a week for strength training and cardio. I find sit-ups help my back—a strong core helps me hold the disc space.
Weight? It's going to be an ongoing struggle forever. I lost 40 lbs on Weight Watchers years ago, but have since put it back on. I tried going back to WW, but the magic was gone. Now I count calories…on good days!
The Highs and Lows of the Writing Life
The highs and lows—internally, [are the biggest emotional challenge for me]. Isn't it amazing how you can be incredibly brilliant one day, and a hack, the next? Even being aware that neither end of the spectrum is real, and it will pass, doesn't help.
I'm a slogger. The nose-to-the-grindstone tortoise. The one thing I DO know is that if I keep putting one foot in front of the other (or words on a page), I will end up somewhere.
I have a word goal every day based on my deadline, and I sit and write until I meet it. Some days that's two hours. On a hard day, it can be twelve.
There is something about getting on my bicycle and riding outdoors that frees up my creativity. While the practical part of my mind is busy with balancing, watching for traffic, listening to the birds, etc., things happen on the other side of my brain, and more often than not, the knots unravel, and the answer is revealed to me. It's absolute magic! I always carry a digital voice recorder in my jersey to record epiphanies.
But we moved from bike-friendly Southern California this year, to a very bike-unfriendly area. Huge trucks, no shoulder, awful road conditions. The stationary bike at the gym holds no magic. So now I go for walks. Being in nature helps—though it's not as good as my old bike rides!
The Darkest Moment
The short version of my story: I wrote for fifteen years, and three books to show for it, before I got an agent, and sold. There were thousands of dark moments during that time, believe me.
But there was one shining high point—standing up and receiving the RITA (the Oscar of the romance industry) for Best First Book from Nora Roberts!
The One Thing That Has Kept You On Your Path
The love of writing. Because I love stringing words together, I'd be writing whether I sold or not—that was my first love. When I get discouraged, I just have to remember that.
Advice for a Young Writer: Discover Your Process

I think learning to write is like learning to play golf—while learning to ride a unicycle. There's the whole craft piece. There's having something to write about. Voice, research, grammar, it goes on and on.
But what was hardest for me was discovering my process. You can take classes, learn everything about how to do this—but not how YOU do it. Are you a plotter? A pantser? Anything in-between? You have to try every way you can find to see what clicks with you.
And realize, even when you find it, you won't be happy with it! Every writer I know has "process envy," convinced that someone else's way is easier! Kind of like women with curly hair want straight hair, right? So you'll keep trying new things, even after you've discovered your process.
Keep trying. You never get done tweaking.
* * *
Laura Drake is a city girl who never grew out of her tomboy ways, or a serious cowboy crush. She writes both Women's Fiction and Romance. She sold her Sweet on a Cowboy series, romances set in the world of professional bull riding, to Grand Central. The first book in the series, The Sweet Spot, won the 2014 Romance Writers of America® RITA® award in the Best First Book category.
Her "biker-chick"' novel, Her Road Home, sold to Harlequin's Superromance line (August, 2013) and has expanded to a small town series. The Reasons to Stay released August, 2014.
In 2014, Laura realized a lifelong dream of becoming a Texan and is currently working on her accent. She gave up the corporate CFO gig to write full time. She's a wife, grandmother, and motorcycle chick in the remaining waking hours.
For more information on Laura, please see her website, visit her blog (Writers in the Storm, which she shares with other writers),  or connect on Facebook and Twitter.
---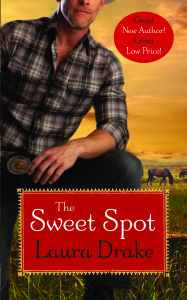 The Sweet Spot (winner of the RITA award): Charla Rae Denny was the perfect wife with a perfect life, content to keep the home fires burning while her husband, JB, competed as a champion bull rider.
Then their son died in a tragic accident and everything fell apart. Divorced and saddled with a hill of bills and a failing ranch, Charla must now cowboy up to put her life back together.
The Sweet Spot, along with the other two books in the series, Nothing Sweeter, and Sweet On You, are available at Amazon.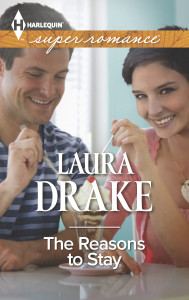 The Reasons to Stay: Free spirit Priscilla Hart doesn't get tied down, to anyone or any place. Then she arrives in Widow's Grove and meets her half brother.
The ten-year-old tough guy has no one else but her. So Priss stays—for now. But her sexy new landlord, Adam Preston, is interfering with her ideas. He's everything Priss normally steers clear of—committed, stable and no rebellious urges in sight.
As opposite as they are, each conversation, each touch, each kiss they share feels so right. Can a little gangster-wannabe, an irresistible "nice guy" and an odd assortment of new friends make Priss want to stay for good? Available at Amazon.
Tags: Laura Drake, romance writer, writers and back pain, writers and weight gain