My biggest physical challenge  has been repetitive stress hand annoyances plus overall discomfort at sitting too much.
I'm always trying to improve my desk situation, but this high-minded approach has only arisen now after several years of sitting on a couch, virtually curled into the cracked  screen of my laptop.
Now I have to take more breaks than in previous years, when I was able to sit at a screen for six hours straight. What good old days those were 🙂 !
To a limited degree, I use Dragon Dictate and it helps at those times.
Being a Writer Has Been Good for Me Overall

I can only say that being a writer has been good for me overall and all the problems associated with being a writer I consider good problems to have.
Interestingly, in Seattle, though, it's sort of folklorically known and at least partially true that members of the artistic/performance community are self sabotaging or less-than ideally proactive in their careers.
I sometimes wonder what this rainy, chaotic region of the country has to do with that, or if it's equally true in other regions of the U.S. or world.
As far as the slow-moving, self sabotaging side of things, I try to capture the energy of that and incorporated into my work.
The One Thing That Has Kept You On Your Path
Life has so many  stunning, stymieing, cruel, and amazing facets that cry out to be described, analyzed, and interrogated. Someone has to do it…
Advice for a Young Writer
I would tell that young person the difficulties quickly and bluntly.
I would tell them that most people don't stick to it, and that it is not easy to write literarily and in such a way that requires the author to think about uncomfortable things, including disturbing things from one's own life.
But I would tell that person that, at the same time, there is no nicer feeling of wholeness than from doing this work.
* * *
Stacey Levine is the author of four works of fiction including The Girl with Brown Fur: Tales and Stories; Frances Johnson, Dra—,  and My Horse and Other Stories. A Pushcart Prize nominee, recipient of a PEN/Center USA Fiction Award, and a Stranger Genius  Literature Award recipient, her short fiction has appeared in Fence, Tin House, The Fairy Tale Review, The Washington Review, The Iowa Review, Yeti, LIT, and others.
She has written a libretto and two one-act plays for productions performed in Seattle. Her books were reviewed by The Boston Review, Time Out NY, the San Francisco Bay Guardian, The Believer, Bookforum, Bookslut, HTML Giant, and others. Translations of her short fiction have appeared in Danish and Japanese publications. For more information about her, please see her website.
---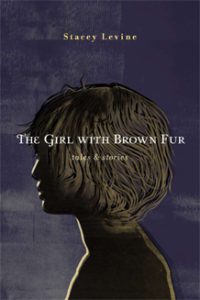 The Girl with the Brown Fur: Whimsical, obtuse, and maybe too content to revel in the absurd, these tales by Levine (My Horse and Other Stories) often focus on tortured relationships. "Uppsala" puts readers on notice with its first line ("We come from a bad family and we are disgraced") and commences to chart a brother and sister's unfortunate vacation under the manic coercion of their mother. Another intensely strange relationship develops in "And You Are?" about the manic-depressive Janice-Katie and her elderly former babysitter, Mrs. Beck, who grows increasingly belligerent (or perhaps senile) until the two coexist in two private, slightly inharmonious worlds. In "The Kidney Problem," a couple on the eve of their wedding face a gamut of hilariously incapacitating health problems, while "Sausage," set in a futuristic Communist-style factory, sees the proficient sausage maker narrator bent on being the model worker, only to get an invigorating, dangerous whiff of freedom. Levine works spare details and an edgy humor to often great effect, though many of the 28 stories come off feeling more like exercises than full-blooded fiction. 

Tags: being a writer, self-sabotage, Stacey Levine, The Girl with the Brown Fur, the writing life, writing and wellness, writing career