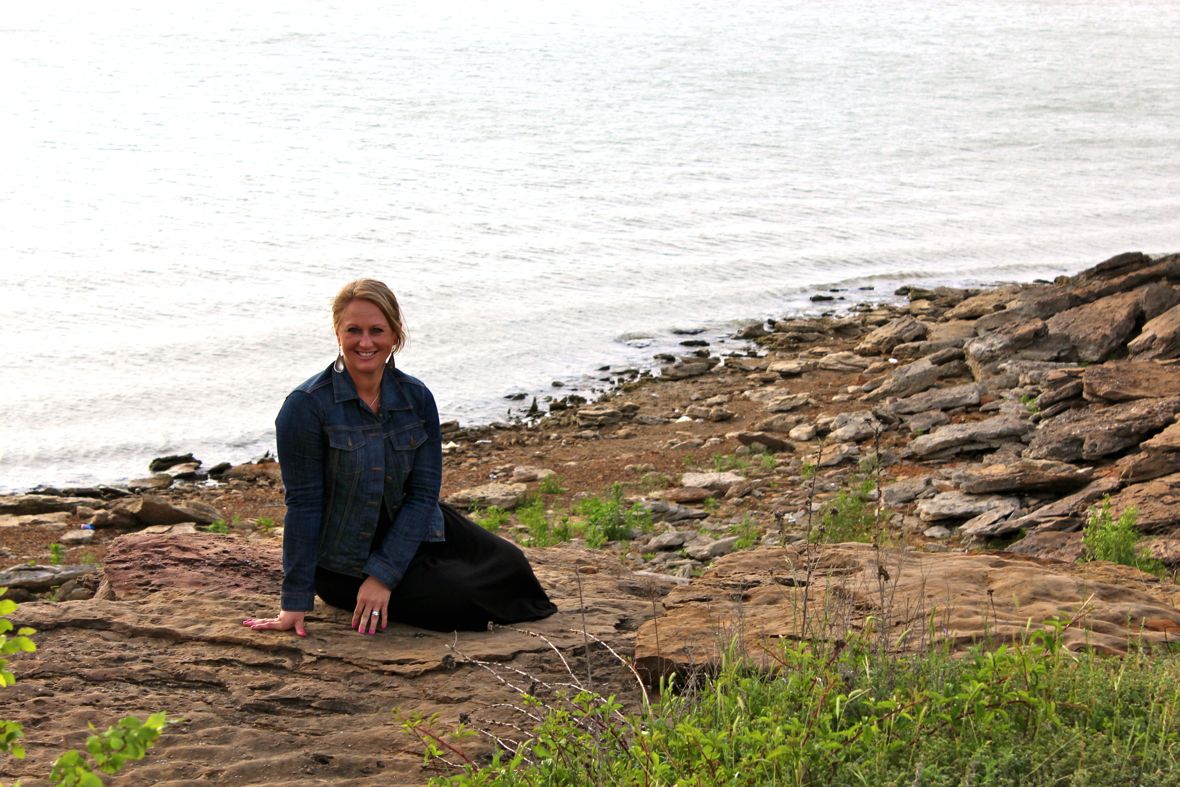 I'm a big believer that the quality of my work is directly related to how my body feels, so I try to be good to myself.
Exercise makes me a better writer, so I typically fit something in every day.  A good workout is like a mind cleanse; it resets my brain and gets the creativity flowing.
Some of My Best Ideas Come on Early Morning Runs
I do a number of different things, but running is my favorite. I love to run outside, especially early in the morning when the rest of the world is still sleeping.
Some of my best ideas have come on my early morning runs. (I just need to figure out a way to write and run at the same time.)
I don't have many of the aches and pains associated with writing, but after I had my second son, I experienced back pain from carrying around two small children day after day.
I've always hated strength training, but I added that into my routine. It really helped.  I still don't like lifting weights, but it enables me to sit and write for hours or lift my kids without getting a sore back.
I Took the Rejections Personally

Being a writer is an emotional roller coaster.  I received close to fifty rejection letters when I was looking for a home for my first book, and it's really hard not to get depressed when people are telling you the novel you poured your heart and soul into isn't what they're looking for.
I think it hurt me even more because mine was a very personal memoir about the darkest time in my life. It tore at my self-confidence, and I took the rejection personally.
I questioned my abilities and ultimately decided I was a terrible writer. But I have a lot of wonderful people in my life that wouldn't let me quit.
Every writer needs an awesome support system—family, friends, other writers—that will be there to lift them up when they're second-guessing themselves.
How to Balance My Life with My Writing
Now that I've finally realized my dream of being published, the challenge I face today is balancing my life with my writing.
I wrote most of Holding Avery when my oldest son was a newborn, and, though back then it felt like I hardly had any time to write, in retrospect I had quite a bit.
I'm currently a stay-at-home mom as well as a writer, and I have two very active preschoolers who need me all the time. Finding a few quiet hours every day can be really difficult.
I used to get a lot of writing done during naptime, but naps are quickly becoming extinct in my house. My boys go to preschool two days a week, so I do my best to pencil in writing time when they're at school.
Sometimes it's frustrating writing on-demand like that, and some days it's simply about getting words on paper. But I know if I just get the ideas out it will eventually turn into something brilliant.
I've Always Found Water Incredibly Soothing
Even though I have a pretty good structure in place, I don't have a lot of down time. My life is organized chaos, and it can get stressful. Most days I'll go for a run to unwind, but my favorite way to relax is to go to the lake.
I grew up in Michigan, which, in addition to the Great Lakes, has over 11,000 inland lakes. (Wherever you are in that state you are no more than six miles from a body of water.) I'm not sure if it's because I spent most of my life surrounded by it or because I'm a Pisces, but I've always found water incredibly soothing.
When we moved to a landlocked area of Texas I was worried we'd have to sell our boat, but we actually have a handful of man-made lakes nearby. I try to get out on the water at least once a week to recharge.
The One Thing That Has Kept You On Your Path
I've wanted to be a writer for so long that I don't even remember when I made that decision. In the first grade, I wrote "books" and tried to sell them to my classmates. Throughout my childhood, while other kids were doing kid things, I was reading novels and writing short stories.
It's always been my passion; I've always found something remarkable about the power of words. Throughout college I wrote poetry and started a handful of projects, but after graduation I put aside my writing and got a "real" job.
I enjoyed teaching high school—I was teaching kids how to write, after all—but I always felt a bit guilty for abandoning my dreams. Looking back, I was more complacent than happy, and in reality I sacrificed my passion for the stability of a career.
Through Writing, I Was Able to Find Myself Again
When my daughter was stillborn in 2008, it was a wake-up call. I was confused, depressed, and miserable. I not only lost my daughter, but I lost myself. I started writing again, not with the intention of penning a memoir, but to figure out what was going on in my head.
And eventually, through writing, I was able to find myself again.
Holding Avery is a memoir, but I've always dreamed of writing fiction. While it's been amazing seeing my first book come to fruition, I feel like I have so much more to say. There are all these characters and plots in my head yearning to come out, and I need to keep writing.
It may take me a while to finish my first piece of fiction, but I'm determined to make it happen. I love to write. It's who I am. And even if I'm never a super-duper famous author or the featured book in Oprah's club, at least I'm finally doing what I love.
Advice for a Young Writer: Write as Much as You Can
Write as much as you can. Even if you only have an hour a week to do it, it's better than nothing. Don't be afraid to let other people read your writing. Listen to criticism. You don't necessarily have to agree with the criticism, but always listen to it.
Take time to read, too, and be diverse in your reading. I was lucky to have some amazing English teachers that really opened my eyes to a variety of literature, which in turn helped me find my own voice. These days when my writing gets stagnant, the first thing I do is read a book. It always gets my imagination back on track.
I'm probably biased, but I think writing is one of the most complicated professions out there, especially for a writer just getting started. Unless you have people who know people or you're a celebrity, you don't just become a published author overnight.
When I first started out, I thought writing the book would be the hardest part. I was wrong. Writing is the fun part. It's the game of getting published that's tough, especially when you've spent months or even years creating something you think is incredible.
You have to be a good writer to get a contract, but there is also a lot of luck involved. Then there's the marketing, the promotion, the wondering if people are actually going to read your book…but if you truly love to write, it's worth it.
* * *
Heidi Chandler grew up in Gaylord, a small town in Northern Michigan. She graduated from Michigan State University, spent a few years working in advertising, and eventually settled into a career as a high school journalism teacher. After the unexpected death of her first child in 2008, Heidi re-examined her priorities and left her teaching career to focus on being a mother. This also afforded her the opportunity to revisit her first passion, writing. This led to Ms. Chandler's first book, the memoir Holding Avery, coming June 10 from MP Publishing.
In her spare time Heidi enjoys reading, running, cooking, watching sports, and being in the great outdoors. She lives in Texas with her husband and their two sons. To find out more about her and her work, please see her website, or connect with her on Facebook.
---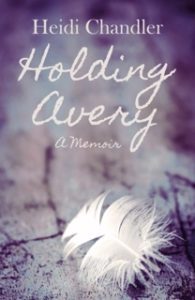 Holding Avery: When her otherwise healthy, even idyllic, first pregnancy ends in the sudden and terrible stillbirth of daughter Avery, Heidi Chandler and her husband are left at a total loss. Looking into Avery's perfect face, one that never cooed or cried, Heidi realizes how much her life has changed.
Holding Avery is a raw exploration of life after the death of a child. Heidi Chandler unapologetically recounts her heartache ― the fears and doubts that come with knowing she is a mother but without a child to care for. The unabashed honesty of her grief will resonate with anyone who has experienced loss and found that the question 'why?' may always go unanswered. But Heidi learns that moving through the tragedy is not impossible.  

Available at Amazon, Barnes & Noble, Powell's, and Indibound.
Tags: healthy writers, Hiedi Chandler, Holding Avery, memoir writing, moms writing, the writing life, writing and wellness, writing from your own experience