Kim Church's debut novel Byrd was published by Dzanc Books in March 2014. Her poetry and short stories have appeared in Shenandoah, Painted Bride Quarterly, Mississippi Review, the Norton anthology Flash Fiction Forward, and elsewhere. A Pushcart Prize nominee, she has received fellowships from the North Carolina Arts Council, the Virginia Center for the Creative Arts, Millay Colony for the Arts, and Vermont Studio Center. Fiction is Kim's second career; she has worked as a trial lawyer for over thirty years. She lives in Raleigh with her husband, artist Anthony Ulinski.
Physical Wellness
I told my friend Kelly I was working on a piece about writing and wellness and she said, "Fiction, right?"
If there's anything physically healthy in the act of writing, I haven't found it. I live too much in my mind. I suffer from "cerebral congestion"—an occupational hazard of both writing and law. When I write, I concentrate too hard. I lose myself in characters and language and forget to do things like blink, stretch, take breaks. I made a sign reminding myself to BREATHE, but I forget to look at it. I forget to sit up straight with my feet on the floor.
I've had bad writing posture since long before computers. As an adolescent I would curl my whole body around my composition book for privacy. Even now, though I have a private place to write, I tend to collapse in on myself when I work, as if I'm guarding something.
I'm trying to be more physically aware. I just took a workshop from writer Steve Mitchell and voice teacher Carol Roan about writing from immediate sensory experience rather than memory—writing from the body rather than the mind.
"Our first job as writers," Steve said, "is to notice the world around us."  Our bodies notice at least as much as our minds, Carol said.
Ellen Gilchrist has described interrupting work on a scene—in which a character eats a mayonnaise sandwich—so that she could make herself a mayonnaise sandwich (she'd never had one) and describe the taste. I do this too, though not with mayonnaise sandwiches.
I have a few good habits. I drink lots of water while I work. I eat nuts and fruit for snacks. I put drops in my eyes. I've set up ergonomic work stations at home and in my studio. But when I go away to write, I forget ergonomics.
Last year I went to an arts colony to work on rewrites for my novel. After ten days at a computer on a too-tall desk, I lost feeling in my arms and hands. As soon as I got home I went to Staples and bought a portable, adjustable computer table. It will travel with me from now on.
When I remember to, which is hard—and when I can give myself permission, which is even harder—I interrupt my writing sessions with walks, yoga stretches, dancing, playing with the cat, and going to qi gong class—though even there, I get heady over the names of the poses. Rhinoceros Looks at the Moon. Plucking the Stars and Rearranging Them. Green Dragon Thrashes About.
Emotional Wellness
Constant mental chatter is emotionally exhausting. My mind is not a quiet place. The noise of it makes me anxious and wears me out.
Some things I do to turn it down:
Pet Carlos, my cat. He's soft and sleeps a lot. Sometimes just looking at him calms me.
Go to a church that teaches meditation. Try to meditate. Watch my thoughts rise to the surface, then let them go. Watch them rise, let them go. Rise, go, rise, go.
Listen to The Intouchables soundtrack.
Sing. Play guitar. Wail on a harmonica.
Wear lavender lotion.
Walk.
Take naps.
Listen to the neighborhood—birds; one boy learning drums, another saxophone; trains coupling; the ice cream truck playing deranged music; playground children squealing.
Take a vacation. Take a train ride. Take a hike. Sit by water. Sit by a fire. Sit in the dark and look at stars. Have no schedule, no agenda.
The One Thing That Has Kept You On Your Path
Writing is what I do, who I am. This has always been true, even when I wrote only legal briefs. I like making things with words. Writing is how I find meaning and order.
Once, in my early days of trying to write fiction, a friend clipped a New Yorker cartoon for me that I taped to the wall of my law office. In it, a flamingo is lying prone on a therapist's couch, a worried look on its face. The therapist is saying, "Go ahead, be a flamingo."
At my launch party last month, when I stood at the podium at Quail Ridge holding my novel, looking out at the expectant faces of my friends, I felt as if I had just stepped into my life for the first time. What a relief to acknowledge, finally: My name is Kim and I'm a writer.
Advice for a Young Writer
Writing is charged, prolonged mental activity. My advice to young writers is to learn ways to quiet the mind. Balance mental with physical exercise, work with play, discipline with spontaneity, seriousness with lightheartedness, ambition with gratitude, busyness with rest.
Cultivate a well-rounded life. Read—read the best writing you can find. Look at art. Listen to music. Listen to people. Be in community. Go to the fair. Spend time alone. Be in nature. Climb a mountain. Daydream. Come back to the world. Whatever you notice, write it down. Keep a journal, even if it's only a box for all the napkins and grocery receipts and parking tickets you've scribbled on. Write anytime, anywhere, about anything, on anything.
And remember that we all make mistakes, and will again and again. Have faith. Persist.
Thanks, Kim!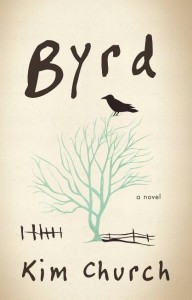 To Buy Byrd:
Dzanc Books (includes free e-book)
Kim's Website (for other writings and author interviews)
Tags: Byrd, Dzanc Books, Kim Church, the writing life, writing and wellness